The Government of St. Vincent and the Grenadines has committed itself to millions of dollars in revenue guarantee for the international airlines flying to St. Vincent and the Grenadines.
And while the Air Canada Rouge flights from Toronto to Argyle International Airport (AIA) have been well subscribed and will continue with no government support, so far, Kingstown has had to dole out more than US$1 million to support Caribbean Airlines' (CAL) flights between New York and AIA.
Minister of Tourism Cecil "Ces" McKie made the disclosure on Tuesday in Parliament as he responded to a question from Opposition Leader, Godwin Friday.
The opposition lawmaker asked the tourism minister to tell Parliament under what financial arrangements, if any, do Air Canada, CAL and American Airlines provide air service to SVG and, in particular, indicate whether and to what extent the government must subsidize the operation of the services.
McKie told legislators that SVG, through the Tourism Authority, entered into contractual arrangements with Air Canada for the period Nov. 28, 2017 to July 31, 2018.
The service period was Dec. 14, 2017 to April 12, 2018 and SVG provided a revenue guarantee of CAD$1,593,723 for the flights in the winter season.
The service during the period was provided by Air Canada Rouge's 737 aircraft, with a seating capacity of 137, and they flew from Pearson International in Toronto, the minister said.
The minister said that the service provided during the period was around 91 per cent capacity and satisfied the revenue guarantee threshold required of the airline.
"As a result of the favourable performance of the flights, St. Vincent and the Grenadines did not incur any expenses to the airlines."
The minister said that Air Canada Rouge currently provides year-round flights to St. SVG on Thursdays and this service commenced on Oct. 25, 2018.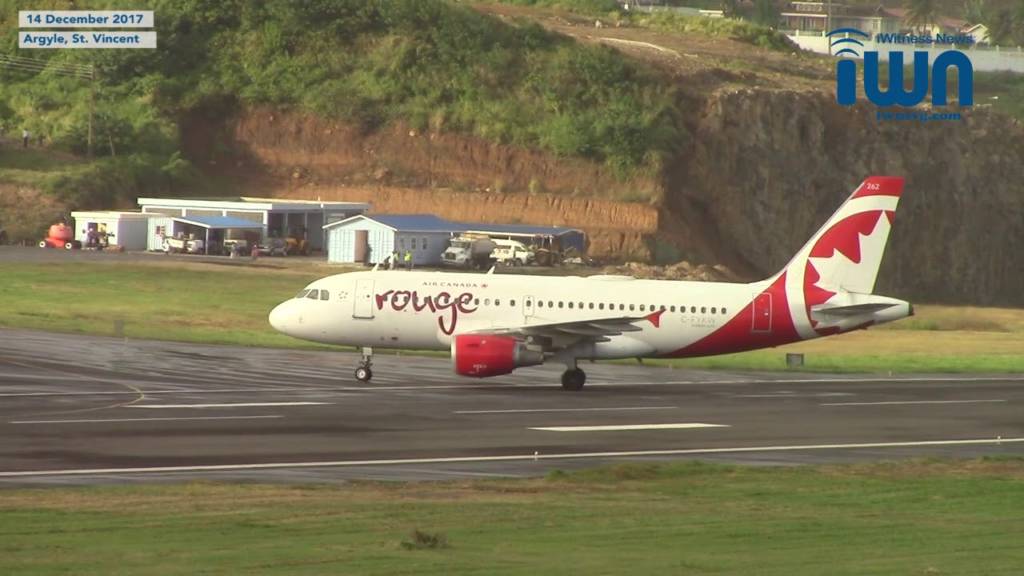 An additional second flight commenced on Dec. 16, 2018 and will run until April 28, 2019.
"St. Vincent and the Grenadines was not required to enter into any new contractual arrangements and the airline currently operates these flights independently," the minister told parliament.
McKie further said that a similar contract was entered into with American Airlines for Jan. 18, 2018 to Feb. 15, 2020 for flights between AIA and Miami International Airport.
These flights operate year-round on Saturday from Dec. 15, 2018 to Dec. 18, 2019 using a 737 aircraft with 128-seats.
The three flights operated in December 2019 brought in 375 passengers and 365 departed.
"St. Vincent and the Grenadines established a letter of credit in the amount if US$1 million (EC$2,716,900) with the carrier. A revenue guarantee of US$33,672 for each one-way flight is also in place," McKie said.
The minister said that the airline will make flight data submission on a quarterly basis for reconciliation.
No such submission has been made, as the first quarter is not yet complete.
The contract and service period with CAL is for March 14, 2018 to March 13, 2021.
The airline makes year-round flights between AIA and JFK International Airport in New York, using a 737 aircraft with a capacity of 154 seats.
SVG provided a revenue guarantee of US$110,380 per return flight
The revenue guarantee requirement was met for 14 of 49 round trips operated to date.
The remaining flights operated under the revenue guarantee threshold, resulting in a shortfall of US$1,059,724 for the operating period thus far.
"The figure was settled through the Tourism Authority for that period, March to December 2018."
The minister said that billing and reconciliation is done quarterly.
He said 8,412 passengers arrived on CAL at AIA from March 2018 to December 2018 and 8,227 departed.
McKie said that revenue generated over this period was US$2,858,766.
"Revenue guarantee for those flights was US$3,918,490, hence the shortfall of US$1.059 million, which is 27 per cent of the threshold established."
He said that to these numbers should be added those of the SunWing charters.
These 737 aircraft flights, with a capacity of 180 made 16 return flights between January and December 2018.
They brought in 1,898 passengers to AIA and took out 2,324 passengers.
"All told, these four international carriers made some 99 return calls and a one-way flight between December 2017 and December 2018. They brought in 14,584 passengers and took out 14,354 passengers, a total movement of 28,938 passengers in and out of the Argyle International Airport."
Asked by Friday if the monies paid to CAL are sustainable going forward, the minister said:
"I think the honourable prime minister, when he addressed the operation of the Argyle International Airport, and I also endorsed it, we made these contractual arrangements with the understanding that the airport will not be up to profitable stage from the beginning.
"It will take some time and I think the nation understands this and accepts this explanation. These contractual arrangements will be reviewed on an on-going basis, and, importantly, we are in discussion with other airlines and the assessment will have to be done in terms of how profitable and how quickly we can have these aircraft operate on a profitable basis."
Friday said: "I hope soon, Mr. Speaker."
McKie replied, "Rome wasn't built in a day."
"We're not in Rome," Friday said.