Leader of the Opposition Godwin Friday says that while there were problems with the financing of the Ottley Hall Marina and Shipyard, the facility can make a significant contribution to the economy of St. Vincent and the Grenadines.
He, however, said during the Budget Debate on Tuesday, that the Unity Labour Party (ULP), having maligned the project when in opposition, would not allow it to succeed.
Friday said that absolutely no maintenance has been done on the project for the last 18 years since the ULP came to office.
"The fundamental problem, I think, Mr. Speaker, with this project is simply this: the prime minister and the ULP they want to destroy that project as a legacy of the NDP. Having said so many bad things about it, they can't bear to see it succeed…. how else can we understand, Mr. Speaker, all those years of neglect by this government?"
Friday said the New Democratic Party, which he now heads, accepts that the financing arrangements went wrong and the party paid a price for it.
"… and the ULP rode on the back of Ottley hall. They rode it into power," he said as he was responding to the EC$1.067 billion budget Finance Minister Camillo Gonsalves is asking lawmakers to approve for 2019.
He said the finance minister spoke about diversifying the economy but did not say a single word about Ottley Hall Shipyard and Marina.
"You tell me where there is another project in this country of that magnitude that has the potential of that project and you don't factor it in as the minister in your plan?" Friday said.
The opposition leader said that the ULP administration had set up an inquiry not to find out what went wrong with the project, but to investigate what they said was "the failed project".
"They had already concluded that the project had failed even before it was completed or even before the inquiry had started its deliberation. No wonder the Privy Council said it was bias and brought it to a screeching hal."
He said there are many examples of that same kind of "wickedness, spite, on the part of this government in the way in which it treats people in this country who don't agree with them".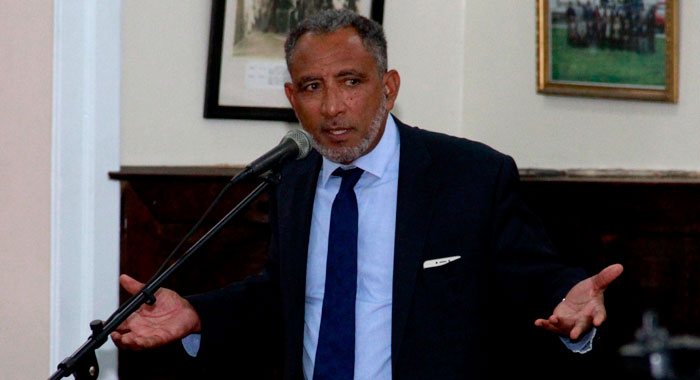 The opposition leader said that the government spend millions on the inquiry, which found nothing.
"But the ULP, they got what they were after. They got political power," he said, adding that since the ULP came to office in 2001, there has been no serious effort or interest to make the project work.
"We all have jobs in this house. There are young people coming out of college who could be down there doing something. Skilled, high-paying jobs.
"Mr Speaker, the project can work. Anybody you alk to would tell you that, who knows about boats."
He said a man recently inquired about the shipyard and marina and told him that the shipyard is the best in the Caribbean.
"It is now derelict and run down but the concept was there. And he was no doubt referring to the fact that it has a covered dry-dock that you can work in all conditions. Nobody else has that. So why does the government not recognise this and act accordingly?"
Friday said that the dry dock is not functioning and asked why is that the case.
He noted that he asked in Parliament last week a question regarding that situation.
The opposition leader said that in December, all but two of the 34 workers at the facility were sent home without money for Christmas.
He noted that the prime minister said last week that the gate had been removed for fixing and the marina should begin operating again by Feb. 15.
Friday said he visited the marina last week Thursday and his findings suggest otherwise.
"The gate is massive. It is what goes at the front of the dock. It closes, you pump the out and you can work on the boat… It has become so corroded that it was leaking and so they had to keep pumping the water out and it didn't make sense to do that anymore, they had to repair it."
He said repair of the gate would not be complete by Feb. 15 or March 15.
"I don't know when it will be done, because it is a massive amount of work… Meanwhile, over 30 workers are idle. No money for them. I wonder if the union, National Workers Movement, is going to look out for them."
He said the main operation at the shipyard seems to be cutting up scrap metal and exporting it — permitted activity under the lease.
"But the Ottley Hall Shipyard not a scrap yard, Mr. Speaker. It is a shipyard. And it makes me angry to see that the facility has been so neglected by this government. They will say that they have leased it ou so what more you want me to."
He noted that in response to his question last week, the prime minister had said that the lessee was in arrears on the rent and did not pay any rent for an entire year.
Friday said he found this quite strange because the carpentry shop is actually rented out to the brewery as a storeroom for empty bottles.
This, the opposition leader, said should not be the case.
"That should be working to give work and training to young people. Why is that facility not being used for the intended purpose, Mr. Speaker? It can do so much more, Mr. Speaker."
He said there is nothing wrong with the concept of the project, adding that it is a multi-faceted project where there is a dry dock, a travel lift, a floating dock that is now completed rusted through.
"How did it get to that? Nobody saw that it was being corroded?"
Friday said the facility also included a convention centre, a shopping centre, grocery store, commissary, carpenter shop and metal shop, which still have the top-class tools from Italy.
"And nobody can tell me, Mr. Speaker, that anyone with any serious intention to make this project work will allow them to sit there idly by and say they have done all that you can."
He said the facility included a small marina and a guesthouse and a hotel should have been built.
"And, Mr. Speaker, if you see that thing, it will bring tears to your eyes. There are bats attacking you as you go in there. And the second floor, which is concrete, the metal there is complete rusted through. I don't think it can be salvaged.
"It looked, Mr. Speaker, as though the place has been abandoned because, maybe, there was some sort of contamination and everybody just ran and left everything there. There is sanitary wear that was still in a room that had the wrapping from when it was bought. This is government, this is taxpayers' money.
"… if I ever were to do something like that to public property, the people of this country should never pardon me. And I don't think I will every have to cross that bridge because I would never, never do that.
"Mr. Speaker, it is not too late. It is time for there to be a full assessment of the project, of what is there, what can be salvaged, what needs to be done. It may require an investment of a substantial amount of money which the company that is running it obviously does not have those resources and government doesn't have the resources. But it has to be found, it is going to be salvaged."
He said the project is not just a legacy of the NDP.
"It is a legacy of the people of St. Vincent and the Grenadines; they paying for it. It belongs to the people and they expect that their government, however, constituted, would govern not out of spite and pettiness but in the interest of the people of St. Vincent and the Grenadines…
"This facility, Mr. Speaker, it's an excellent training place for people from the technical college, young people and TVET programmes that they can go there and get on the job training in very skilled work that would give them the independence that a good paying job can provide," Friday said.
"Sadly, Mr. Speaker, I have concluded that Ottley Hall cannot succeed under this present government, the sooner they're gone, the better for Ottley Hall. They will not let it fly. It wasn't even completed when NDP was there. But it can be completed. As someone said to me who knows the place, he says the arrangement that is there right now, down there at Ottley Hall, was designed to fail. Mr. Speaker, it is sad, but it is true, and it is a crying shame what has happened there.
"I can't wait for the NDP to return to office to salvage the project. And the young people should know that they will have opportunities there because instead of 36 and 38 people working there, there will 150 people working down there because that is what is possible."