Member of Parliament for Central Kingstown, St. Clair Leacock is accusing the Unity Labour Party of copying and repackaging what he said was a successful programme of the New Democratic Party government.
"This naked and unabashedly, disgraceful, copying and paste of the successful NDP programme of the James Mitchell regime and company which they call 'gouti tracks' now naming it PAVE. PAVE, my neck," the NDP vice-president told last week's Budget debate.
In his Budget Address, Minister of Finance, Camillo Gonsalves, said that in 2016, the government told Vincentians to look forward to a massive programme of road repair and reconstruction.
He said the programme was spurred by the completion of the Argyle International Airport and US$34 million worth of financing from the Kuwait Fund for Arab Economic Development and the OPEC Fund for International Development.
"We are pleased to report that, after extensive preparatory engineering work and a protracted review process from our partners, physical works on a number of crucial secondary and feeder roads will commence in March," the finance minister said.
He said the multi-year road reconstruction project represents "the largest single investment in the rehabilitation of our secondary road network.
"The Vincentian public will see and feel the difference," Gonsalves said, adding that almost 48 kilometres (30 miles) of secondary, village and feeder roads will be addressed by this project.
The roads include those in Belair, Brighton, Calder, Carriere, Colonarie, Enhams, Greiggs, Montreal, Ottley Hall, Palmyra, Fair Hall, Gomea, Chapman, and Richland Park.
"This Budget also marks the introduction of the Pedestrian Access for Village Enhancement (PAVE) Project," he said, adding that PAVE, which is funded through grant financing from the Government of the United Arab Emirates, will seek to improve or construct 39.5 miles of pedestrian access paths, walkways and inter-village connections.
Phase 1 of the PAVE project will commence in 2019, and will target the 159 pedestrian access paths deemed to be the most vulnerable or necessary across the country, Gonsalves said.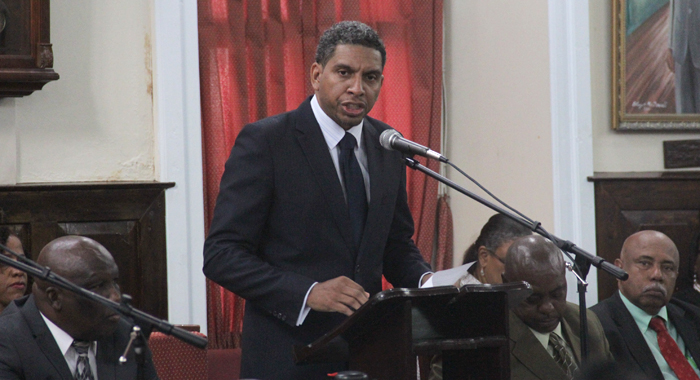 But responding to the budget, Leacock said that PAVE is an NDP programme.
"That's an NDP programme where we did big things for the small man, so don't rename and rebrand it belatedly. Mr Speaker," Leacock said.
Leacock also suggested that Minister of Agriculture implement "Project HELP".
"Household Employment Leverage programme," Leacock said.
He further suggested that the government look seriously at a EC$50 million programme for agri-processors.
Leacock noted that he had brought to parliament a programme of twinning idle hands with idle lands.
He also noted that he had spoken in parliament about his proposed "VAREP –Vincentian Association of Retired and Elderly Persons".
"I see there is a place for it and the government was there before me with their Home Care for the Elderly, a wonderful programme, so it also has my support, but we can do more in that regard," Leacock said, adding that he thinks that the prime minister had committed to that before.