While many opposition supporters might see Prime Minister Ralph Gonsalves as the problem in St. Vincent and the Grenadines, Member of Parliament for Central Kingstown, St. Clair Leacock disagrees.
"A lot of people talk about Ralph, Ralph, Ralph, Ralph. Well, that's your choice, but Ralph is on the way out. Ralph is no longer the problem of SVG. The problem is what he has left behind," Leacock, who is a vice president of the New Democratic Party, told a party rally in Georgetown on Saturday.
"When it happened a few years ago a Commissioner of Police could have put on all red and come to a political meeting, that's what he has left behind. When you have a man who would be chairman of a Public Service Commission and treat people in the way that has been done to them, where you don't have any promotions in place and favouritism and nepotism, the damage has been done," Leacock said.
"When you could have a Supervisor of Elections putting her reputation on the line and allowed what happened in these petitions case, the damage has been done.
"When you could have a budget presented in a country that is dishonest in every form, short by over $200 million and the IMF had to come here two years ago and say we left off 112 million and this year, in three days, you have to jog around the figures to balance the budget, knowing you don't have the money to run the country and present it to our people and having us following that hook, line and sinker, I say, like Ninja, 'St. Vincent Gone'."
He said that democracy is not just about one person, one vote, which was attained in 1951, but about citizens being able to look after themselves.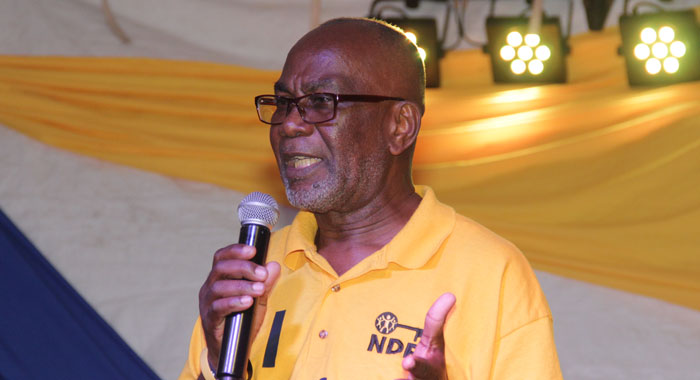 "That you are not in a home watching your young daughter prostituting herself. Democracy is about the fact that you can earn an income that you can take care of your own illness. Democracy is about having pride in yourself, democracy is about believing your self-worth and democracy could never ever mean that only one set of people are allowed to grow and progress in a country," Leacock told party supporters and media audiences.
"You can't have a country when you see a policeman you say, 'he is ah Labour police.' You see a nurse, 'She is a Labour nurse.' You see a teacher, 'Is ah Labour teacher.' You have a funeral; you say is a Labour funeral. Yuh have a wedding, 'Is a labour wedding.' Every single thing is labelled in a country because we have been so divided that this country cannot go forward. That's the battle you have to fight. That's the challenge that Dr. Friday and your colleagues in the New Democratic Party have to fight because, indeed, we can have a better St. Vincent and the Grenadines. The New Democratic Party cannot afford to be halfway. We have to go all the way," he said.