The ruling Unity Labour Party's (ULP) call for its supporters, last Thursday, to "put on yuh red and hut up dey head" was intended to divide and conquer.
So says leader of the Opposition, Godwin Friday, who dismissed the march and rally the ULP held to celebrate their 18th anniversary in office as the party protesting against itself.
"Given what we have heard and seen so far in the press, they must be holding a protest rally," Friday said ahead of the ULP's march from its headquarters on Murray's road, into and around Kingstown before a rally at Heritage Square.
Friday noted that after the court ruled on March 21 to dismiss the petitions his New Democratic Party filed challenging the results of the December 2015 elections, "many of us were disappointed and we took to the streets of Kingstown to register our disagreement with the decision.
"The ULP seems to be now taking a page out of the NDP book," the NDP leader said.
"Their lawyers have said that they are not satisfied with the judgement of the court and [have] taken the extraordinary step in writing to the court to seek to correct the judgement. So, the ULP can't be celebrating in Kingstown today; they must be protesting, against themselves."
He said he has noticed that in one of the ULP's advertisements of the march and rally, they encourage their supporters to wear red and "hurt-up their head".
"Now, who speaks like this in this day and age?  This is a message intended to divide and conquer the people; not one about building the country, because no one can build the country with only half the people invited to participate," Friday said.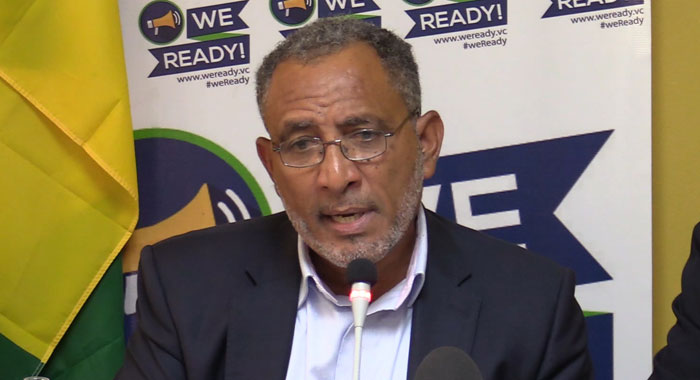 The opposition leader called on nationals to "reject once and for all, the old-style politics of division and hate practiced by the ULP and its leaders.
"To their diminishing number of supporters, I say this, remember when they tell you to 'hurt-up their head', they are talking about people who sit next to you in church on Saturday or Sunday; they are talking about teachers who help your children prepare for their exams; they are talking about people who play cricket, football and netball on the same team with you; and they are also, for many of us, talking about members of our own families who do not share our political views.
"The point I am making is this: politics must not be used to divide our people to the point where we feel it is okay to hurt up their head, for it carries a lot more meaning. It means it is ok to hurt you neighbour, to prevent him from making a living, to deny his children opportunity to get ahead; to do things to people that would make them, as they have said, 'suffer and die'."
Friday said that Vincentians cannot build a brighter future for themselves in St. Vincent and the Grenadines if they continue in that way.
"The ULP have decided; that is how they intend to win, and it is how they have governed. For me, it is much better for our country and for our souls that we return to a politics of embracing of old foes, of reaching out to everyone; and of adhering to the principle that whatever we build and create in this country, we will do it together and share in it equally.
That is the message we must all carry, and we must do so not out of political expediency, but as a commitment to our people. We are too small as a country, too decent a people to allow ourselves to become so divided that we relish hurting our neighbour that way—whether in their head, in their wallet or otherwise.
I reject that politics of fear and selfishness. We must all reject it. We can start by letting Ralph, Camillo, Julian and Straker talk their hateful talk to themselves, while the rest of us set our sights higher, "unto the hills", so to speak, from whence cometh our salvation as a people."
The opposition leader said that the politics of divide and conquer helps only the politicians who profess it, and only for a while.
"It does not help the country. We need no better, indisputable proof of this than what assails us daily in our country. Just look around at the mess we are in and tell me that I am wrong.
"The corruption and vulgarity that passes for progress and governance in our country cannot be normalized and accepted as the only way forward. We must do better. We can do better. Let us start by rejecting Ralph, and the ULP and their hateful politics today, and turn to your neighbour and say, 'We have a lot of work to do, let's do it together because that is the only way we will succeed'," the opposition leader said.