A leaked video from the Tradewinds military exercise taking place in St. Vincent generated some alarm this week, leading to acting Prime Minister Sir Louis Straker issuing a statement to reassure the public.
The video, produced by World New Network, a fictitious media outlet that is part of Tradewinds, simulated an eruption of La Soufriere Volcano, a hostage situation at Argyle International Airport, and the delivery of bombs to the Calliaqua Police Station and another business place in the East St. George town.
Commissioner of Police Colin John and members of the Tradewinds team addressed the issue at a press conference in Kingstown.
He said the simulation exercises were designed to be as realistic as possible to help participants in the 19-nation military exercise to improve on their various skills.
"On the point of being realistic, I know that members of the media may have been exposed to a video that was circulated and that it may have caused some alarm in certain circles."
The video, which was circulated via social media, made some persons inside and outside of SVG concerned.
At the press conference, John asked Catherine Lewis, a U.S. Southern Command officer and member of the PR department of Tradewinds to comment on the video.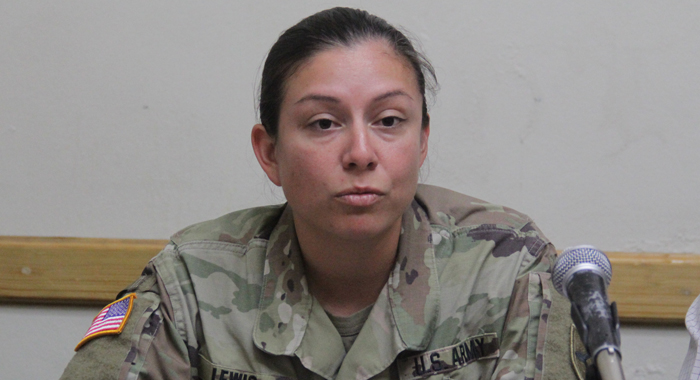 Lewis said:
"During this exercise, World New Network, which is a fictitious network has been developed for our training audiences.
"It is my understanding that a video has been leaked which has caused panic. However, nothing actually happened; there were no real live incidents. It's all a fictitious incident. The volcanic eruption did not actually happen; there was not an actual earthquake. Things were developed just for training purposes to see how everyone reacts to said events."
Meanwhile, asked how concerned was he about the video being leaked, John said:
"I won't say it was leaked; it was sent out for persons to be alerted," John said.
He said similar simulation videos can be found on YouTube.
"It wasn't really, in my opinion, any security breach or any sinister motive that resulted in the video being out there in the public.
"And if I am to give my personal opinion, I think it really assisted the public in being alert and see how they would react, should a situation like that occur," the police chief said.
He said the copy of the video included flashes of "Exercise! Exercise! Exercise!".
"So, if persons are paying attention to that, they would realise it is an exercise as opposed to a real-life activity."
Asked if he or the team thought that, ideally, the video was something that should have been widely accessible to the public during an exercise and in the jurisdiction where the exercise is taking place, John said: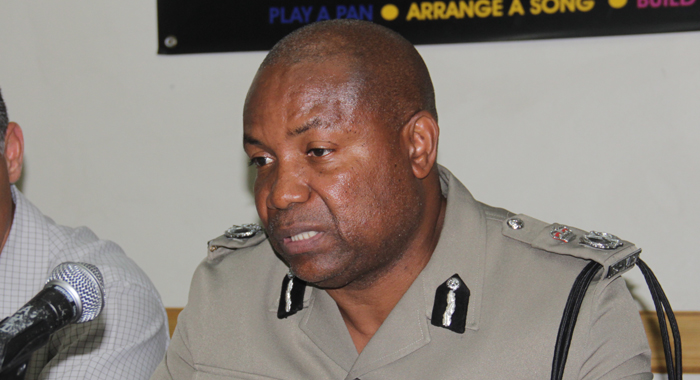 "Well, based on information, the video was circulated after the activity took place. So basically, I was a reporting on what took place as opposed to something that was actually happening at the time…
"If am to give any criticism, the only thing I would have liked to be added at the end of this is that it indicate that it was an exercise rather than just the posting on the screen. But generally, I don't think that if you look at it carefully, you would have been alarmed or should have been alarmed about it."
Meanwhile, Doug Fitzgerald, of the US SouthComms, who has been working on Tradewinds for about seven years now throughout the Caribbean, said a video of that type is a tool used as part of the training.
"One of the tools that we bring to the exercise is a sense of realism. So, seeing the events happen, after they have happened, and being reported by the media, like WNN, brings a sense of realism to the training audience and they understand, 'Hey, I know why I am here. I know why I am doing what I am doing.' And generally, they are either successful operations, they caught the bad guy, they evacuated, they did the search and rescue at the school, so they are pointing out good things."
He said the videos are also used to get the training audience to correct errors.
"We brought it to the exercise for a sense of realism and also feedback for the training audience," Fitzgerald said.
In his statement, the deputy prime minister said that it was unfortunate that the video had made its way into the public sphere.
"The video is part of the Tradewinds training exercise and was created as a simulation video for internal training purposes. Unfortunately, this video inadvertently made its way onto social media and has been the cause of concern and anxiety especially in the diaspora," he said, and assured that all is well in SVG.
"There is no volcanic activity recorded by the regional seismic unit. The Argyle International Airport is fully operational and incident-free and there has been no report of a kidnapping in this country.
"I regret that this video simulation created for internal use was inadvertently made public and the anxiety that its contents have caused."
Sir Louis said the nation's preparation for carnival celebrations are in full swing and SVG continues to welcome its visitors from our neighbouring Caribbean islands as well as from our international countries.
"The Tradewinds exercise ends this week and we trust that it would be a massive success with our local and regional personnel trained in the areas of disaster response and other mass casualty situations," the acting prime minister said.
The St. Vincent leg of Tradewinds 2019 ends on Friday, June 21.