Three years ago, a new artiste, Caspa G, attempted to make a mark on the Vincentian soca scene.
His song, "Think Ah Joke eh?", in his words, "ain't been get no forward".
"It been drop kind ah late, too," he told iWitness News on Thursday.
But in 2019, he is collaborating with Skinny Fabulous, the biggest name in soca in St. Vincent and the Grenadines and has won a chance to collaborate with Trinidadian soca star, Machel Montano.
As part of his winning in the Shell Down Boss competition at Skinny's "Black Rave" last Saturday, Caspa G's "Rum Diaries" will be remixed to feature Machel Montano.
"It's a great experience, but to me it's just a normal thing because there are so many things I am looking to achieve, like being international and just being able to go overseas and do shows," the artiste told iWitness News of the Black Rave experience.
This year, Caspa G, a 23-year-old artiste, who was born in Redemption Sharpes and grew up in Rillan Hill, has released six songs: three solo, and three in collaboration.
In addition to Rum Diaries, a song about situations he has witnessed while drinking with friends, Caspa G has also released "Woman Run De World" and "Andale".
"Woman Run De World" is a song about women coming out with their friends to party. "It is about my girlfriend having a girlfriend and the three ah we go to party."
"Andale" is about "coming out with yuh squad to have fun. Wine on girls," the artiste explained.
He has collaborated with Hypa 4000 to do a song called Gyalist and with Shady Layne to do "Whole Thing".
Caspa G's latest collaboration, "Shut Down" was released Thursday morning.
The artiste is among the 20 who have made it to the soca semis to try to dethrone 10-time Soca Monarch Fireman Hooper.
"I'm looking forward to going and put my best foot forward and, by the Grace of God, get a place in the finals," Caspa G said.
Caspa G is having a "great" year, with more success than many young artistes with his limited experience can only dream of.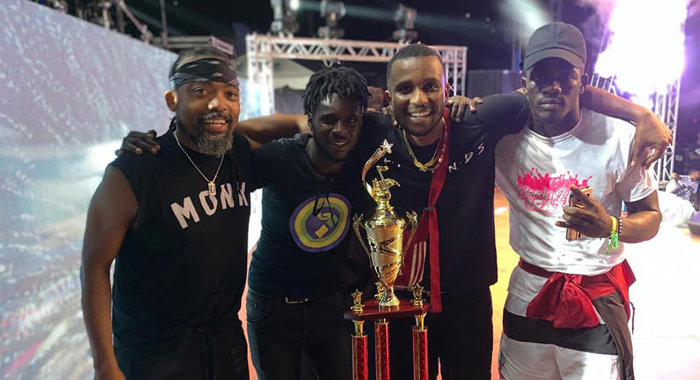 "All of my songs are getting airplay. I am getting a few bookings here and there," he said.
He is still learning the inner workings of the music industry, saying his year "could have been better still, but 'it done gone a way'.
"In terms of booking fees, there was a mishap between me and some promoters earlier on, but now I have a management team," he said, adding that he is now being managed by Lester Iroha, of 4th Dimension.
In May, Caspa G won the 2019 Trending Artiste title for his performance at the launch of Vincy Mas, winning, among other things, a place within the St. Vincent and the Grenadines' CARIFEST team this year.
He said he anticipated the success that he is having this year.
"I knew for sure that the song Rum Diaries was a solid song even before I recorded it. And when I got to the producer and ah get the rhythm fuh it, it gave me a little bit more confidence," he said.
"And then Hypa 4000 checked me to do that song Gyalist and that made me know I am stronger this year, because of the lyrics of the song and the rhythm. The rhythm is a great rhythm too."
The artiste said he reached out to Skinny in appreciation for mentioning him in his song "Vincy People".
About five days later, Skinny got into contact with the young artiste, telling him he had a project for them to work on. That project was "Shut Down".
"I just want to say to the youth dem to believe in themselves always and never let nobody doubt them," said Caspa G, a graduate of the Intermediate High School.
"Always put your best foot forward in everything you do. Even if it's sliding a van door, do it the best," Caspa G said.