A lawyer has called for an investigation into the alleged beating, by police, of four men charged in connection with the alleged gunpoint robbery of the wife of a Member of Parliament and other crimes, including murder, last September.
At the Kingstown Magistrate's Court on Tuesday, when a preliminary inquiry was slated to begin, Vynnette Frederick asked for an indication of "the injuries that her client sustained upon the first appearance when he came to court".
Frederick was holding papers for Michael Wyllie, another lawyer in their chambers, who is representing Glenville Harry, 34, self-employed, of Vermont.
Harry, along with suspended police officer, Ettian Charles, 34, Elroy Rogers, a 26-year-old labourer of New Montrose, and Rocuan Robinson, 29, a mechanic, of Campden Park, are charged that on Sept. 15, at Cedars, being armed with a gun and a knife, they robbed Reisha Twana Browne-Caesar, of a number of items valued EC$10,350.50 and other documents.
Charles was suspended from duty in July 2017 when he was slapped with burglary and corruption in public office charges.
Charles, Harry, Hanson and 36-year-old Jerome Ollivierre, of Mayreau, were charged that between Aug. 31 and Sept. 1, at Arnos Vale, they murdered Rodney George, a 50-year-old security guard of Victoria Village.
They men are also charged that between the same dates they burglarised G.E.C. Auto Building/Tyre Shop at Arnos Vale.
Hanson, Charles and Harry are also charged with the armed robbery of Lisa Wilson, of Brighton, and wounding of Grafton McDowall of Brighton.
Charles also faces a charge of illegal possession of a firearm and ammunition.
Last year, when they were arraigned in connection with the robbery of the minister's wife, some of the men had puffy faces and bloodshot eyes.
During his second court appearance, Charles told the Kingstown Magistrate's Court that Commissioner of Police Colin John was among a group of officers who inflicted a severe beating on him after was arrested on Sept. 15.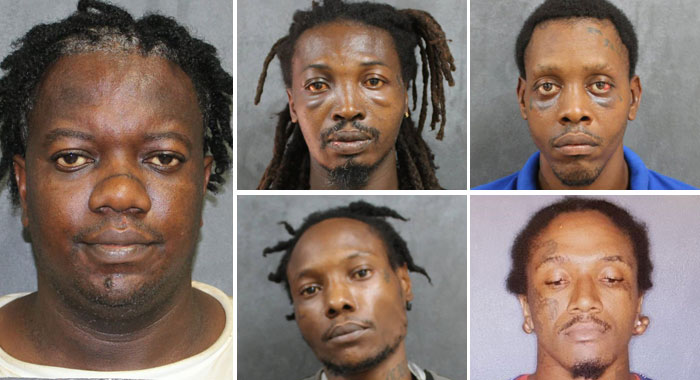 John, a lawyer and former prosecutor, denied Charles' claim, telling iWitness News, "… I never struck him. I never saw anyone strike him. I never saw him with any injury, and no one complained to me about him being struck."
Frederick raised the issue during Tuesday's court appearance.
"He does not look today like how he looked when he first came to court," Frederick said, adding that the state had a responsibility to disclose what happened to her client.
She said that if the state doesn't know it should "call those who know and let's start at the start, because if we are going to drag this out, let's do it right from the get-go.
"And let me see how long it will take you to disclose what we are going to PI to talk about… Let's start first with why they were beaten up and who beat them up. Who ordered that and whether the court made any note of the fact that they came to this court beaten up," the lawyer said, as she and counsel Grant Connell and Israel Bruce, made submissions to the court on the issue of disclosure ahead of a preliminary inquiry.
Frederick said if it is that the court would adjourn so that the prosecution could take instruction to find out whether or not disclosure can happen, she can bring the case law to the court that indicates "how justice must not only be done but must be seen to be done".
The lawyer said she would spend 10 years, if necessary, "on this matter to do it. I ain't getting tired. I am never tired to see justice done."
However, Senior Prosecutor Adolphus Delplesche told the court that he doesn't know about anyone getting beaten up.
"I am not a policeman, I was not at any police station, I don't know who beat who or if anybody beat anyone," said Delplesche, a former police officer.
The prosecutor said that the parties who are involved would be able to say if they were beaten and by whom.
"This prosecutor goes from his office to his home. Not any police station. So, I don't know about any beating. That's all I can say," he said.
Magistrate Rickie Burnett will give a decision on July 16 about whether he will order disclosure in the case — the first preliminary inquiry over which he is presiding.
Last November, in response to a question by an opposition lawmakers, Prime Minister Ralph Gonsalves, who is also Minister of National Security, said Charles' police abuse case will not be investigated.