By Kenton X. Chance
President of Taiwan, Tsai Ing-wen, on Tuesday, in her address to the Vincentian parliament, pledged her country's continued support to St. Vincent and the Grenadines (SVG) in the areas of agriculture as well as infrastructural and human development.
However, unlike when her predecessor, Chen Shui-bian addressed the national assembly in Kingstown in 2005, Tsai was speaking to a legislature divided on its commitment to SVG-Taiwan ties, which have existed since 1981.
In 2016, under the leadership of then opposition leader Arnhim Eustace, the New Democratic Party (NDP) announced that it was adopting the "One China" policy, in which Beijing says that Taiwan is part of China.
NDP president and Leader of the Opposition Godwin Friday has remained committed to that policy but told iWitness News that his party will attend official events related to Taiwan as a courtesy, but will implement the "One China" policy, if elected to office.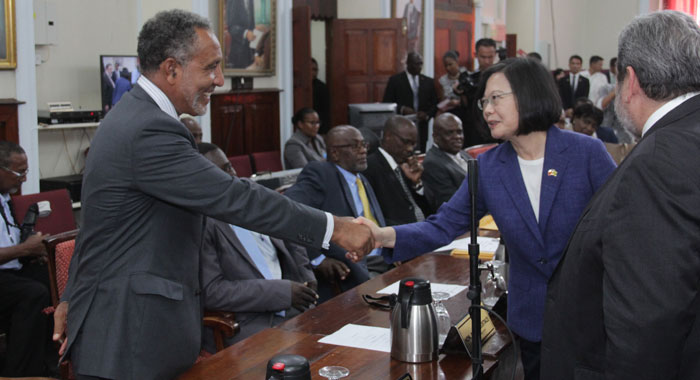 Friday and most opposition lawmakers attended Tuesday's sitting of Parliament.
In her brief address, Tsai noted Kingstown's long-term support for Taipei's participation in international organisations, saying that SVG has spoken up on Taiwan's behalf.
She said that Prime Minister of SVG, Ralph Gonsalves, said it best during last year's United Nations General Assembly when he said: "There is simply no principled basis to deny Taiwan the right to participate in the work of the specialised agencies of the United Nations."
Gonsalves, as an opposition politician had opposed SVG's ties with Taiwan but continued the relationship when his Unity Labour Party came to office in March 2001.
He has restated his government's commitment to the relationship and has announced the August 2019 establishment of an embassy in Taipei.
The Gonsalves government has named retired career educator Andrea Bowman as its first ambassador to Taiwan.
Bowman will take up office next month.
Tsai said that Taiwan has another friend in the Vincentian parliament in the person of Minister of Health, Sen. Luke Browne, who she said has quite a following in Taiwan.
She pointed out that last May, at the World Health Assembly, Browne said that the interest of Taiwan's 23 million people should not be held ransom to political preferences.
"His courageous words have stayed with me until today," she said.
"St. Vincent and the Grenadines has always been a loyal ally and a close partner. We share a common vision for universal human rights, so I hope that you will continue to support Taiwan in the international arena, as we work together to achieve the UN Sustainable Goals and make our world a better place for future generations," the Taiwan leader said.
She thanked the members of the House of Assembly for the decision to establish an embassy in Taiwan.
"The people of Taiwan welcome you with open arms: I am confident that this new embassy will lead to new opportunities for cooperation and even stronger friendship between our countries," Tsai, who is her country's first female leader, said.
"I look forward to your continued support in the international arena and for continued strengthening of our partnership. As we face the challenges that lie ahead, may our countries prosper and our alliance endure," Tsai said.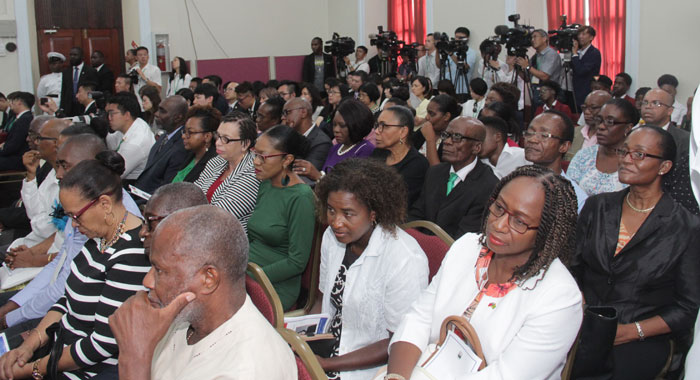 Tsai also congratulated SVG on its election to a non-permanent seat on the United Nations Security Council, from January 2020 to December 2021.
"Promoting world peace and security in this important international world body is a high honour and a great achievement. We share in your pride."
She said she had always admired SVG's willingness to speak on the international stage especially on key issues like climate change and sustainable development, Tsai said, adding, "although Taiwan is not a member of the UN, we have always been a responsible member of the international community".
She said her country is dedicated to achieving the UN Sustainable Development Goals and is keen to cooperate with international partners, saying climate change is a global issue that requires global cooperation.
"And in St. Vincent and the Grenadines, we have created an important model that sets the standard for sustainable development.
"Our banana revitalisation project is helping to achieve food security, ensuring access to nutritious food and fostering sustainable agriculture. I know banana has been a cornerstone of your country's economy. Using Taiwan's strength in agricultural technology, we'll work to revitalise the banana industry in St. Vincent and the Grenadines," she said to applause.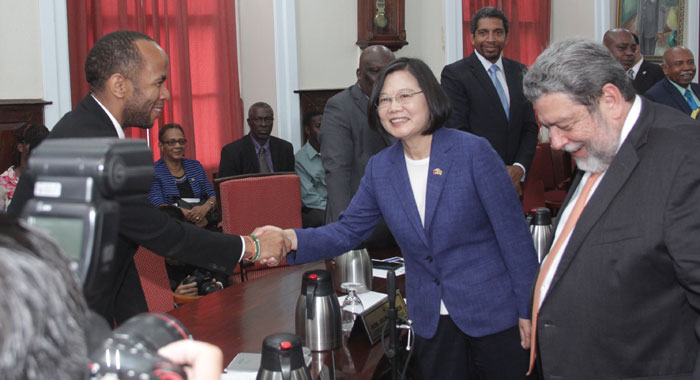 Tsai said Taiwan's MacKay Hospital is working to promote health in SVG by jointly implementing a capacity building project to prevent and control diabetes.
"We are equipping local medical personnel with stronger care capabilities and teaching the public about diabetes prevention, care and self-management. Together we are giving people the ability to take charge of their own health."
The Taiwan president said that the joint intelligent bus management and monitoring system project exemplifies her nation's commitment to resilient infrastructure in SVG.
"With this project, we will establish the first smart transportation system in the Caribbean right here in St. Vincent and the Grenadines and help Vincentians make better use of public transportation."
She said that the nations are working hard to cultivate human capital, noting that each year, Taipei awards scholarships to outstanding Vincentian students to study in Taiwan.
She said that in doing so, Taiwan ensures access to high-quality education for Vincentians.
"Graduates bring crucial knowledge and skill back to St. Vincent and the Grenadines and apply what they have learnt to give back to their communities."
She said Taiwan also offers local training courses in the food and beverage, tourism, plumbing and electrical repair industries.
"Students can quickly gain practical job skills and make crucial contributions to the Vincentian economy."
Tsai said she met, on Tuesday, with representatives of the Taiwan alumni association in SVG.
The Taiwan president said they were joined by 16 students who will soon travel to Taiwan to pursue university degrees.
"I am delighted that Taiwan is doing her part to cultivate talents here. Through everything that we do together, I want your people and the world to see that we can contribute more to the world and that we are determined to do so," Tsai said.