By Sheron Garraway
A contingent of Garifuna from in Los Angeles and New York that made a "Vincy Home Coming" pilgrimage to St. Vincent and the Grenadines from July 31 to Aug. 7 is calling for Balliceaux to become a sacred heritage site.
Balliceaux is the 320,000-acre Grenadine island to which 5,000 Garifuna were banished in 1797.
The majority of them died on the island — which has no freshwater source — before they were being exiled to Honduras.
The delegation was hosted by the Ministry of Culture and visited several sites and held a church service at the St. George's Cathedral in Kingstown, where they said prayers and sang in Garifuna.
They also conducted cultural workshops in Sandy Bay, Rose Bank and Kingstown.
The highlight of the group's visit was their Aug. 5 trip to Balliceaux.
Both young and senior persons sang and danced in merriment during the 30-minute catamaran trip from St. Vincent to Balliceaux, which is located east of Bequia.
But upon nearing Balliceaux, the members of the groups were overcome with a range of emotions. Some shed tears, some expressed elation, while others had a solemn countenance.
On the island, the party paid homage to those who were exiled to the now uninhabited island.
Poet Aurelio Martinez described Balliceaux as a historic site that must be reaffirmed as the Garifuna sacred ancestral homeland.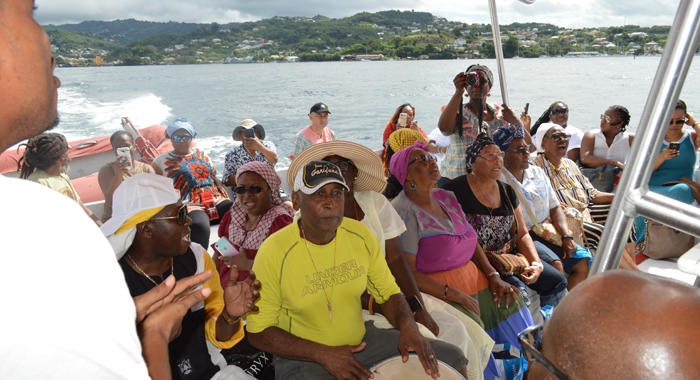 He noted that in 2001 UNESCO proclaimed the Garifuna Heritage and Culture a masterpiece of the Intangible Heritage of Humanity and said that it should be inevitable that Balliceaux be declared sacred land.
Martinez appealed to Garifuna throughout the diaspora as well as heritage lovers, to raise funds to purchase the island, which is privately owned by a Vicentian family and is being sold for US$29.95 million.
He also thanked the government for its work at restoring the culture and called on the state to also facilitate the process to regain Balliceaux.
St. Vincent and the Grenadines Consul General in New York, Howie Prince who helped to co-ordinate the visit, said that Prime Minster Ralph Gonsalves has similar aspirations to ensure that Balliceaux becomes sacred grounds.
Prince stated that Gonsalves will try to put mechanisms in place, but reminded the contingent that "the pen is mightier than the sword".
He advised them to petition, through paper work and other means, to UNESCO and other agencies.
Zoila Ellis-Browne of The Garifuna Heritage Foundation also endorsed Prince's sentiments and suggested that the purchasing of the island is one of the options that must be seriously looked into.