There was no question period at Prime Minster Ralph Gonsalves' town hall meeting with Vincentians in New York last Friday, one year after the prime minister did not hold the formerly annual event at all.
In his 90-minute speech at the town hall meeting last Saturday, which was branded "An evening with the Prime Minister", Gonsalves he spoke about a range of issues, but said nothing particularly new.
Gonsalves explained on WE FM this week the absence of the usual question and answer session at the end of his speech.   
"I didn't take any questions. What happened is we did an evening in a different way. What I have found is that, and the organisers, they find that we don't have enough time, with people who are meeting and greeting," the prime minister said.
"So that when you do it and you take the questions, almost immediately after, we have to leave but I spent a good hour or so after my speech mingling, talking to people about all the individual concerns and lots of photographs.
"I have lot of messages which I have to deliver to people at home, you know that kind ah way. And they had snacks and drinks and so forth afterwards," Gonsalves further stated.
"So after I spoke, they had cultural performances and then I mingled nuh," he said.
The absence of a question and answer period might have thwarted a threat by New York-based Vincentians who oppose Gonsalves and his government to disrupt the meeting with protest and to ask Gonsalves embarrassing questions.
It is the second consecutive year that Vincentians in New York have been denied an opportunity to question the prime minister in a public way about development in St. Vincent and the Grenadines.
In 2018, Gonsalves failed to have a town hall meeting at all, choosing instead to meet with Vincentians — ostensibly supporters of his government — in small groups in a private home.
Last year, some of Gonsalves' political opponents had indicated via social media their intention to mount a protest at the town hall meeting and to ask him potentially embarrassing questions.
Gonsalves, however, said that the decision not to have a town hall meeting in 2018 had nothing to do with any possible protest.
"New York City is very favourable territory for De Comrade and for the ULP. And any few persons who want to come, if I am holding a town hall meeting to disrupt it, the ULP supporters will put them under manners and other decent people would do so. So I don't have to worry 'bout nothin'," Gonsalves told the media in Kingstown in October 2018.
In recent years, some of Gonsalves' annual town hall meetings have become noisy affairs during the question and answer period.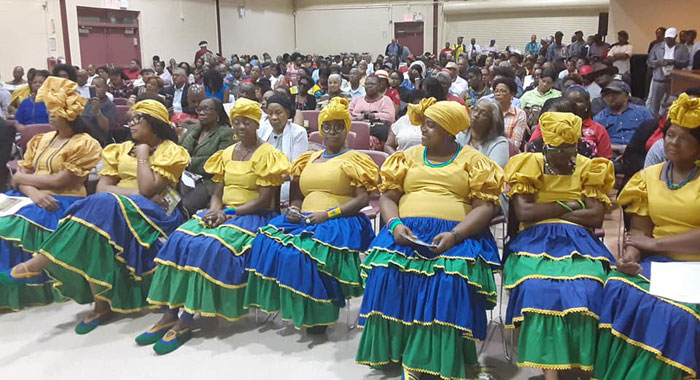 In 2016, New York-based Vincentian, Miranda Wood, spoke through jeers and boos from Gonsalves' supporters as she said at his town hall meeting in New York that he had "attacked" her when she visited his law office in Kingstown when she was 15 years old.
As the jeering continued, Gonsalves said, "Hold on, hold on," to bring quiet to the auditorium again.
"Miss," Gonsalves said and beseeched to the crowd to be quiet as some of his words became difficult to understand. "I will simply say that you can make an allegation that is not true," Gonsalves told the then 47-year-old woman.
The question and answer period of town hall meetings that Vincentian politicians have held in New York have produced some interesting developments.
In 2015, when asked about his development plan for St. Vincent and the Grenadines, then opposition leader Arnhim Eustace told the questioner to "Ask Ralph for his."
Eustace's response was shortened to "Ask Ralph", which became a main campaign slogan for Gonsalves' ULP in the 2015 election, which saw the party returned to office for a fourth consecutive term.