By Zuleika Lewis
St. Vincent and the Grenadines, on Thursday, participated in Taiwan's 108th National Day parade, for the first time since its observance.
The 10-member team of Vincentian students work outfits in their national colours, which were made by Vincentian student Alicia Cox.
The students who participated in the parade are all recipients of university scholarships from the government of Taiwan and are enrolled at the National Taiwan Normal University Mandarin Training Center, where they are studying Mandarin Chinese ahead of the commencement of their degree programme.
Minister Counsellor at the SVG Embassy in Taipei, Elroy Wilson said the event was "a big success".
"They were very happy to be the first to participate. We decided to use the new students because they have more time and being based in the capital, Taipei, made it more convenient for them to attend rehearsals," Wilson said
"I've seen first-hand the hard work and dedication put into the students' performance. On many occasions to accommodate everyone, rehearsals were sometimes held at 10:30 p.m. by the Ministry of Foreign Affairs in Taiwan, and all of the students were always present. In addition to this, they had rehearsals on their own."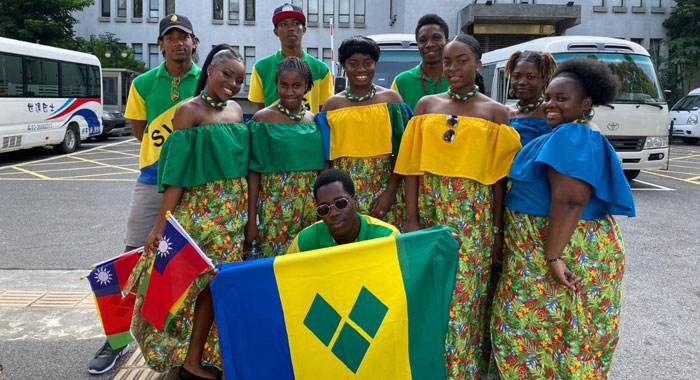 Taiwan's National Day celebrations were observed under the theme, "Taiwan Forward," and were intended to convey Taiwan's passion, inclusiveness and endless possibilities.
Every year thousands of people gather in Taipei to witness a show of military might with tanks, armoured personnel carriers, and various other military vehicles.
Taiwan's air force was also involved with jets screaming overhead and skydivers landing on designated spots in front of the president.
The event was also heavily attended by dignitaries in a show of solidarity.