Despite facing international challenges, Taiwan has remained firm in upholding the core values of democracy and freedom, showing strong resilience and safeguarding the nation's sustainable development.
That was part of the message that Taiwan ambassador to St. Vincent and the Grenadines, Calvin C.H. Ho brought at an event in Kingstown, to celebrate Taiwan's 108th national day, observed two days later, on Oct. 10.
Her said that "Made in Taiwan" is no longer a term limited to components and original equipment manufacturer production.
"… it now represents a new economic development model centred on innovation, artificial intelligence, green energy, and advanced technologies," he told the gathering in Kingstown.
He said that going forward, Taipei will continue to pursue policies that promote national prosperity and public wellbeing, so as to upgrade and transform Taiwan's economy.
"Maintaining global and regional economic stability and collective security is a growing concern for many governments worldwide. Over the years, Taiwan has played a crucial and indispensable role in regional development, and enjoys high levels of connectivity and complementary relations with many countries in the region," Ho said.
He said that as a mature democracy, Taiwan also plays a responsible and constructive role in the international community.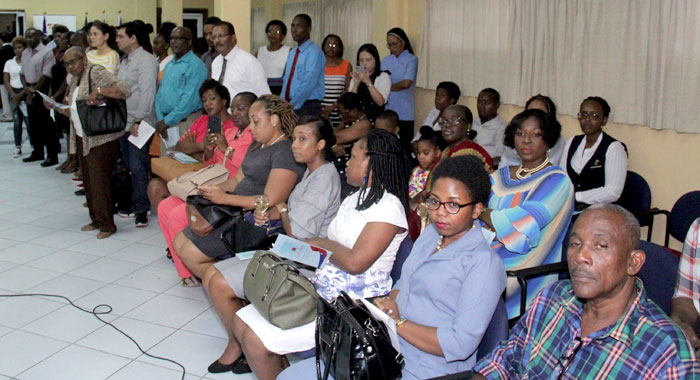 "Through diverse international cooperation and humanitarian assistance, we will rely on the strengths of our non-governmental organisations and coordinate with the United Nations' SDGs as we spread our warm power in a positive, pragmatic, and sincere manner.
"My government will also continue to work with Taiwan's industries in a concerted effort to share our soft power in areas such as smart technology and innovation, agriculture, culture, health care, education, and social welfare. In this way, we will continue to be an indispensable partner across the globe, making substantial and meaningful contributions," he said.
Taiwan celebrated its 108 National Day at a time when the two major political parties in SVG are divided in their support for the Asian nation, with which Kingstown had maintained 38 years of unbroken ties.
At the event, Prime Minister Ralph Gonsalves of the Unity Labour Party reiterated his support for Kingstown-Taipei ties.
He further urged the main opposition New Democratic Party to reconsider its announced intention to end the relationship with Taiwan and establish formal ties with China, if elected to officer.
Ho said SVG and Taiwan share many similarities in geography and history, adding that the both peoples "are diligent and optimistic, and do share and embrace the value of democracy and freedom".
He noted that Kingstown and Taipei established diplomatic links on Aug. 15, 1981, adding that since then, the friendship between both countries has become ever stronger.
"During the past three to four decades, our cooperation has been bearing juicy fruits in the areas of infrastructure, agriculture, public health and health care, information and communication, education, human resources and cultural exchange.
"The development of Taiwan used to be based on farming; agriculture is always an important sector. The agriculture cooperation is one of the pillars that demonstrate the solidarity between St. Vincent and the Grenadines and Taiwan," Ho told the gathering, which included scored of persons who have benefitted from training in Taiwan or provided by Taiwanese experts.
"We have seen numbers of agricultural project that were successfully implemented. The 'Banana Revitalisation Project', which both our governments have signed early May this year, will share Taiwan's agricultural know-how to work closely with Vincentian farmers to combat the local banana disease and revitalize its banana industry," he said at the event, whose decorations included ripe bananas arranged to form of two Chinese characters for "10", representing "Double Ten", as Taiwan's national day is often referred.
Ho said that in the field of information communication technology, Taiwan and SVG are collaborating on the new "eBus/CCTV Project", which will facilitate Vincentian public to commute efficiently.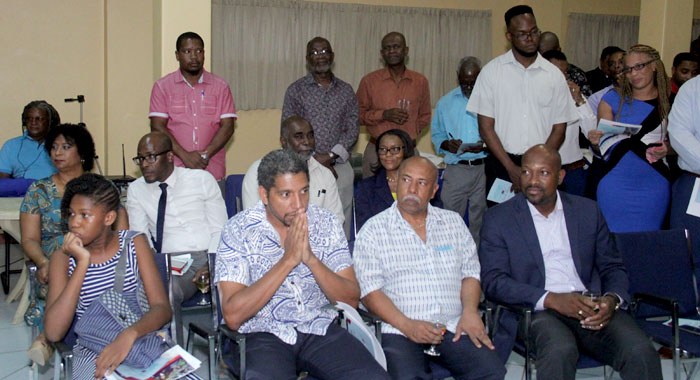 "This project makes St. Vincent and the Grenadines not only the first country using smart transportation system in the Caribbean region, it also helps the police authority to keep order with modern ICT technology through CCTV," Ho said.
In the field of public health, "Capacity Building Project for the Prevention and Control of Diabetes" was launched in February 2018.
"Non-communicable diseases such as diabetes are never easy to tackle. It is also one of the most common diseases in Taiwan. Nevertheless, in Taiwan, we established a framework, which integrates various levels of health facilities to strengthen the capacity of prevention and control. The fruitful results have been demonstrated on the side event in the 72nd session of the World Health Assembly this year," Ho said.
Ho also spoke about other cooperation in the health sector, including the medical teams from Taiwan's Mackay Memorial Hospital and Changhua Christian Hospital, adding that SVG's Milton Cato Memorial Hospital and Mackay Memorial Hospital delegation have signed a memorandum of understanding to formalise a sister hospital relationship.
"… as we celebrate the 108th birthday of the Republic of China (Taiwan), I would like to take this opportunity to once again express our sincere appreciation to the Government and people of St. Vincent and the Grenadines for the true friendship we have both long cherished. I assure you that we will continue to further strengthen this relationship for years to come," Ho said.