The demonstration against sexual assault of women in St. Vincent and the Grenadines that began in Kingstown on Saturday is expected to continue next weekend and into November.
Radio personality and political activist, Laverne "Gypsy" Phillips, who organised the event, told iWitness News that the public is invited to demonstrate in front the Financial Complex this Saturday, Oct. 19.
The protest will then return to in front the High Court building on Oct. 26 and Nov. 2, she told iWitness News on Monday.
"I decided to organise the protest following the report of the 4-year-old who contracted an STD," Phillips said.
It was reported last week that a 4-year-old child reportedly contracted a sexually transmitted infection as a result of sexual assault.
Police are said to have questioned a man in connection with the alleged crime but released him without charge.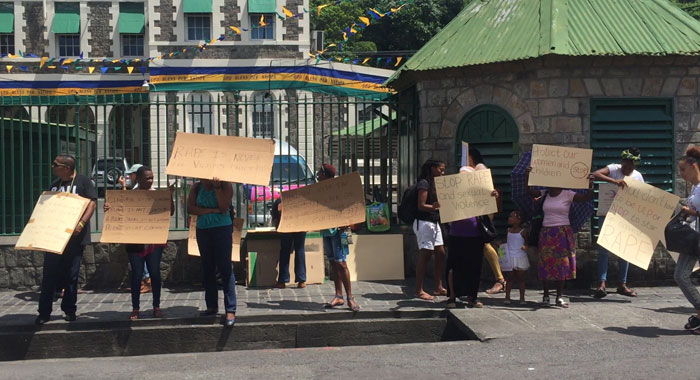 Phillips told iWitness News of the impact that the report had on her.
"For me, it broke me down. Honestly, I broke out in tears," she said.
"I think it is time for us as a people to do something about that. We are too silent about the issue."
She said that while persons are speaking out on social media, enough is not being done to highlight the sexual assault and rape of women and girls in St. Vincent and the Grenadines.
"I don't think that a lot of people are doing what they are supposed to do. The church leaders are not doing their part; the government is not doing their part. And the opposition is, I know for sure.
"I am not saying that because I am part of the opposition, but I know [Opposition Leader] Dr. [Godwin] Friday spoke to it and the Honourable Daniel Cummings [Member of Parliament for West Kingstown] spoke, too," Phillips told iWitness News.
She further spoke of the aims of the protest.
"What we would like to see is a sex offenders' registry implemented in St. Vincent and the Grenadines. We will want to see legislation passed in Parliament to protect our women and our girls in St. Vincent and the Grenadines."
Police have said that there is a sex offenders registry, which they keep private for fear that making it public could result in issues of ostracism and vigilante justice.
Meanwhile, the persons who attended Saturday's demonstration included Cecil Richards, pastor of the Kingstown Baptist Church.
Richards was among demonstrators who spoke to activist Bryan Alexander.
"My reason for coming here is that I am very moved as to what is happening with respect to this particular sexual activity here in St. Vincent and the Grenadines, particularly, the reports of the sexual abuse of minors," Richards said.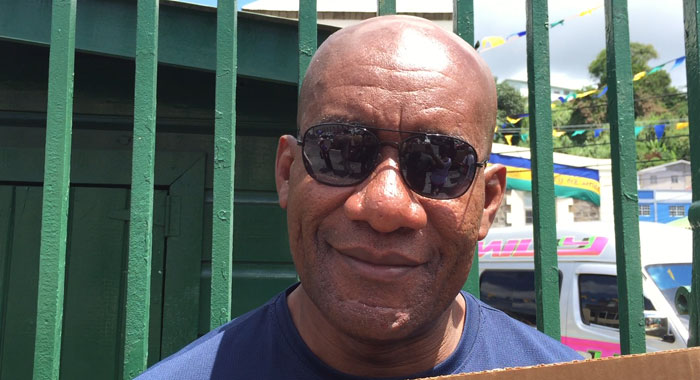 He said sexual abuse is something that the society has to advocate against and bring to the attention of the nation in an effect to protect the youth, especially young girls.
"They are being sexually molested and we need to, at least, stir something in our nation that this is something we are not going to stand for.
"And I am here standing as a representative of the church but I am also standing here as a man of decency that this is something that we ought to stand up against."
A woman who gave her name only as Maylene said she was at the event "to lend my support, to show support to the fact that we don't support children being molested, women being abused.
"We stand up for what is right and we have to come together as a community and stand up [against] this. There needs to be a change."
Maylene said the society needs to take a stand against sexual assault and sexual abuse.
"If this is happening on a regular basis throughout the society and we are aware of it and we are hiding it, then there is a problem and we need to be aware of it and fight against it.
"We need changes in our school system so that teachers can recognise when something is wrong. We need changes within our government system so that policies are put in place so that they can protect our children, protect our women.
"So this is a first step, showing and making it aware to people that here it is a problem, there is a culture of rape and you need to deal with it. So this is the first step."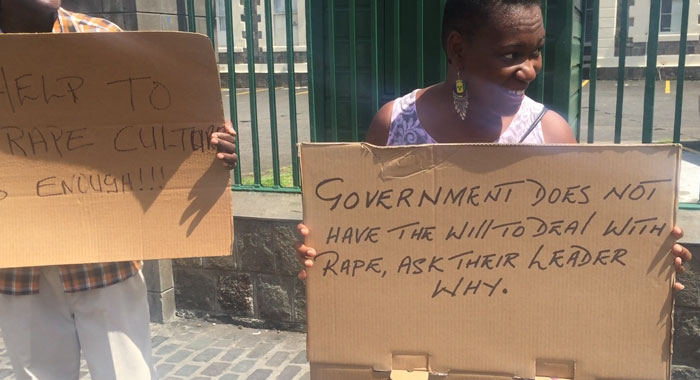 Also at the demonstration was Member of Parliament for West Kingstown, Daniel Cummings.
"As a man, I feel ashamed to be part of a society that seems to encourage a culture of rape in a most brazen way and I have a responsibility as an individual to stand up and speak for the world to know that I am not part of this rape culture and I totally abhor it and would do everything humanly possible to stamp it out in our society," said Cummings, an opposition lawmakers.
"And that is why we are calling on people from the highest echelons of the society to set the example. Stop the raping of our men and women, introduce laws that punish stiffly those who are found guilty of raping and molesting women and child and publish the sex offenders register so that the world will know if you have been accused and charged and found guilty of raping or sexual molestation."
Cummings said that everyone has a right to know who are sex offenders.
"… and they must be shamed and named and that is why I am standing in the sun today, just to let the world know that as a man I do not support the rape culture in this country and I will do everything to stamp it out. We must not leave it to the women alone. Every man must stand up in this country and say no to rape," the West Kingstown MP said.
Last week, in his weekly appearance on the opposition's radio programme, Cummings also called for stiffer penalties for sex offences and for the publication of the sex offenders' registry.
Meanwhile, another woman at the demonstration, on Saturday, said that the words on her placard needed no elaboration.
"'Respect us. Don't rape us,'" she said, reading the placard.
She commented: "You can't get any clearer than this. It is time to stop the raping, deal with all the allegations of rape and get our country on a decent path."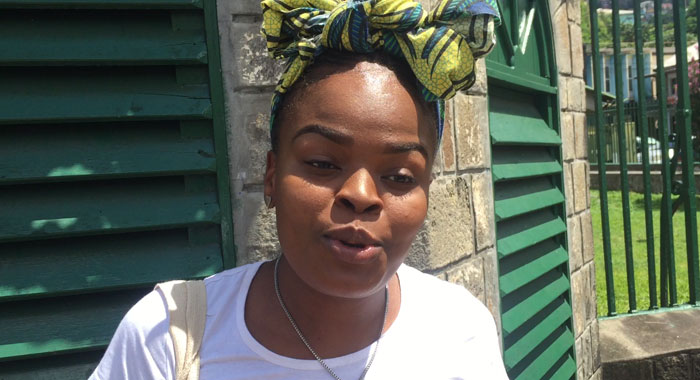 Calypsonain Phylicia "Nubian Empress" Alexander was at the event and made it clear that her participation had to do with the bigger issue rather than partisan politics.
"Well, I am just here for the woman and children of St. Vincent. It has nothing to do with party, whether you are NDP or Labour. I am standing here for our women and children in St. Vincent and the Grenadines. Enough is enough," Alexander said.
Another calypsonain at the demonstration was Ninja.
He said he was there "to protect our young ladies and our women in society.
"I have three daughters and two grand daughters if anybody trouble them. Ahh boy, I am telling you…" he said.
Also at the demonstration was a woman who gave her name as Margarita and made it clear that her presence had nothing to do with partisan politics.
"I also do not have a political affiliation. I am here because this is a burning issue that has been affecting children and women in St. Vincent and the Grenadines.
"And it's time we took a stand against what is going on," she said, mentioning the frequent media reports of allegations of sex crime being committed against women and children.
"Just last week, I heard a woman was gang-raped, I think. And I don't think that the penalties for rapists are harsh enough. I think they should be imprisoned for life because when you let them back out into society, they continue to destroy more lives," she said.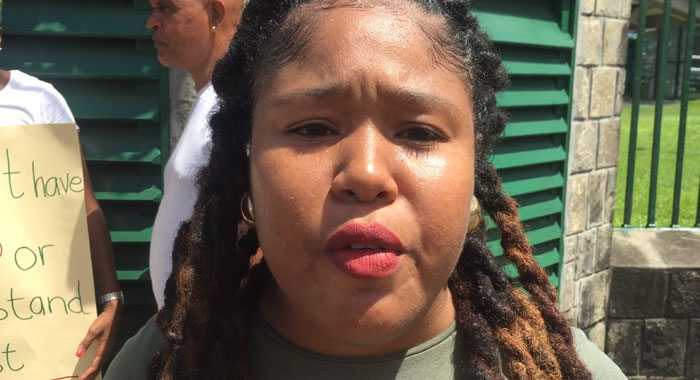 "Do you know short-term and long-term effects of rape on victims.
"Picture a child, a little girl, her virginity being taken and she has to live with that for the rest of her life, she has to deal with the psychological scars and the physical scars. We need to take a stand and we need to secure a better future for our youth. Enough is enough," she said.
The maximum penalty for rape in SVG is life imprisonment, a notional sentence of 30 years.