Minister of Finance Camillo Gonsalves has promised Parliament that there will not be a repeat of the situation in which his government took years – five years in some cases — to bring special warrants to the national assembly for approval.
"I want to say something before I begin discussing what is in the estimates that I recall the commitment by the professionals of my ministry in January that these outstanding supplementary estimates which were highlighted by the Honourable Member for Central Kingstown, there was a commitment that we would do what we are doing now in March in 2019.
"It's quite obvious that we missed that mark by a number of months and the supplementary estimates were already late when we made that commitment and I want to say that it is not acceptable that the supplementary estimates dating as far back as 2014 are being brought to this honourable house in 2019. I want to say that and I want to give an undertaking to this honourable house that such delinquency will not happen again in the future," Gonsalves said.
Parliament approved the supplementary estimates, some of which date back to 2014, when there was a different Parliament constituted.
Gonsalves, who only became finance minister in 2017, when he replaced Prime Minister Ralph Gonsalves, defended the use of the special warrants.
"So you have an instance where the budget has passed and something comes up, wither there is an unforeseen thing that happens, you didn't expect something to happen or there was something there in the budget but it wasn't sufficient, it wasn't enough money to do what it is you thought it would do in the budget.
"And [if] you can't postpone paying these bills or making these expenditures, the minister may issue a special warrant and that special warrant then allows for the money to be spent and thereafter, you bring those special warrants the money spent," he said, citing the law.
Gonsalves said that when he read the Hansard, other ministers of finance on both sides of the house have made similar commitments about not having a repeat of the delinquency.
"But I want to say that while there may be exigent circumstances from time to time, that I am sure that the honourable house would understand the act of bringing this information before the honourable house to explain whatever question there may be and to account for in a public forum the money that has been spent. It is important that we do it and it is important that we do it periodically and I want to give that undertaking."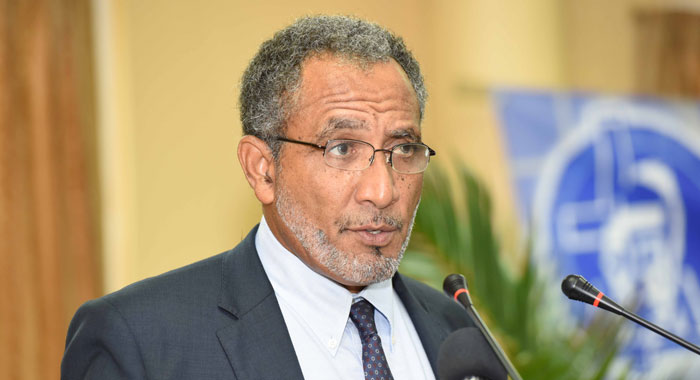 However, Opposition Leader Godwin Friday seems unmoved by the finance minister's promise.
"The process engaged in here by this government over the past five years is one where you have expenditures that are basically done in the dark in that the light of parliament is not shone on it for five years. Why so long?" Friday said.
Friday said it was not in the contemplation of the constitution or the legislation that it would take so long to bring the special warrants to Parliament.
"…It's almost embarrassing to think that we are dealing here in this honourable house today with special warrants that were spent not by this Parliament, not under this Parliament, but in 2014 under a previous Parliament — legally, a previous government and we are now dealing with them here in this parliament. I don't even know how to consider the legality of that process," Friday said.
"It appears to me that the kind of laissez-faire attitude that his government had adopted in respect to these matters. It's not a case of being late; it is a case of being negligent or not seeming to care whatsoever that these matters are brought to the parliament.
"We have heard all the talk about transparency and good governance but what does the record say on this most fundamental aspect of good governance?"
Friday questioned the usefulness of the Finance Administration Act that the Gonsalves government passed in 2005, which suggests that the special warrant must be brought to Parliament within 12 months.
However, there was some debate over the meaning of the actual words of the relevant section of that law.
The opposition leader asked what good is the 2005 law if the government does not follow it.
"I was sitting and listening to the Minister of Finance and with all the handwringing about it's so late and so on, but if the Honourable Member for Central Kingstown and the members on this side had not raised the issue, we would have had more special warrants being issued, monies being spent, God knows from where, and not being brought to the Parliament," Friday said.
Member for Central Kingstown, St. Clair Leacock, an opposition lawmaker, brought the situation with the special warrants to the attention of the Parliament and the nation last month when he asked a question about it.