The then-teenagers who were slapped with three charges in connection with the October 2013 cutlass attack on two sailors in the southern Grenadines were, on Thursday, found guilty on all three counts of the indictment.
A nine-member jury composed of six women and three men took 1 hour and 48 minutes to arrive at the unanimous guilty verdicts on the aggravated burglary, causing grievous bodily harm, and wounding charges.
The men, Enard Douglas, who turns 22 in December, and Jeromie Jordan, aka, "JJ", 23, both of Union Island, were each found guilty that on Oct. 3, 2013, at Frigate Rock, Union Island, they entered the yacht of Mark Beiser as trespassers and inflicted on a person therein grievous bodily harm and at the time, had a weapon of offence, to wit a cutlass.
They were also found guilty of a charge that on the same date and place, they unlawfully and maliciously caused grievous bodily harm to Christina Curtin with intent so to do.
The third charge was that on the same date and place, they unlawfully and maliciously wounded Beiser.
Curtin received a massive gash to her left cheek when she and Beiser were attacked and chopped about their heads and hands aboard their yacht, "Rainbow", sometime after 7 p.m. on Oct. 3, 2013.
Douglas was just two months shy of his 16th birthday while Jordan was just turning 17 at the time of the crime.
A third person, Jules Mills, 17, of Union Island was present at the time of the crime but was not charged.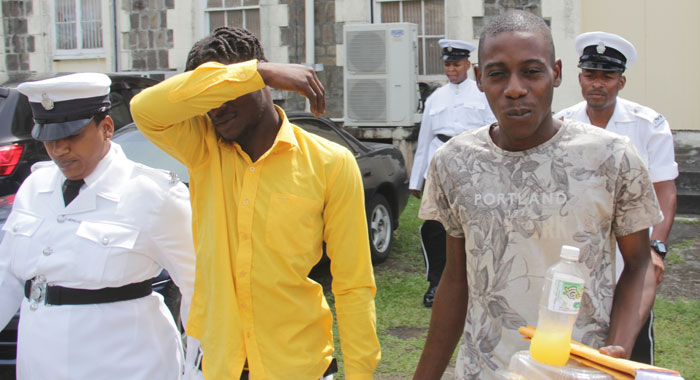 Counsel Rose-Ann Richardson and Karim Nelson appeared for the Crown while the accused men conducted their own defence.
Justice Brian Cottle ordered that the men be remanded in prison until Nov. 22 for sentencing.
He ordered social inquiry reports on both men.
Douglas had been out on bail, but Jordan has been in custody for some two years, serving a sentence for another crime.
The evidence
Beiser and Curtin, both U.S. citizens, testified via Skype during the trial at the High Court building in Kingstown this week.
In her testimony, Curtin told the court that in 2013, she and Beiser, then her boyfriend, were sailing on his yacht, "Rainbow".
The vessel was anchored off Frigate Island, an uninhabited rock, near Union Island.
The couple had snorkelled earlier in the day and were having dinner when she heard a noise, Curtin told the court.
She said she went up the companionway (staircase) and saw a shadow but did not think it was a person.
She went back below deck and asked Beiser if he had left a towel hanging above deck and he said no. Curtin was going back up the companionway "when the first cutlass hit my face".
Her attacker had said nothing to her, nor made any demands, the woman told the court.
As she turned to go back down below deck, she received a chop to her left shoulder.
Beiser grabbed a filet knife and he starting stabbing as he came above deck in an attempt to protect Curtin.
In the meantime, Curtin was using the VHF radio to try to call for help. They picked up and sailed to Carriacou, where they met police and an ambulance waiting for them at the dock.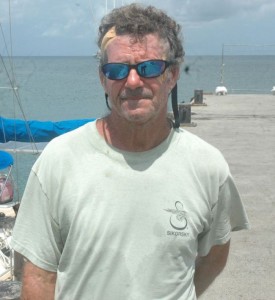 Curtin said they bypassed the hospital in Union Island because they had gone there a few days earlier and were not impressed.
They further said that having been attacked in SVG, they felt it would have been safer for them to go to Carriacou, where she spent a night in hospital before being transferred to Grenada.
Curtin told the court that she still experiences numbness and it was about a month after the incident before she could open her mouth fully.
She said she suffers from post-traumatic stress disorder (PTSD) and had tears in her eyes at the memory of the ordeal even as she was testifying.
Curtin said she was in shock while in Carriacou and only began to get her senses back after two nights.
She told the court that the attack had lasted about five minutes and that when Beiser began stabbing at the attackers, they jumped overboard
She said she did not hear any voices or see any faces.
The evidence of Beiser, who also testified via live link from Florida, corroborated much of what Curtin told the court.
Beiser told the court that after the incident, he felt violated and that when he went back to the yacht with the police, he met an 18-inches-long cutlass on board.
Douglas did not cross-examine any of the complainants, but Jordan did.
The crown also called six other witnesses, including Jonathan Gumbs, who told the court that Douglas had told him about the attack and how he had inflicted "some serious chop" on Curtin and that Beiser had stabbed him in retaliation.
Both men took the stand in their own defence and cross-examined each other.
Going for 'ah piece a money'
Douglas told the court that Jordan had told him told he had a case before the court and needed some money.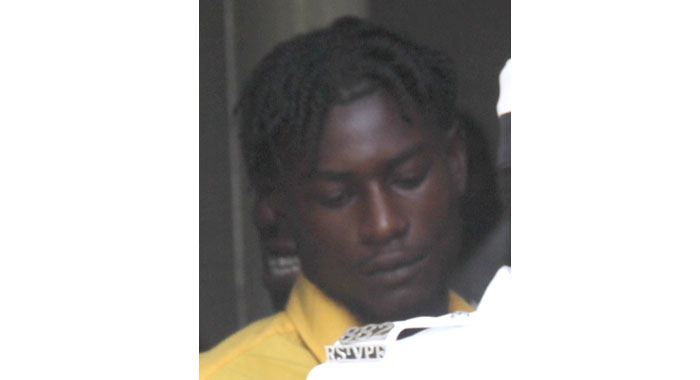 He said his co-accused has said he (Jordan) "does do me little thief thing" and that he (Douglas) allowed himself to be influenced by others who asked him if he was stupid to just go to jail and sit down.
Douglas said he told Jordon that he was not into theft but Jordan told him he was going by a yacht for some money and that he (Jordan), Douglas and Mills would go.
Douglas said that Jordan gave him the impression that the sailors owed him and he was going to collect the money.
He, however, said that Jordan brought a cutlass for him so he asked Jordan what was the cutlass for.
Douglas said Jordan told him, "Doh study that."
Douglas said he continued to asked what the cutlass was for, Jordan said he had gotten a work was going to collect "ah piece a money".
He went along and when they went to the boat, they told him to go onto the boat.
Douglas said he was not sure if Mills went onto the boat, as it was dark outside.
Jordan left him in the back of the boat and went to the front and it was then that he heard screaming, Douglas said.
He said he was running toward the front to see what was going on and he saw Jordan "like he pelting chop".
Douglas then said he saw Jordan jump overboard and he (Douglas) pushed his head inside the boat to see what was going on and he got stabbed. Douglas said it was then that he jumped overboard.
Douglas further told the court that as they were swimming away, he heard Mills crying for help and he told Jordan not to worry about Mills because he could swim and would make it.
Douglas said that the following day, the police took him into custody and carried out inquires and beat him telling him to "spit out yo' belly" because the other men were talking on him.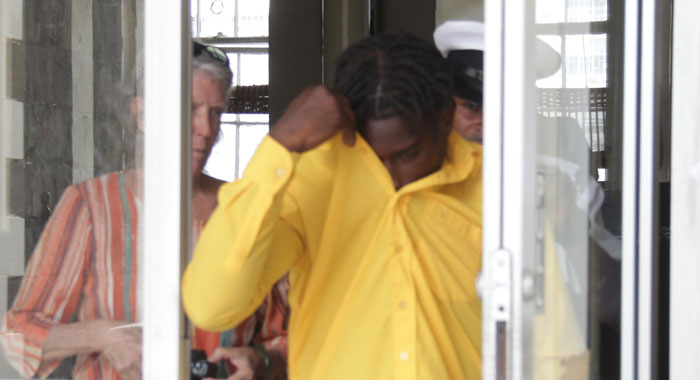 He said he ended up saying he would talk.
Douglas said that when he got ashore that night, Jordan asked him about the cut and he told him that the white man had "chook" him but he didn't tell Jordan anything about chopping up anyone.
Douglas said he thought they were going to collect money from the yacht but went although he had heard Jordan say that he (Jordan) was accustomed to stealing things.
Douglas said he did not know exactly what they were going to steal and that he did not have any cutlass but one was handed to him when he got on board the yacht.
He denied telling Gumbs that he had "fired serious chop on the white woman" and also denied chopping Beiser.
In his cross examination by Jordan, Douglas said it was Jordan who told them they were going to collect money and that it was also his co-accused who had the cutlasses and chopped the people on the board.
Douglas also said the people did not do anything to deserve the chopping and that Jordan had to know why he chopped them.
He maintained that it was Jordan who had invited him to take part in the crime.
"You were the one. You knew what you were doing and you involved me. I was just a young youth man and you spoil my life. Plus you had done come up with your plan by yourself and you were the man who involved me and Joul also," Douglas told Jordan during cross examination.
Perpetrator should face penalty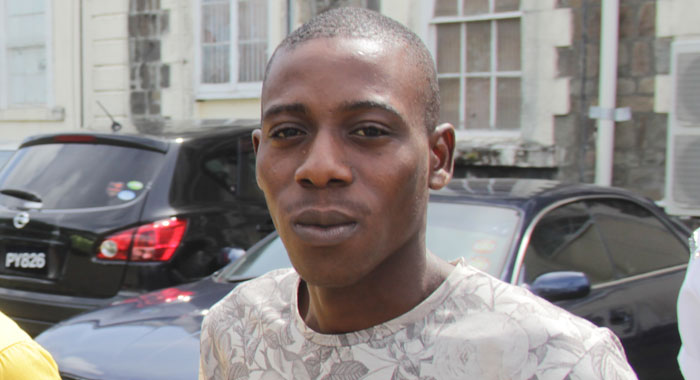 In his evidence, Jordan said he had been liming with some cousins when Douglas called him aside and asked him to borrow his uncle's boat to collect some money from his white people friends to whom he said he had sold fish.
Jordan told the court he found it strange that Douglas wanted to go at night to collect the money but he agreed to borrow his uncle's rowboat later.
Jordan said that coming towards night, he saw Mills approach him and asked Douglas if he could row, because Jordan couldn't row.
They, therefore, asked Mills to row the boat and he agreed but said he was busy and had to do something first.
Jordan admitted that he had told Mills they were going to collect some money from the people to whom they had sold fish.
Mills rowed the boat over to the yacht and Douglas was first to climb onto the yacht, Jordan told the court, adding that he went up after and Mills stayed in the row boat.
Jordan said he saw when Douglas pulled a cutlass from his waist and that at the sight of it he (Jordan) got scared and jumped off the yacht.
Jordan said he heard a woman screaming for help and he started to swim.
Another yacht was nearby and started to shine a light but Douglas was still on the yacht.
He heard a splash and looked around and realised that Douglas has jumped into the water.
Jordan said he waited for Douglas to catch up with him and that Mills was swimming in another area and was drowning and calling to Jordan for help.
Jordan said he called out to Mills, got no answer and thought he was dead and, therefore, swam faster and reached ashore.
Mills then came ashore and Mills about five minutes later.
Jordan said he saw a big stab wound on Douglas' hand and when he asked, Douglas told him that he "buss two hard chop on the white woman" and the man stabbed him.
He was trying to chop the man but the cutlass slip and dropped out of his hand, Jordan said Douglas told him.
Jordan told the court that the person who committed the crime should face the penalty and innocent people should not suffer.
When he was cross examined by Douglas, Jordan maintained that he did not have a cutlass and that he did not chop anyone.
He said that Douglas was the one who had told him to lie to the police and say that Mills had a fish gun and a cutlass and that they should sink Mills.
One month after the attack, Curtin and Beiser retuned to Union Island where, in an emotional session, they held talks with tourism stakeholders about addressing problems affecting the tourism sector there.