Police, on Thursday night, destroyed the fixtures used by vendors outside Ace Hardware on Melville Street and in a section of Middle Street, Kingstown two days after a man was shot in a brazen daylight attack in the city.
On Friday, members of the Rapid Response Unit, a tactical squad, made intermittent checks in the area, to prevent vendors from returning to ply their trade there.
The audacious shooting around 9 a.m. Tuesday has left Rockies man Lionel "Gobler" George in intensive care, with a gunshot injury to the head.
It was the second shooting in that vicinity this year.
The first shooting, around 8 p.m. on Sept. 9, left Tevin Williams, 22, also of Rockies, dead on the spot with a gunshot wound to the face.
Williams was hanging out with friends under the Melville Street gallery of Ace Hardware when he was shot and killed.
Commissioner of Police, Colin John, told iWitness News that vending under the gallery is illegal and the police decided to act, having allowed the situation to prevail for some time.
"The police, in consultation with business owners and the Kingstown Town Board embarked on an operation to clean up that area and the area through Middle Street," John told iWitness News on Sunday.
He said that the public had been complaining about feeling intimidated when they would pass those areas.
"And we also have observed criminal activity taking place in these areas, hence the reason for doing that."
The police chief told iWitness News that his officers did not give the vendors any notice of their intention to remove them from that area.
"As far as we know, they were there illegally… We should have done it before, we should have nipped it in the bud, but better late than never. It's been allowed to fester and we really decided to take a stand now and deal with it."
Asked if the cleaning up was linked to the two shootings in the area, John said:
"Those activities would have created a stir and it would have helped to hasten or help to give us more reason to deal with the situation."
John said there will be police presence in the area to deter people from continuing to vend there.
Meanwhile the vendors complained to iWitness News on Friday, saying that barring them from plying their trade is disruptive to their lives.
One vendor, who gave his name as Top Dawg, told iWitness News he has been selling "hot dog, etc." under the gallery for the past five years.
The Kingstown resident said he was sleeping Thursday night when he got a phone call saying that the police were "mashing up me thing them.
"I don't know what them do but ah come and ah ain't meet me thing them. Them mash up me business place, them tear 'part me whole life. This is me life. The business is me life."
Police destroyed and removed from the site the furniture that the vendors used in the conduct of their business.
Top Dawg said he has more children than any of the officers who took part in the operation.
"Ah get four children. Ah get more than them. Them ain't get no children. Them ain't care bout nutten.
"Martial law, them say. Them say them get more guns than we and if we wah the war, bring it out. But me doh know, me doh know. Me never see a gun yet. Cadets alone. Independence just done," he said.
The vendor told iWitness News that the police did not give them a deadline by which to move.
"Them just mash up everything, throw it in the jeep, say them badder  than we, them is the more gangsta than we. We sell hot dog, we ain't know nothing them talking 'bout. Them dey pon them own scene."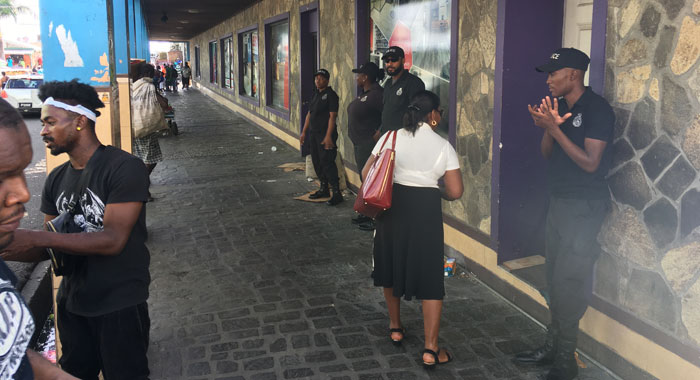 Tamara De Grads, one of the vendors, said she had been selling under the gallery for 10 years.
"This is where I send my children to school. I practically raised my children from here."
De Grads said that she received a phone call on Friday morning saying, "everything is gone from under Ace now".
She commented:
"Nobody notified us that they would be doing this. What am I supposed to do now? Who am I supposed to go to to get something for my kids? How am I supposed to send my kids to school? This is what I do."
De Grads said that her children's father has kidney disease.
How is he supposed to pay for his treatment when am I am on the street, not doing anything. This is what I know: the streets. Here is where I make my living so who do I go to? Who do I turn to? What's next?"
Another vendor, who gave his name as Shankie said it was "an oppressing situation".
"Them say well we in the hotspot… Just because a little shooting they say here is the hotspot. A man dead here so that is not our friend; he doh lime (hang out) here. He doh associate with me. They say he was liming with friends when he got shot. Them is the kind of reasons them say why they're closing down the place; them ain't want no vending."
Sankie said he sold fruits and vegetables under the Ace gallery there for about five years.
He is also a carpenter but vending is his main source of income "because no wuk ain't even dey in the place for man get wuk".