By Kenton X. Chance
NAIROBI, Kenya (CMC) — The Angolan diplomat who was, on Saturday, elected Secretary-General of the African, Caribbean and Pacific Group of States (ACP) says the failure of some members to pay their dues can affect the group's credibility.
"I will have to work quite a lot with member states to make sure that we pay our dues so that our organisation can stand strong," Georges Rebelo Chikoti told the 110th Session of the ACP Council of Ministers Meeting, during which his election was announced.
He was elected to head the ACP for the 2020-2025 term and said the post-2020 period, when a new agreement with the European Union will come into effect, gives the ACP an opportunity to work on the organisation, to bring in new partners who will help and support.
"But, our organisation's credibility is, indeed much more important. It will be important that when we talk to other partners we can show them the record of our own contributions so that will be important," the secretary-general-designate said.
Chikoti, who succeeds the Guyana-born diplomat, Patrick I. Gomes, said he was coming to the post "at a very difficult period of our organisation.
"I am very conscious about that, and over the past year have been looking into some of the most important details that relate to our organisation.
"I know that the challenge that you have given to me is not an easy one. But I do know that I will count on the contributions of everybody, I will count on the support of the whole of the ACP and I will try to be the best I can for everyone in all area of our work," said Chikoti a former foreign affairs minister.
Chikoti comes to the helm of the 45-year-old, 79-member ACP as it finalises a new agreement with the European Union.
The existing Cotonou Agreement is a treaty between the two parties that was signed in June 2000 in Cotonou, Benin's largest city. It entered into force in 2003 and was subsequently revised in 2005 and 2010.
It is regarded as the most comprehensive partnership agreement between developing countries and the EU and in 2010, ACP-EU cooperation was adapted to new challenges such as climate change, food security, regional integration, state fragility and aid effectiveness.
The fundamental principles of the Cotonou Agreement include equality of partners, global participation, dialogue and regionalisation. The agreement is re-examined every five years.
The ACP is also revising its constitutive act, the Georgetown Agreement that was signed in Guyana in 1975 creating the grouping whose main aims are to ensure sustainable development and poverty reduction within its member states.
The Council of Minister meeting here is taking place ahead of the 9th ACP Summit of Heads of State and Government on Monday and Tuesday. ACP leaders will meet under the theme, "A Transformed ACP: Committed to Multilateralism".
Gomes told the council meeting that the talks mark "a great step forward it the repositioning of our organisation.
"This session will move the ACP Group of States closer towards the ACP we want," said Gomes, whose five-year term as head of the ACP, officially ends on Feb. 28 next year.
Gomes said the ACP is a unique, intergovernmental body, which has had observer status at the United Nations since 1986.
It is proposed that the ACP shall have a more formal designation and be known as the Organisation of African, Caribbean and Pacific States (OACPS).
The transformed ACP is also readily engaging in South-South and Triangular Cooperation to become an effective global player, "and so, logically, our concern for multilateralism is no appendage but belongs in the very fabric of what we are by definition — committed to multilateralism," Gomes said.
He said the successor agreement with Europe is "situated in an era of geo-political re-alignment of a turbulent 21st Century.
"The new agreement must also take account of international changes in the ACP Group, so admirably championed by several member states, to critically engage and elevate the longstanding and tested partnership with Europe, now threatened by a drift to fragmentation and the rise of reactionary populism," Gomes said.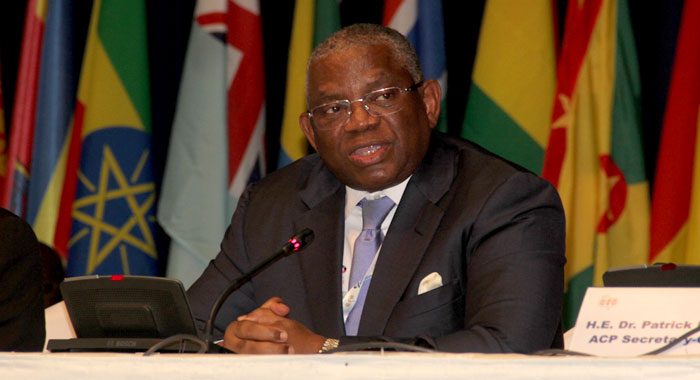 Meanwhile, Chikoti has also spoken on the issue of transforming the ACP, saying that he would do his best to represent ACP nations "at the level that we have proposed ourselves to do".
He further said that the recommendations of the previous summits of heads of state as well as the eminent personalities of the ACP countries have given direction to which the ACP should aspire.
"And I am very conscious that that is indeed the challenge that I have to carry out."
President of ACP Council of Ministers, Patrick Pruaitch, spoke of realities affecting the ACP, making references to the threats to multilateralism, environmental degradation, climatic changes, and natural disasters.
He said these challenges require practical North-South, South-South triangular cooperation, and, therefore, the ACP should consolidate its relationship with existing partners and expand its horizons to accommodate new ones.
"We should brace ourselves to take the right decisions to overcome these challenges," said Pruaitch, who is also Minister for Foreign Affairs and International Trade of Papua New Guinea.
He said the ACP must address these challenges with dedication and commitment "because today's vision is tomorrow's reality".
Pruaitch said a "triple win" is within the ACP's grasp, as renewable technologies create opportunities to increase agricultural productivity, improve resilience to climate change and contribute to long-term reductions in dangerous carbon emissions.
The ACP's relationship with the European Union has been based on trade and economic cooperation, development finance cooperation, and political dialogue and Pruaitch said this must be transformed to respond to the current socio-economic and political global reality, and expressed pleasure with the progress of the negotiations.
He said that ACP countries were on the brink of a new era fraught with challenges and opportunities.
"We are called on to make this great leap and play our role into the new emerging world," Pruaitch said, adding that on the political front, democracy in most ACP countries has matured but the group is still seriously concerned by the escalation of conflicts in some member states.
Some ACP countries are still mired and continuing to face high levels of armed violence, while affected by terrorism and violent extremism.
"This is a constant source of concern. We cannot walk the road of social and economic development and poverty reduction, in a state of instability. We have to work together to address the problems that afflict our societies," Pruaitch said, adding that the time had come to "move from rhetoric to action.
"Indeed, it is high time to transcend current inefficient discourse and implement measures aimed at tackling the growing global environment crisis and simultaneously strive for more equitable international economic relations that would be the basis for promoting sustainable development. This is our future."
Pruaitch said the ACP was "optimistic that a new dawn is breaking and that peace, stability, good economic governance as well as sustainable development will help us achieve the goals set out in the Georgetown Agreement and those which we have set for ourselves, namely, eradication of poverty and disease, and economic powerlessness…
"It is only with our collective dedication and resolve that we will realise our vision of a stronger ACP Group," he said.
And, in his address to the meeting, William Ruto, deputy president of Kenya, said committed multilateralism is the most strategic path to overcoming challenges to sustainable development".
"In order to accelerate the pace of this progress, this commitment must entail transformative collaboration. And to be truly transformative, a good starting point must be the inclusion, participation and consideration of youth and women in global affairs as well as partnerships with the private sector," Ruto said.
He said that as the Cotonou Partnership Agreement runs towards its completion, it is clear that the ACP-EU is "ripe for the next level of engagement".