A Park Hill man says he is still trying to figure out why police shot him in the back at his home around 3 a.m. on Dec. 4.
Aldon Thomas, 22, said he was sleeping in the one-room concrete house in his grandparents' yard at Coolie Hill (Villa Point), Park Hill when he heard knocking on the windows and door.
"When a do look out, is police," Thomas said, adding that the two police officers broke off a window and saw him inside.
He said that the officer told him to come out of the house through the window.
Thomas said that he was wearing only two boxer shorts at the time and he complied with the officers' instructions.
"By the time I go out, when I reach par dem dey, all me just heard bodow inna me back," Thomas told iWitness News, meaning that the police shot him in the back.
He said the two police officers then dragged him to their vehicle, where a third officer, the driver, was waiting.
He said that after they left the area in the police vehicle, the officer told him to shut up or they would shoot him in the head.
"Stripe and thing pop outta me," he said, meaning that his intestines were exposed as a result of the shot to his back.
Thomas said that he does not know the officers' names but can recognise their faces. He said he had known one of the officers before the incident.
He said that the police officers took him to Georgetown Hospital and told the staff there that he had tried to run, but that was not the case.
"I ain't make no attempt to run nor nothing. Ah just come out ah me window and go in the yard.  Time ah reach out in the yard, ah badaw in me back."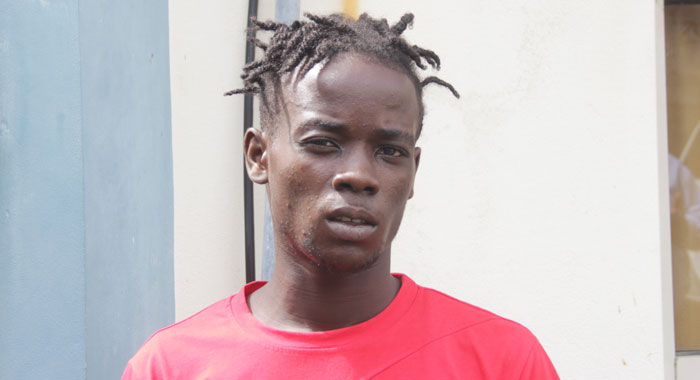 He said he underwent surgery for the gunshot injuries, and the doctors told him that his intestines had to be sutured.
Thomas says he works intermittently as a labourer, but he cannot work currently because of his injury.
"Doctor tell me ah cyar do no wuk because ah badly wounded," he told iWitness News.
Of the police, he said: "Them put me back on me knees. Them nearly cripple me. The doctor tell me if the thing bin go cross one more me dead or cripple or something."
Thomas told iWitness News that he had to visit the hospital every day for treatment.
He said he spent a week and two days in hospital and after he was discharged, police took him to the police headquarters in Kingstown.
He said he refused to give a statement and was later charged.
Thomas was taken before the Colonarie Magistrate's Court last Thursday, Dec. 12, charged with making threats, criminal trespass, and aggravated burglary.
He was not allowed to plead to the aggravated burglary charge, an indictable offence and pleaded not guilty to the other two charges.
He was granted $4,000 bail and was ordered to surrender his travel documents and report to Colonarie Police Station once per week.
The matter was transferred to Serious Offences Court and on Friday, that court set the next hearing for March 23, 2020.
Thomas said he has reported the matter to his lawyer and will file a report with the Police Public Relations and Complaints Department in Kingstown.