The voice of a vice-president of the main opposition New Democratic Party (NDP) was used to introduce Prime Minister Ralph Gonsalves at the ruling Unity Labour Party's (ULP) convention in Campden Park on Sunday. 
In preparing to call Gonsalves to the podium, ULP chairman Edwin Snagg said that he had mentioned that an endorsement had been given, but not by any of the ULP's "mouthpieces" on radio.
Snagg, one of the hosts of the pro-ULP "Shake-Up" radio programme, said that no one has to tell him about Gonsalves.
"I know Ralph good. Julian know Ralph good," he said, referring to the party's general secretary, Minister of Works Senator Julian Francis.
"All of us who are associated with him, we know him well, we know his capacity, we know his brilliance and I does sometimes say that God does sometimes choose men for a particular time for a particular purpose and put them in a particular place to conduct his particular work and when he finish he go determine when they finish their exit," Snagg said.
"But hear how Leacock put it," he added as a recording of Leacock speaking on radio was played.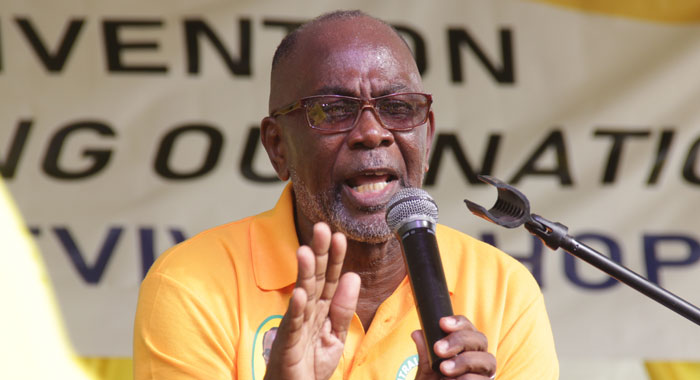 In the recording, from his weekly appearance on his New Democratic Party's (NDP) daytime radio show, Leacock says:
"… don't be naive, if the New Democratic Party does not pay attention to that which is successful in the way that Ralph manages, his assertiveness, his boldness, his risk-taking, his oratory, his presence, his social living and draw lessons from it and replicate that which is good about him, then we can also pay a price."
The recording continued: 
"So, to dismiss Ralph as maybe he ain't bright, he ain't intellect, he ain't this he ain't that, the other and figure you can push him aside and that we will live happily after, it ain't going happen. Ralph is a very serious and formidable political figure. I believe right now in Caribbean politics he doesn't have an equal in the Caribbean and we must take him extremely seriously and determine how we can compete for that space. And he had the ear of a significant amount of our young people, he has regional respect, whether we want to say it or not, he has contacts and he has access to resources. That mean we in the New Democratic Party have to work even harder to get that which we deserve."
There was not much reaction from convention attendees to the clip, and Snagg said:
"Alright, they have to work real hard. Really hard because we winning again, we winning again."
He added:
"And I say, I couldn't do it better. I don't think nobody up here cudda do it better. Thank yo' Leacock for informing your party, ULP and the country as a whole as to who Ralph is and what Ralph is. Comrades, alyo stand up and leh we welcome the political leader of the ULP and prime minister of St. Vincent and the Grenadines."
The convention was the final one for the ULP ahead of general elections, which Gonsalves said would be held by year-end, ahead of the March 2021 constitutional deadline.