The main opposition New Democratic Party (NDP) continues to make a case for a citizenship by investment (CBI) programme in St. Vincent and the Grenadines (SVG), this time saying it is comparable to Vincentians seeking a better life by becoming nationals of other countries.
MP for Central Kingstown, St. Clair Leacock, and NDP vice-president, made this case at a village meeting held by the NDP's candidate for West St. George, Kay Bacchus-Baptiste in Cane Hall last week.
Leacock asked the members of the crowd to raise their hand if they had a relative in the United States, Canada or England.
"Everybody here has somebody living in America, Canada or England," he observed.
He asked if every member of the crowd who has a relative in these countries would like to see that relative become a citizen of that country.
"So all of us know and understand that if Trinidad were to send back the Vincentians here who don't belong there, Barbados was to do that, Tortola was to do that, Antigua to do that, all the Caribbean islands, Trump say send back all we people, the Canadians say send back, we could hold them?
"So how come we want our people to become citizens of other people country but it is a big sin for somebody to become a citizen of St. Vincent? You explain that to me."
Leacock also spoke of the nation's ships registry, where a ship can pay for the convenience of flying an SVG flag.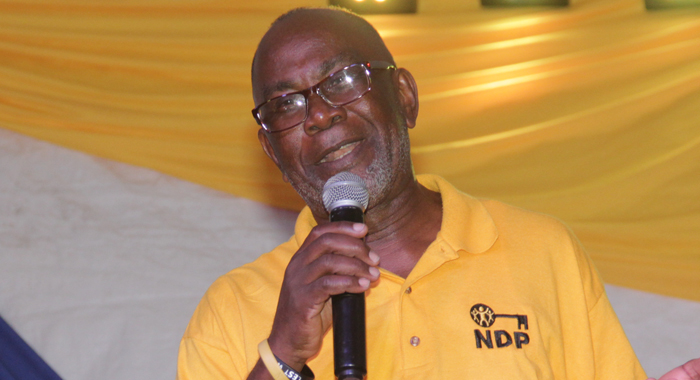 The opposition lawmaker said that at the last Independence Parade, SVG was proud to see its young Vincentian men and women return in uniform as British sailors.
"Not one of us objected to the fact that our people had gone to another man's country, made something of themselves, came back here and made their family nose swell. So how we want it one way and not the other?
"So this stupidness, this dotishness, this falsehood that 'Me nah sell passport. Me nah sell passport. Me nah sell passport. The passport ah de best thing yo' ha.' And yo' belly hungry? And yo' cyah feed yo' pickney?
"Right around us, in Antigua their life is better off than us. In St. Kitts, every December, they get an extra month salary," he said.
"We loan Dominica $5 million from VINLEC. They pay we back with interest and now they gone pass and tell we, 'Bye bye'…
"Every Caribbean country in the OECS is better off than us and I will tell you that. If the Caribbean, the OECS did not have the citizens by investment programme bringing in the foreign money to make up for the loss of the millions and millions and millions lost by banana, the EC dollar would've been in trouble today."
Leacock said that the NDP said that the first order of the day when a party is in government is to protect the people of the country.
"And after that is wealth and health… But we have to find jobs for our people and the question arises of which of the political parties have a more practical approach for finding and creating those jobs for St. Vincent and the Grenadines," he said.
The Unity Labour Party administration remains opposed to a CBI in SVG and has said that such an initiative amounts to the selling of passports. Prime Minister Ralph Gonsalves has said citizen is the highest office in the land and that the SVG passport "is the outward sign of that inward grace called citizenship" and is not for sale.