While some EC$300 million is being spent on hotel construction in St. Vincent, is it only expected to generate 600 jobs, an opposition lawmaker says.
Member of Parliament for Central Kingstown, St. Clair Leacock said that on the converse, just EC$50 million spent to build a factory to process fresh fruits can generate 100,000 jobs.
Leacock, an NDP vice-president, noted at his party's village meeting in Cane Hall, last week, that the government recently borrowed EC$45 million from the World Bank.
He said that while the money has a low interest rate and a long repayment period, thereby making it cheap to borrow, he wants to know how many jobs it will create.
"I am not criticising hotel development either," he said, adding that the country needs more hotel rooms.
"But if you're taking $135 million to put a hotel down at Mt Wynne, $90 to put one at Diamond, some other people bring in another hundred to put one in Calliaqua…, nearly $300 million and you're telling me when you spend 300 million just 600 people will have jobs?
"I say it is not creating enough work," Leacock said.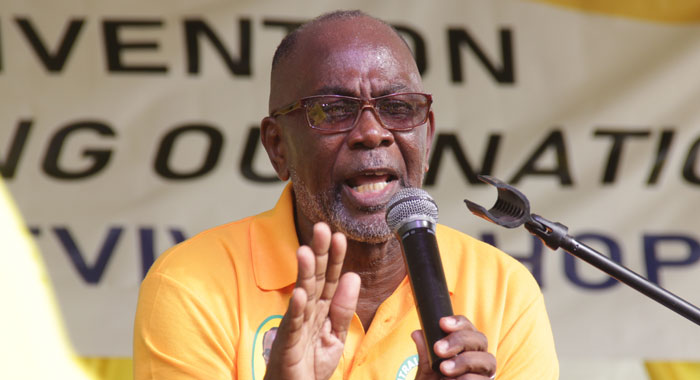 The government has announced plans to build hotels in Mt Wynne and Diamond, and private investors last week broke ground on the US$60 million Royal Mill hotel in Ratho Mill, which is expected to be completed by year-end.
Royal Mill is expected to employ 200 Vincentians during the construction phase and a similar number on completion.
The 250-room Marriott hotel that the government will build at Mt Wynne-Peters Hope, along with the privately-owned Black Sands Resorts, which is running six months behind schedule, is expected to employ a total of 500 persons.
The 93-room Holiday Inn Express and Suites that the government will build at Diamond is expected to employ 75 people.
Leacock said he and the NDP are saying that if the government invest $50 million in the establishment of a large scale manufacturing plant to process fresh fruits, "you can create jobs for over 10,000 people in St. Vincent and the Grenadines.
"And people don't have to leave their homes to feed themselves, because you can stay right there pick off the passion fruit off the vine, the truck pass, pick it from you, give you your money, gone your way and you're going again."
He said that is how jobs are created.
"So the New Democratic Party looks for development from the bottom up. It start with not what's good for me or Sister Kay but what's good for you, and you and for the generations unborn," he said, referring to NDP candidate for West St. George, Kay Bacchus-Baptiste, who hosted the meeting.