Prime Minister Ralph Gonsalves says officials took safety considerations into account when giving approval for the construction of a 12-storey hotel in Ratho Mill.
He, however, did not address the concerns, expressed on radio, of a social commenter about the investors' experience in the hotel industry.
A ceremony was held last week to mark the start of construction of Royal Mill, a US$60 million hotel, which will have two basement floors and 10 above ground, making it the tallest building in St. Vincent and the Grenadines.
But social commentator and educator Philbert John, aka "P John", speaking on WE FM's "Issues at Hand", on Sunday, said that while he welcomes the project, he was doing so "with a certain amount of mixed feelings".
John said that in the past 10-12 years, none of the attempts by foreign investors to construct hotels on St. Vincent has become a viable entity.
He mentioned Buccament Bay Resort, which has been closed since December 2016 even as the government has confirmed that the most recent attempt to woo investors failed after more than a year of negotiations.
John further noted that Black Sands Resort — which has been under construction at Peter's Hope since January 2017 — has seen works suspended recently "for whatever reason we don't know".
"And we, as a country, we have to be careful and mindful of the investors that we try to attract," John said, adding that the country has to "do due diligence on the investors".
John said he had done some checking on A&A Capital, the company that will build Royal Mill, and found out that it was established in 2016 and there is no record of it having executed a hotel project.
"In fact, their background was in transportation," John said, adding, "I am not saying this to throw cold water on the project but, given our experience, we have to be very careful and all of us, including the regular citizens and the government, the authorities, have to engage in due diligence and let our investors know we are on the ball and we expect of them whatever they claim they are going to give to us.
"Because, clearly, these projects will be of benefit to St. Vincent and the Grenadines once they become viable."
John said that much is being said of the height of the building, which he said would be twice as high as the tallest building in St. Vincent.
He said these concerns have to do with eventualities in cases of emergency.
"While we will welcome a building such as the Royal Mill and we see the artist's concept, we have to be real and ask these questions and make sure that things are being put in place to address some of these concerns."
John said that he would not like to see too many skyscrapers on the Vincentian landscape.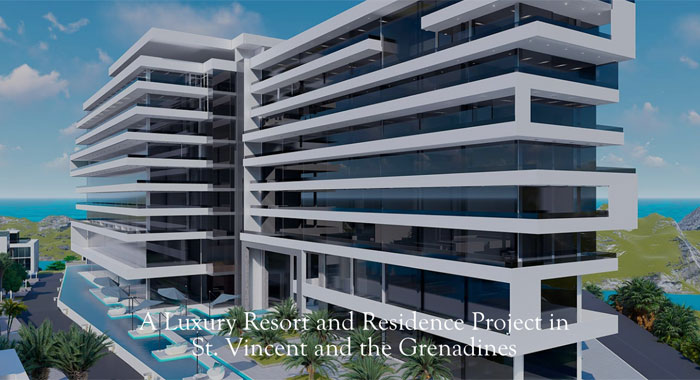 And, in a call to the programme, Gonsalves said that John had raised a probing question about the height of the building and issues touching and concerning safety.
He said that the planning authorities applied the law and appropriate standards for safety, emergencies, and the like.
"Well, as you would imagine, this is a matter on which the planning authorities, the Physical Panning Board deliberated and the matter was studied very carefully and in the plan, there are lots of fire escapes — fire escape provision and sprinklers, fire extinguishers on floors," the prime minister said.
"All the modern provisions have been put in and the fire services, I have been advised, approved what has been done as more than satisfactory for the purposes," Gonsalves told listeners.
The prime minister added:
"So I just want to assure P John and others who would raise that as a legitimate question, particularly in a context where we have not had a building that tall."
Gonsalves, who, having stayed on the line for 1 hour and 49 minutes of the 2.5-hour programme, was the only caller to the show, however, he did not comment on John's concerns about the investor's experience and the need for due diligence.