Police had — but were yet to execute — a warrant for the arrest of Mitch Israel, 57, when he is alleged to have fatally shot his wife outside of their elder son's school in Kingstown on Thursday.
At least three times in the five days before she was killed, Israel's wife, Arianna Taylor-Israel, visited the Questelles Police Station in connection with his alleged threats to kill her, sources have told iWitness News.
But Taylor-Israel, a Cuba-born nurse, also asked officers not to act on the report immediately, because she did not want her husband to be arrested in the presence of their sons.
Taylor-Israel, who is said to be in her 40s, died at the Milton Cato Memorial Hospital — where she worked –about an hour after being shot multiple times outside St. Martin's Secondary School (SMSS) around 3:30 p.m. on Thursday.
Israel is a graduate of that school and the elder of the two sons he shared with his wife is now a student there.
The couple's son is said to have held his mortally wounded mother outside the school as her life drained away.
"When I going put the woman in the jeep, Mitch (the son) tek up he mommy head and shake it off and say, 'Mommy! Mommy!' Man no sign, … no eye open," said the speaker in a voice note, purportedly recorded by a student at the school and circulated via social media.
She was rushed to the Milton Cato Memorial Hospital, where she died about an hour after being shot.
In a bid to end their 15-year marriage, Taylor-Israel had served divorce papers on her husband on what turned out to be the last day of her life, a source close to the family has told iWitness News.
She was among the first set of Cuban nurses to arrive in St. Vincent and the Grenadines in response to a shortage of nursing professionals when the Unity Labour Party came to office in March 2001.
Taylor-Israel integrated herself into the Vincentian society and became a member of the Kingstown Chorale/Cantemus, and was among choristers to sing at the funeral of former Governor-General Sir Frederick Ballantyne, in Kingstown, the day before she was killed.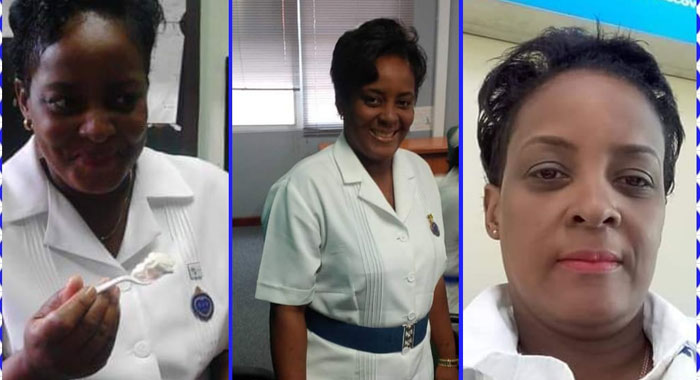 A well-placed source told iWitness News that the circumstances in which Taylor-Israel was killed raises questions about the manner in which police handled multiple reports that Israel had reportedly threatened to kill his wife.
Some media outlets have reported that Taylor-Israel made as many as 28 reports against her husband, but iWitness News was unable to confirm this.
The Questelles Police Station, which covers Lower Questelles, where the couple lived with their sons, is said to have entertained the last three reports that she made.
On Jan. 25, Taylor-Israel visited the Questelles Police Station telling them that her husband had threatened to kill her.
An officer entertained her report but she told the officer that she was not in a position to give a statement then.
The woman returned to the station the following day and gave a statement, sources tell iWitness News.
Police then told her that the next step was that investigator would go immediately to her house, confiscate her husband's firearm and bring him in for questioning.
Taylor-Israel, however, asked the officers not to do so, saying that her children were at home and she did not want him to be arrested in their presence.
On Wednesday, she is said to have gone to the station again, where she told the police officers that her children were not at home.
Information in the public domain suggests that police had, by Wednesday, received from their superiors, an instruction to relieve Israel of his licenced firearm.
Further, a warrant for Israel's arrest was signed sometime between Wednesday and Thursday, but was yet to be executed when the shooting occurred.
iWitness News understands that according to police procedures, all reports of threats to kill must be forwarded to the divisional officer within 48 hours.
This raises questions about what instructions senior ranks gave to frontline officers regarding the threats that Taylor-Israel is said to have reported over the years.
Further, sources in the know told Witness News that when police receive a report of a threat to kill, they would obtain a warrant — from a magistrate or justice of the peace — to execute a search on the home and premises of the person who allegedly made the threat.
In instances where the person allegedly making the threat is the holder of a licensed firearm, action should be "swift and decisive".
Our sources say that Taylor-Israel was concerned about police arresting her husband at home in the presence of their children.
"She didn't want police to barge into their home, arrest their father and take away his gun in front of them," one source said.
Our understanding is that she was also concerned about Israel's alleged benefactors in the corridors of power, with one source opining that if police had seized Israel's firearm they would have received a call a few minutes later asking them to explain why they had done so.
To illustrate, the source said that Israel once reported to police that he had lost his gun, and told them he was convinced that his wife was involved.
He, however, went back to police sometime later and told them that he had found the weapon in the pocket of a jacket.
Asked to comment on this information, one source told iWitness News that this was enough for police to revoke Israel's firearm permit on the grounds that he was unable to secure the weapon.
However, his second report to police that he had found the weapon in the pocket of the jacket was the end of the matter.
Persons who know Israel for extended periods of time have also questioned the decision of authorities to issue him with a firearm permit in the first case.
They have noted his social habits and his alleged untoward interaction with a female with whom he had a longstanding intimate relationship that had ended before he married Taylor-Israel.