A psychologist says there are many lessons in the death of nurse Arianna Taylor-Israel, 44, who was shot and killed in Kingstown on Jan. 30, allegedly by her husband, Mitch Israel.
Dr. Jozelle Miller, a psychologist, told a vigil in Kingstown in Taylor-Israel's memory, Thursday night, that one such lesson is to shed light on the truth.
"Too often we suffer in silence, out of the fear of judgment and ridicule," she told the hundreds of persons at the vigil, which came at the end of a candlelight march.
Another lesson, Miller said, was to show more empathy and compassion.
"We are our sisters' and our brothers' keepers. Too often we use the cliché statement without substance and meaning that says, 'I have your back'. But how often the ball falls when it is truly needed," she said.
A third lesson is to "understand the power that exists within each of us.
"Let our voices be heard against injustice. One woman's cry or tears is shared by all women. Trust God, strengthen our faith that God is a way maker, and he can turn around any situation," Miller said.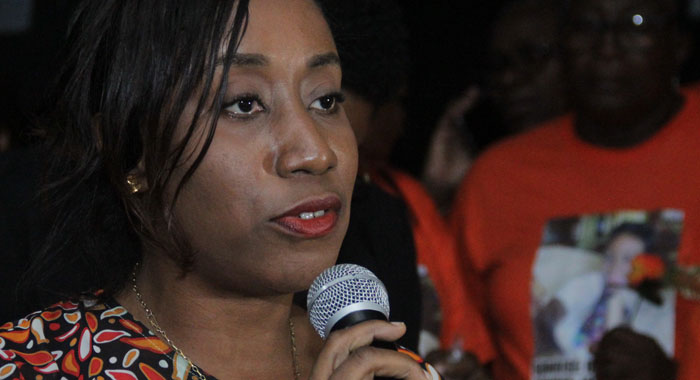 She continued:
"Be resolute in the love we have for ourselves and stand firmly on how we want to be treated.
"And lastly, remember, nothing happens by chance. There is a lesson in every situation, some harder than others. But be mindful that the change we desire to see in our society and in our world, begins with each and every one of us.
"We have to change to the narrative so that our children and the next generation, especially, will be taught that violence is not the answer. Let love prevail."
The death of Taylor-Israel, who was born in Cuba and became Vincentian by marriage, ended a 15-year marriage to her St. Vincent-born husband.
The relationship produced two sons, the elder of which was at his school, St. Martins Secondary, in Kingstown Park, where his mother was shot.