A lawmaker has expressed concerns about accused murderer Mitch Israel being taken to court without handcuffs on Monday.
Daniel Cummings contrasted Israel's treatment to that meted out to opposition politician Ben Exeter in 2015, when he was arrested for having his licenced firearm on his person at a public event.
Speaking in Parliament, on Wednesday, Cummings, who is MP for West Kingstown, said that a government has to make the population believe that the laws apply to them as much as it does to the public.
"And Mr. Speaker, this illegality, and this one-sidedness goes throughout the society, said Cummings, an opposition MP.
"When one looks at the recent shooting by a public servant, as alleged and before the court, one simply has to look and see for somebody who is charged with murder…
"You see him coming out of the court not even a handcuff on his hand. He is allowed to wave…" Cummings said.
Israel was not handcuffed when he was taken before the Serious Offences Court on Monday.
And while some persons have suggested that he received preferential treatment, it is not uncommon for police to handcuff some prisoners, and not others, based on their assessment of the risk involved.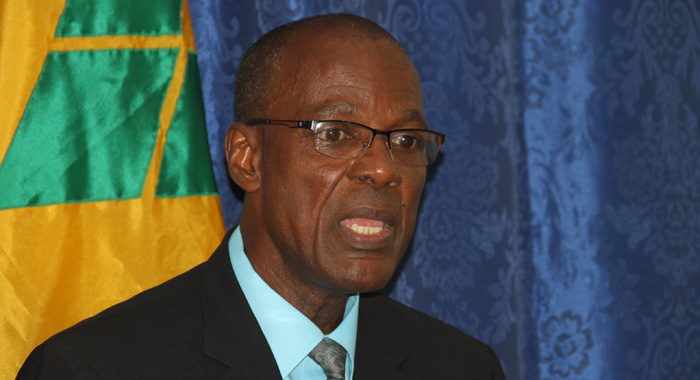 Some persons have even criticised the police for bringing Mitchell to court in an SUV.
The SUV is assigned to the Major Crime Unit — which is handling the case — and is used to transport accused persons arrested by that department.
The SUV, one of eight purchased for the police force last year, replaced a small car that was previously assigned to the unit, and which it used to transport its prisoner.
Speaking about the arrest of the NDP politician four years ago, Cummings said:
"Mr. Speaker, when Ben Exeter took his licenced gun to town, as the law permits, look at how he was treated. Look at how police officers treated him like a common criminal.
"The people are watching. You cannot have two standards of justice in the country. You must apply it across the board. Mr. Speaker, this process of the ULP allowing people to be trampled on goes all the way back to the demonstration at the port for $1 legal fee, when a lady from Bequia, an elderly lady was brutalised by the police and up to now, this government has never apologised, Mr. Speaker," Cummings said.
Israel is alleged to have shot his wife even as police were yet to execute a warrant for his arrest in connection to threats he had reportedly made to kill her.