Former Unity Labour Party (ULP) candidate Jomo Thomas has made public one of the warnings he gave to the party leadership when he was an insider:
The ULP, after the departure of Prime Minister Ralph Gonsalves, could become like Venezuela after the March 2013 death of Hugo Chavez.
Thomas quit the ULP last October and on Thursday handed in his resignation as Speaker of the House of Assembly, a position he held since December 2015, two years after becoming a senator.
He told iWitness News on Monday that some party supporters were not happy that in a radio appearance last Friday, he did not endorse the ULP "as a runaway favourite for the next election".
"I could do that but that does not in any way, carry the party very far. Because the party would still have to canvass and go to the polls, and deliver," he explained.
The ULP is seeking a fifth consecutive term in office and Thomas has said that would be impressed if the party can pull it off, noting that fifth terms are not common in the Caribbean or anywhere in the world.
He told iWitness News that Gonsalves has demonstrated vision and a willingness to get things done, adding that the best reflection of this is the Rabacca Bridge and Argyle International Airport.
"That's a man with some will and some determination and some mental capacity to do things to see things through," Thomas said.
"But we know that Dr. Gonsalves, in August, will be 74 years old. He's not going to be around forever. And therefore, if you remove Dr. Gonsalves from the Unity Labour Party, there is going to be a tremendous void.
"In fact, if you remove Dr. Gonsalves from any political process, there's probably going to be a tremendous void."
Thomas said that while the ULP has some young people, "they don't have the experience like Dr. Gonsalves; they don't have the training and vision.
"The era that he came through, they don't have that," he further said.
"So I can't say now that this party has all of what it takes to carry St. Vincent forward. I remember seeing time and time, again, at the party's leadership level when I sat in those chairs, that we have to be mindful, we have to be very careful that what happened in Venezuela, after the death of President Chavez does not happen in St. Vincent, after the departure of Prime Minister Gonsalves."
Thomas noted that in 2006, Chavez won a third six-year term with almost 63% of ballots.
However, in 2013, after his death, Thomas noted, his successor gained only 50.66% — 1.6 percentage points more than his challenger.
"So that man amounted to 10% of that party's support. And if you look at the way in which things have been done in St. Vincent, where you have to come to 'me' for literally everything, I always pointed out that as difficult how the party would work that out. So people could clearly latch on to the prime minister and hope that he sticks around for a long time. But biology don't work like that. In the end, if you don't move, biology would compel you to move."
Thomas, in his analogy, did not mention the 2012 election, when Chavez retained power after 14 years in office, recording 54.5% of the vote.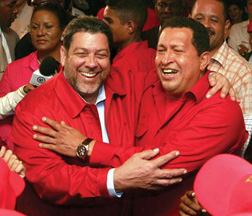 Thomas, however, is supportive of Bernie Sanders, winning the nomination to become the Democratic Party's presidential candidate in the United States.
Sanders is 78 and Thomas said that he supports the US politician because of his policies, adding that his argument is not an age argument.
"I am seeing that across the board. I support Sanders. Yes. But having just left the ULP I wouldn't do public relations for the ULP to say that 'Oh, I think that it's the best.
"I've said that all along. I used to say if you want me to do public relations for you, pay me. Pay me money and then I would be the hired gun. I would not say anything bad about you. But I don't want money so I will continue being Jomo the activist, the newspaper columnist that I want [to be].
"So you can't pay me to get me to just side with you, but I'm saying if you really want somebody to do public relations, you ought to hire them," he said.
Thomas said he loves and wants to continue to make a contribution to SVG.
"I know I will continue to make that contribution. That contribution can come in a multiplicity of forms. And we just, I'll take each stride at a time and see where that takes me," he told iWitness News.