The Director of Marion House, Jeanie Ollivierre, says that parents are sending their children to steal.
She made the claim on Monday, at the Kingstown's Magistrate's Court, Kesroy Ryan and his girlfriend Hazel-Ann Hazell, both 20, pleaded guilty to stealing a drill valued at EC$745, the property of Gibson Building Supplies on Sept. 7, 2018.
Ollivierre addressed the court ahead of the couple's sentencing
"But your honour, permit me to say that parents have a role to play in the lives and the development of their children," she said after outlining the programme at Marion House and how the organisation tries to help at-risk persons.
Ollivierre said that Marion House has met with all the parents of all the youth in their programme — 38 youths in Kingstown and 38 in Georgetown.
"And we have explained to them what their roles and responsibilities are," Ollivierre said, adding that each youth has a mentor in their community that they have to relate with and who monitors them during the full-time one year programme at Marion House.
"Parents have to accept responsibility. And it is the parent in my estimation that is sending these children, these youths to steal. And Marion House has a concern with that and the Human Rights Association also has a concern with that.
"And parents need to be dealt with. So while they have to accept responsibility and they have accepted responsibility, … their parents also need to have a role and to answer to what they have sent them…" she said of the defendants.
"In my estimation, it is the parents that sent them, that accompanied them…" Ollivierre said.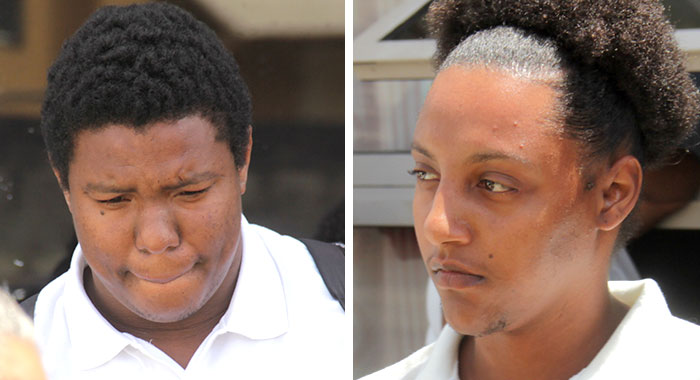 She said that Marion House has a full-time, one-year youth assistance programme that has three phases, the first of which includes youth going to Marion House for six-and-a-half months where they are taught life skills.
Ollivierre said that for youth such as the defendants, they concentrate on rehabilitation, reintegration and restorative justice as part of the Juvenile Justice Programme.
After the youth complete the six-and-a-half month programme, the participants are sent to an institution where they learn a sustainable skill.
At the end of that programme, which runs for two months, they are sent on attachment where 80% of them are kept by the employer.
She said that Hazel and Ryan have been in the programme since January.
She said they were not referred or brought but they walked in willingly, saying that they realise that they are going along a path that is not legal, would not be sustainable and would not make them into productive youths.
"In our estimation, they have realised that what they have done should not have been but poverty among youths in our country, it is very high and Marion House tries to reach out to see how we can assist the youth."
She said that this does not mean that it gives the youth an opportunity to steal.
The Marion House head said that she had told the prosecutor that her institution was willing to pay for the piece of equipment "however we can because all our services are free of cost".
She said the youth are in the programme and receive a weekly stipend to pay their transportation and buy lunch every day.
They also receive clothing as well, if they in need. Further, participants in the programme are expected to provide community service every Wednesday as a means of giving back.
The couple was bonded for one year in the sum of EC$1,000 or three months in jail.
It was the second time that the couple was brought to court on a similar charge.
In October 2018, Ryan was bonded for stealing an EC$2.90 doughboy from Massy Store.
The duo was charged for that crime by Ryan pleaded guilty while his girlfriend maintained her innocence and the prosecution withdrew the charge against her.