By Gloridene Hoyte-John
Elizabeth Morgan, described by fellow villager Alida Cordice as "a national hero of Sandy Bay", was appreciated on Friday, the eve of National Heroes Day.
Morgan, who is also known as "Queen Elizabeth", was treated to a belated celebration of her 103rd birthday, which fell on Jan. 8.
"Queen Elizabeth", wearing the yellow, black and white of the Garifuna, the First People of St. Vincent and the Grenadines, was carried from her house just across the street to the Sandy Bay Clinic, where the event took place.
In presenting a brief biography on Morgan, Cordice, a retired teacher, hailed the centenarian as "an icon in our community".
She told the small gathering of retired nurses, members of the Sandy Diabetic and Hypertensive groups, relatives, friends and well-wishers that as a child, Morgan travelled to Owia for church and school.
Cordice said that because of the strong leadership of "old teacher Daniel" who operated both institutions, whether at church or school, one always had to obey.
She said this is one of the qualities that Morgan developed.
As if on cue, Morgan responded, "Amen! True!"
Morgan enjoyed riding the donkey for the "hard buff" it would give. (At times, the donkeys would suddenly begin to gallop, throwing the riders from its back, and the resulting blow is referred to colloquially as a "buff".)
This was a sport for Morgan, who laughed heartily at the memory.
Morgan has no noticeable speech or hearing impediments, but she is blind. Her memory, however, is still remarkable.
She sat thru the hour-long ceremony, rarely slouching.
During her welcoming remarks, Staff Nurse Marie Browne, who organised the event, told the gathering it was befitting to show appreciation to people while they are still alive.
"They need to hear from us. They wouldn't hear us when we show up at the funeral," Browne said.
Morgan endorsed these comments, saying, "Praise the Lord! Hallelujah!"
And, according to Drucilla Edwards who has volunteered to take care of the celebrated "icon" since 2012, Morgan can walk a few steps, if aided.
Morgan also has no medical condition of note, something that Cordice said might be attributable to Morgan's love for either dolphin or king fish boiled up with bananas or potatoes, which she prefers to be served piping hot.
Morgan comes from a family of centenarians, according to Cordice, who, says that Morgan's mother lived to 106 years. Her grandmother is also said to have lived to 100 years.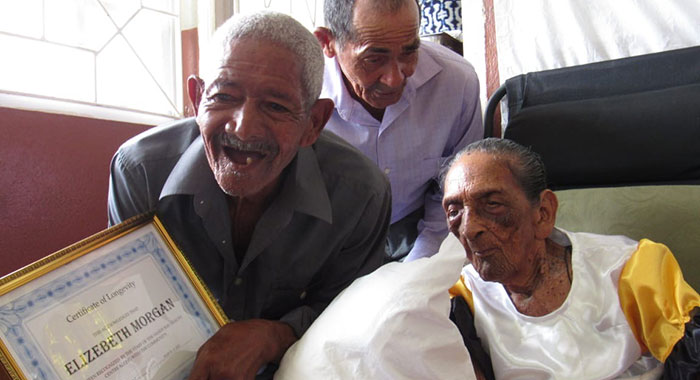 Morgan said she would not reach that milestone, but chuckled, "Me ah live all now!" – resulting in peals of laughter from the crowd.
The celebrated "queen" has four children, one of whom pre-deceased her.
The other children, two males and a female, are ages 79 to 84.
Dorothy, the daughter, is overseas and was unable to attend the celebration.
Her sons, Lionel Baptiste and Darryl Deweth, spoke glowingly of their mother and expressed thanks to God for her.
They reminisced about the way they were brought up, being taught the importance of earnest, honest living and being satisfied with whatever they had.
More tributes poured in from villagers and at the end of one of them, the centenarian chimed in singing, solo, the last line of the song, "Thank you Lord, for your blessings on me".
At the end of the song, she commented, "Praise the lord."
Pastor Enos Francis exhorted on the Psalms 34:1-3.
Morgan was presented with gift of flowers, money, a cake, a "certificate of longevity" and a food basket.
The staff of the Sandy Bay Clinic organised the event and decorated the facility in keeping with the celebratory nature of the occasion.