Member of Parliament for Central Kingstown, St. Clair Leacock says the apparent intention of retired educator, Curtis King to become a candidate for the ruling Unity Labour Party contradicts his position on a number of national issues.
"The gentleman offering himself in West St. George, I do not take the pleasure of having to say anything negative about him because I have had a good relationship with him all over the years. I believe he got where he got by dint of hard work.
"But it makes me question why so many of our professional people, so many who see the truth, that when it comes to crunch time and decision time have to compromise their better judgment and walk a path that they know is not in the best interest of St. Vincent and the Grenadines," Leacock told a virtual rally of his New Democratic Party on Tuesday.
Leacock said the West St. George constituency is important in helping the NDP party to form government after the next general election.
West St. George has been represented by the ULP since 1998.
He said that the NDP candidate for the district, lawyer Kay Bacchus-Baptiste has a "progressive programme" in store for the constituency.
"And I'm comfortable in my own skin, as are some of our colleagues, many of my other colleagues. We don't have to make ourselves look good by making others look bad. But you have to pardon us when we speak the truth," said Leacock, an NDP vice president and former senator who has been representing Central Kingstown since 2010.
He said that politicians in their personal and political lives have highs and lows.
"In other words, we have our proud moments where we feel we have peaked as a consequence of our investment and of our performance. And because we're all imperfect beings, sometimes we drop our heads, drop our chin when, notwithstanding our best efforts, we do not harvest that which we thought we had planted, we didn't get the outcomes that we thought we deserved."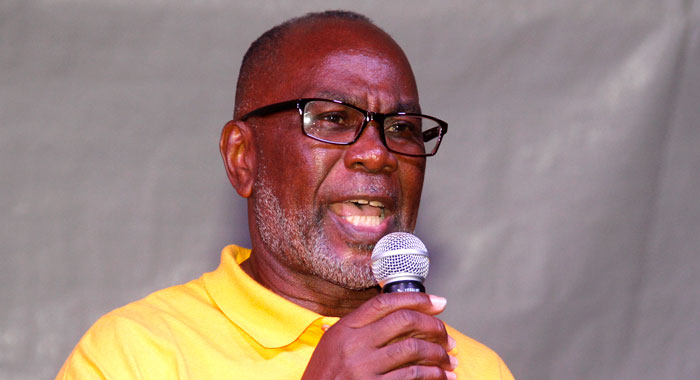 Leacock said, however, that in King's case it creates a "great difficulty for me".
Leacock suggested that King, a trade unionist, was joining an administration during the tenure of which the trade union movement in SVG died.
"You have to ask yourself searching questions. You cannot say that you support the importance of youth development and look around and see during the tenure of the man you want to support, the word youth; most of the National Youth Movement died not a natural death but was castrated by the very leadership that you're holding up today," said Leacock, who is also an NDP vice president.
"It has to pain you to watch that the people who you rub shoulders with, endorsed, supported, projected, in Otto Sam, teachers like yourself, thought your word of your leader was good and lost their jobs, lost their livelihood, lost their future, watched they family life deteriorate, because of the duplicitous nature and the anti-democratic practices of the person you're galvanising behind."
'Where is Labour Day today?'
Leacock said that King had witnessed that during the life of the ULP administration when the Teachers' Union has had to go to the court for justice.
"The public service union must go to the court for justice. Where is Labour Day today? You started with a handful of people, disappeared over time and you stand behind that? How do you do that?
"Sports? You value yourself as a sportsman. You watch its decline and you could only write historically about the glory days and you're a historian. How do you justify that?
"How you can justify in a culture of St. Vincent and the Grenadines that the party that you say is carried over 20 years … that they admitted … that they cannot find one good young woman to come forward. That's their words; not mine. You stand behind that?
"You stand behind one out of every two young persons in St. Vincent and the Grenadines having a job — nearly half of St. Vincent unemployed? You stand in support of that? Do you think through carefully, the ideological flip-flop at an inconsistency in the programmes of your party?" Leacock said.
He said that if one listens to the ULP today, they would believe that the party has always been pro business.
"But they're the ones who have fought tooth and nail to get rid of the Greaves, the Veiras, the Bonadies … and to project the state.
"Today, they are telling you about PRYME and the importance of business and of our business culture," he said, referring to the Promoting Youth Micro Enterprises (PRYME) Programme, under which the government gives cash grants to start-ups owned by persons 18 to 40 years old, which he said the NDP supports.
Leacock said that the NDP has always known about the importance of private sector businesses.
"And you find in every page of a New Democratic Party, all that we do, because you understand countries only development and go forward when the individuals in that society go forward.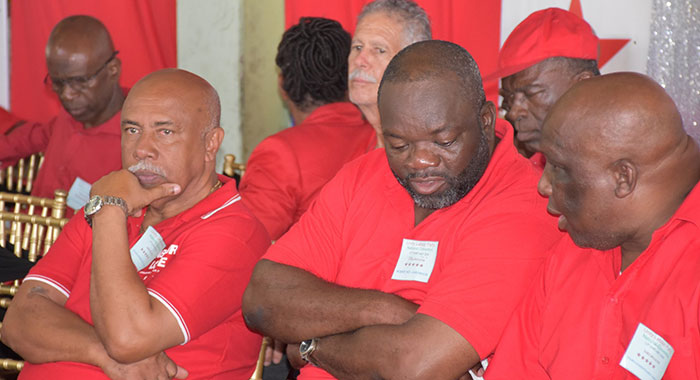 Why didn't Browne, Baptiste, Burgin ascend to leadership?
"You've got to do a check of yourself. Look around the membership of the party that you're joining and ask questions: Why come, how come that a Rene Baptiste couldn't stay along to emerge in the leadership?" he said, referring to the former West Kingstown MP and former culture minister, a lawyer, who did not seek re-election in 2010, after two terms in office.
"How come? Mike Browne couldn't stay around to be in the leadership? How come, why come that [Clayton] Burgin couldn't stay around to be the leadership?"
Browne, another ULP member was MP for West St. George between 1998 and 2010 when he did not seek election, while Burgin represented East St. George from 2001 to 2010.
West Kingstown has since been lost to the NDP, while the ULP still represents the St. Georges in parliament.
Leacock continued:
"How come you have a political party that systematically gets rid of anybody who could challenge the leadership, but yet, you can circumvent, you could navigate, manipulate, that the only person who could be a replacement for the current leader is the bloodline of the party leader?
"You only see that in Cuba, Venezuela, or North Korea. You subscribe to that? Tell me as a youth in Grammar School, tell me as a youth on the playing fields, that it was common practice that on every newspaper, high crime violence of every time should be front page, back and centre and editorial. And you support that?
"Where are the plans for the jobs? What are we seeing in the 18 years coming out of West St. George under ULP leadership that has shown us that the party understood the value of agriculture in West St. George, capitalised on the sporting prowess of the people of West St George and catapulted that constituency and the people forward. Where have they made use of the natural resources, your spa water, your beautiful topography for tourism? Where's the evidence? Do you look us straight in the eyes and say life has got better from the people of West St. George? No!"
Leacock noted that another speaker at the meeting had pointed out that even the Doris McKie Learning Resource Centre, which bears the name of the mother of the current West St. George MP, Cecil "Ces" McKie, could desperately use a lick of paint.
"Even the representative couldn't have the decency to make sure that paint is on it because it carries the name of his mother. If you don't respect yourself, you expect you would respect others. You have to answer those questions," Leacock said in his continued reference to King.
"You have been in Grammar School as a principal, the physical state and condition of the Grammar School is probably worse than any other secondary school in this country — untiled floors, still chalk boards in 2020… Where's the forward thinking where the forward march? What are you advancing?
"And then you go to a constituency and the things you are proposing you sound more like the opposition than the opposition. Do you hang your head in shame?"
Leacock asked questions about the state of roads in Welcome, where he said residents of Georgie Valley have to walk out with their luggage in their hands from Welcome to the main road to get a ride.
"You're comfortable with that after 20 years? In the very constituency of the Minister of Finance, three, four, or five months, we don't know how much before a next general elections, it is in the worst condition in the living history of the constituency and you will come the last week and the last month and window dress?" he said.