Minister of Finance, Camillo Gonsalves, who political observers see as the heir-apparent to his father, Prime Minister Ralph Gonsalves, says voters must ask themselves if they prefer Ralph or Opposition Leader Godwin Friday at the helm of the country after the next general elections.
The finance minister, speaking on Star Radio on Wednesday, said that Vincentians could ask themselves that question "every day on every issue".
"And almost always, they're in the wrong position," he said of the main opposition New Democratic Party (NDP), which Friday leads.
"So we could talk about LIAT. We could talk about the elections in Guyana. Have we heard Lorraine Friday on this position? Have we heard him on the defence of democracy and the principles that undergird our societies?" Camillo said.
"No, but Ralph Gonsalves has taken difficult positions, difficult stances on unpopular decisions sometimes, and he takes licks for defending his positions.
"We haven't heard from Friday yet because his principles are fluid. And it depends on the situations, it depends on the circumstance, it depends on who on Facebook making the most noise and who making the least noise?
"But who is a leader? Because we are talking leadership here. Who going tek front and go out there and state positions and defend those positions and talk about what it means to live in a Caribbean in the 2020s? Ralph Gonsalves is that person."
The finance minister also spoke about SVG's relationship with Taiwan, which began in 1981, and which the NDP, under the leadership of Arnhim Eustace, announced in 2016, that it would sever, a policy that Friday, who became party leader in 2017, says remains intact.
The NDP says that it would establish ties with China — which sees Taiwan as a renegade providence to be reunited with the mainland, by force if necessary — saying that it is the trend internationally.
Only 14 of the 193 United Nations member states, as well as the Holy See, have formal diplomatic relations with Taiwan.
Prime Minister Gonsalves once opposed SVG's relationship with Taiwan, but has preserved the ties since coming to office in March 2001.
Camillo said:
"The Prime Minister of St. Vincent and the Grenadines has reaffirmed our support for Taiwan. The leader of the New Democratic Party, without ever once, without ever once meeting, the president of China, without ever once meeting the foreign minister of China, without ever once meeting the finance minister of China, wants to leave and go join China.
"He wants to leave where we are, and go to start relations with a country that doesn't even have time to sit down and meet with him at the highest level. And it is just an abandonment of a longstanding friendship and an abandonment of an alliance that has brought benefit to the people of St. Vincent and the Grenadines, individual scholarships, buildings, medical supplies, all the rest of these things.
"And but why? Why is he going? Has Taiwan offended him? Has Taiwan done something wrong? No. Because somebody tell him it's the right thing to do, or because somebody is offering him some finances.
"And you think about these questions, you think about the hundreds of students that have gotten an education in Taiwan. And you think about the fact that we have, at any time, we can get the ear of the president of Taiwan."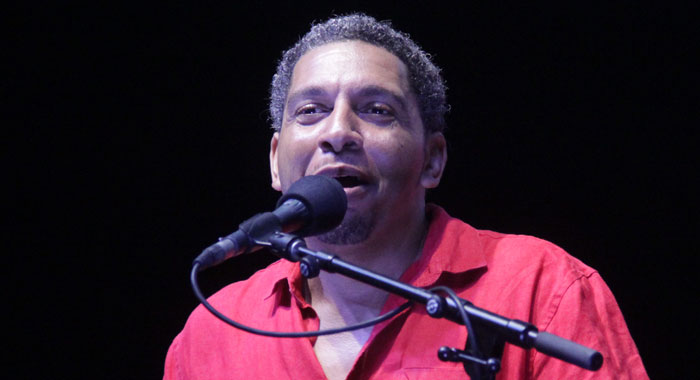 Camillo said that he had met three successive presidents of Taiwan and so have Minister of Agriculture Saboto Caesar, Minister of Health Senator Luke Browne, Minister of National Mobilisation Frederick Stephenson, and Minister of Culture Cecil McKie.
"But he (Friday) still can't get into the cabinet of the Chinese government and he wants to run and go knock on the door. 'Hi, hi. Hi, is me. Ah dey outside. Alyo let me in, nuh?' No. Leadership is important.
In late 2018, Friday led a delegation on a visit to Beijing and Shanghai, where they held talks with officials of the China Zhi Gong Party.
The China Zhi Gong Party — translated into English as China Party for Public Interest — is one of the eight legally recognised political parties in the People's Republic of China that follow the direction of the Communist Party of China and are represented in the Chinese People's Political Consultative Conference, Wikipedia says. The online encyclopaedia further says the party appears to be used as a convenient intermediary for contacts with certain foreign interests.
The finance minister said that on the issue of the hospital that his government says it will build at Arnos Vale, there has been "all kinds of talk about health care, and the leader of the New Democratic Party allowing all sorts of misinformation and talking about a hospital that they want to build, knowing full well that they have no plan, that they have no details that they have no design and want to criticise a government that has spent over $5 million, so far, in the development of the hospital at Arnos Vale.
"A lot of work happens before you put your shovel in the ground. So, when they talk, we can answer the question, 'who is the designer of the hospital?' 'What studies have been done about the best location of the hospital?' 'How has that been financed?' 'How much equipment, how many rooms?' 'What type of services will be offered?'
"We can answer all of those questions because we have a leader who has thought these things through, and is studying them. And we realize that a policy and a program require work. It doesn't require which way the wind is blowing."
Recently, the prime minister repeatedly stated that a post on his Facebook page had falsely claimed that his government has secured from the World Bank the monies to finance the hospital.
The finance minister, speaking about leadership generally, said:
"And so, at every turn, if we talk about leadership, we're talking about Ralph Gonsalves versus Lorraine Friday, that is the question you have to answer when you find yourself in the polling booth. And you have to ask yourself in this time of COVID, in this time of increased hurricanes, in this time of global unrest, who are you safer with? Who will help you in your time of need?"
The NDP has said that its polls show Friday ahead of both of the Gonsalveses on "likeability and integrity".
The party, as is generally the case in SVG, has not released any further information to substantiate its claim.
General elections are constitutionally due in March 2020, but the prime minister has said that they will be held by the end of the year.
The finance minister, a former senator, is seeking a second five-year term as Member of Parliament for East St. George.
The ULP is bidding for an unprecedented fifth consecutive five-year term in office.