The government of St. Vincent and the Grenadines has allocated EC$2.6 million for a three-pronged, integrated vector control programme amidst the outbreak of dengue, which has claimed six lives among the 500 laboratory cases confirmed across the country.
Minister of Health Senator Luke Browne announced the programme on Friday, telling a press conference the project is composed of nationwide fogging and surveillance at all major ports of entry, the eradication of mosquito breeding sites, and public education.
"And we expect that to ramp up our fogging," Browne said, adding that just under EC$1 million has been allocated to this activity.
The health minister said that the money will be spent on the procurement of additional fogging machines and related supplies.
"It will be spent as well to bring into our possession on whatever terms available, be they rental or otherwise, a sufficient number of appropriate vehicles, which could be deployed into the field. It would also be used for us to take on board, in a phased way, an additional group of temporary spray men.
And it will also address some other costs associated with this project, including the cost of having a mounted truck fogger."
Browne said that currently, his ministry has handheld fogging machines, which are mounted or used on pickups and can be deployed into the field through persons on foot.
"But we're also looking at investing in some mounted truck foggers for this part of the project.
"So these spray men will be essentially playing the role … of vector assistants, because we want this message to sink in far and wide; it is important for everybody to do their part to bring this outbreak under control.
"The ministry will certainly do its part but in addition to asking what the ministry and what all the various facets of the ministry will do, it's good to ask, 'What can I do?' 'How can I help?' 'What is my role and responsibility in response to this outbreak?' 'How am I going to be there for my nation, or even simply for my household?'" Browne said.
"You don't have to think about it in grand and glorious terms, how am I going to be there for my household and my community, as we deal with this.
"And I don't have any doubt whatsoever that we are going to deal with it and that we're going to deal with it decisively and deal with it well, because it is in our nature and our nature is reflected in the lines of our National Anthem, whatever our future brings, our faith will see us through. And our faith will see us through this, and we hope to get through it with as minimal a number of persons being affected as possible."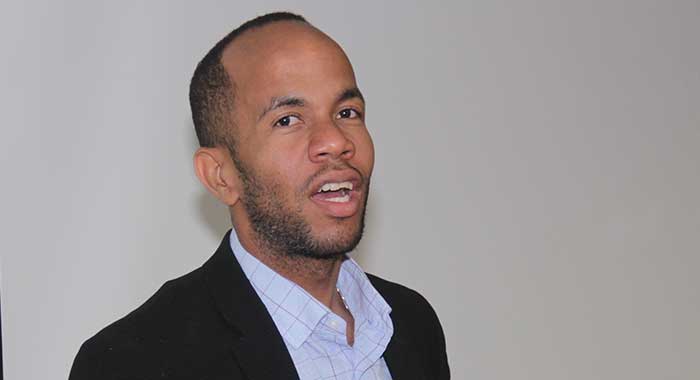 Fogging teams to move from 2 to 24
Browne said the nation has two fogging teams and he urged the nation to pay attention to the fogging schedule.
"So we have two fogging machines right now on two pickups comprising four persons in all and we hope to take that, over a period of time, all the way up to as many as 24 fogging teams operating throughout St. Vincent and the Grenadines."
He said that for this purpose, Environmental Health Division has divided the country, for administrative reasons, into 12 districts and the fogging teams deployed to these 12 districts.
The health minister said there will be some ancillary activities, because there will be the application of larvicide to containers which cannot be overturned or eliminated.
Some EC$400,000 has been budgeted for this.
"Then there will be greater surveillance at ports of entry and generally speaking throughout the country," Browne said.
"So we're looking at the elimination of adult mosquitoes from the communities, but we also have to do something — and to me this is perhaps even a more important element of the project — … about the breeding of mosquitoes in the first place … because we could essentially nip this problem, nip this matter in the bud and that would make life a lot easier for us on the back end."
Cleaning of waterways
In order to address the issue of the breeding of mosquitoes, the ministry also has a project for the cleaning, and clearing of rivers, streams, drainage systems, and the general eradication or elimination of mosquito breeding sites.
"Again, I want to make the point that this is not a situation where we are building from ground zero," he said, adding that the Roads, Bridges and General Services Authority (BRAGSA), in performing "what it considers to be a sense of its civic duty, has helped with the clearance of several areas, several waterways, including waterways in Bottom Town, waterways in Calliaqua, waterways in Bellevue.
"And this, naturally, has to be on-going work. But the work is happening. And we're going to do it in a systematic way," he said, adding that in the upcoming period, the Environmental Health Officers and persons who make themselves available will identify places for this work.
"One of the things which has been heartening is the way in which we see many volunteer groups and associations come forward and say, and put their hands up and say, I want to see what I could do to help.
"And we were going to, to do this work for the cleaning and clearance and so on with volunteer organisations, and with persons who are specially recruited for this purpose through the public health department. And they will carry out activities throughout our country.
"We will be guided by the science; will take an evidence-based approach. The districts which have been disproportionately affected, for whatever reason — and we have to get to the bottom of that — and we will put resources in the pipe to be able to get to the bottom of that.
"And just to mention that logistical and material support will be provided by agencies of government as required," he said, adding that the permanent secretary convened a meeting earlier last week, to coordinate that cross-ministry platform for the execution of this project.
Communications and health promotion
The final part of the project will be an EC$200,000 component that deals with risk communication and health promotion.
"And under this wing, we are hoping to achieve the production and distribution of health education materials on dengue fever, and mosquito breeding sites.
"You know the different types of documents that could be produced within this ambit: you'd have booklets, posters, brochures, pamphlets and other documents. We're also hoping to work on audio and video material with risk communication messages and even to engage or look at the possibility of using electronic billboards. In other words, using every particular possible reference to get the message out there," Browne said.
The health minister said that his ministry will employ vector control assistants – "persons who are taken on for a particular periods especially under this project, that would work with current vector control officers to do several different things, including distribute some of the material that would be produced and carry out house to house inspections, home inspections, and to perform other tasks as they may be assigned through the appropriate channels…
"I think that this amounts to a substantive response by the government that treats this matter with the seriousness that it deserves, and which continues the work that we have been doing, since we noticed an uptick in the cases in St. Vincent and the Grenadines, to keep this under control," he said.
Browne and his ministry has come in for some criticism over their handling of the dengue fever outbreaks, which has sent many persons to the emergency room, accounting for 75% of all admissions at the nation's public hospitals.
Friday's press conference came almost two weeks after the health ministry's press briefing on Sept. 22, which the minister failed to attend, saying he was at a school talking to children about dengue.