Minister of Health Senator Luke Browne has defended his ministry's response to the dengue epidemic saying he was not sure it could be characterised as reactionary, as a journalist asked at a press conference on Friday.
Six people have died as a result of the mosquito-borne illness, amidst 500 cases almost 18 months after the Caribbean Public Health Agency (CARPHA) warned of a possible outbreak of the viral illness.
And, even as anecdotal evidence suggest that the number of cases shot up after school reopened, it took the Ministry of Health two weeks after school reopened to suggest to the Ministry of Education that students be allowed to wear long clothing to school, instead of their regular uniforms.
Further, while the first cases of the illness began to emerge in June, it was not until Sept. 22 that the ministry warned the public that dengue fever patients should not take certain types of fever medication, as so doing could make them more susceptible to bleeding.
Some rivers, streams and drains across the country remained clogged in the height of the outbreak; even a senior environmental health officer confirmed that they were breeding sites for mosquitos.
St. Vincent and the Grenadines, this year, saw its worst drought in 70 years. The dry spell reduced some of the nation's largest rivers to trickles, flanked, in some instances by ponds and pools of stagnant water which became breeding grounds for mosquitoes.
"I'm not sure that the ministry's response should be characterised as a reaction as opposed to be proactive about it," Browne said.
He was speaking at a press conference at which he announced an EC$1.6 million project in response to the dengue outbreak.
The project has three components, focusing on nationwide fogging and surveillance at all major ports of entry, the eradication of mosquito breeding sites, and public education.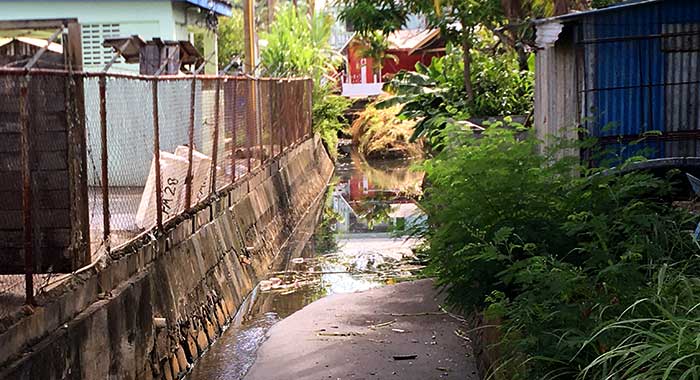 Browne said:
"I mean, the truth is, we have been doing work in this regard for some time. We have been doing work since July in a particular way. And we have been more or less preparing.
"But you see, the projection is one thing, but you could only calibrate the specifics of your response on the basis of the actual developments. And, you know, the actual developments will guide us in terms of how many additional teams that we might need. We use the experience with previous outbreaks from dengue fever and also with the outbreak from Chikungunya to give us a sense of what are some of the preliminary steps that have to be taken."
He said his ministry took those preliminary steps.
"Now, as we are living through the experience, we are having a clearer sense that look, what we might need instead of the usual number of persons, number of fogging teams is not necessarily five or six, but 20, what we might need in terms of the usual, the amount of fogging machines that we have, is not necessarily four or five, but 30.
"And these are decisions that you would make to the extent that you could, you could put yourself on a on a strong footing, and you put yourself on a strong footing by making sure that you are in tune with what is happening around you by following the technical guidance and other guidance provided by CARPHA and other agencies.
"And the ministry has been doing precisely that, and we are now rolling out or response in tandem with the best guidance that is available. So, you know, while at this juncture, having had the experience of the actual outbreak going on, we are taking certain steps to escalate our response; this is not a case where we have not been doing anything, and we have not been proactive in our responses," the health minister said.
He said that schools were fogged before students returned to the classroom on Sept. 7.
"And on top of that, there was further information about the possibility of using long sleeve clothing for an additional layer, or measure of protection," he said, referring to the advisory that came two weeks after schools had reopened and after two persons, including a 9-year-old student, had died of dengue-related complications.
The minister rejected the notion that anecdotal evidence suggested that most children who caught dengue contracted it at school.
"I am not sure if there's any anecdotal evidence suggesting that. I'm not sure about that at all," he said.