A man, who left his quarantine hotel in Villa, took a van to Kingstown and checked into another hotel not approved for isolating persons, without disclosing his status and conditions, has been fined for his actions.
The man, 78-year-old U.S.-based, Vincentian, Ivan Nathaniel Burgin, of Fountain and Florida, was, on Friday, ordered to pay the court EC$500 forthwith or spend 14 days in prison.
Senior Magistrate Rickie Burnett sentenced Burgin at the Kingstown Magistrate's Court one day after he pleaded guilty to a charge that he breached his COVID-19 quarantine on Sept. 13, at Villa.
Burgin was scheduled to return to the United States last Saturday.
According to the facts read by Prosecutor Police Constable Corlene Samuel, Burgin arrived in St. Vincent on Sept. 12, on an American Airlines flight.
On arrival at Argyle International Airport, the quarantine order was outlined to him.
Medical professionals at the airport swabbed Burgin for a COVID-19 test and he was shown a list of hotels approved by the Ministry of Health for persons to be quarantined.
The Beachcombers was among those listed and the defendant chose that hotel and made his reservation.
It was explained to him that he should quarantine himself for 14 days, five of which should be at the approved hotel.
Burgin was served with a medical officer's order and went to Beachcombers about 4:25 p.m.
However, the next morning, Sept. 13, workers at the hotel saw him leaving with his luggage.
The workers observed that Burgin was arguing and saying he was not staying at the hotel.
The police were informed and an investigation revealed that the left on his own and went to the Cobblestone Inn in Kingstown, which is not a facility approved for the quarantining of persons.
As a result, the police went to Cobblestone Inn, where they met the defendant.
Burgin was informed of the offence of the breach of the order and when cautioned, he said, "I not happy out there. I went out there to get a phone call and mosquito was out there."
As a result, he was then taken to Spring Garden Estate, where he stayed for the remainder of his quarantine.
Burgin was later charged.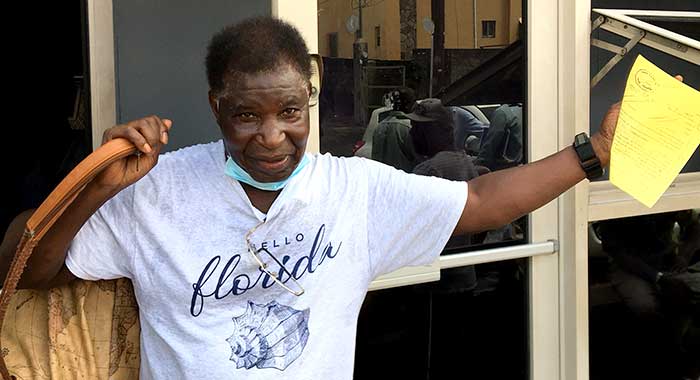 The defendant told the court that after checking into the hotel, he found mosquitoes in his room and when he complained, a worker brought a can of insecticide and told him to use it.
He said that when he went to the front desk, no one was there, and breakfast the following day was not suitable for him, as he has a heart condition.
The defendant further said he had no internet service.
Burgin said he decided to go to a hotel where he could get "proper service" and, therefore, left around 9 a.m. the following day for Cobblestone Inn, which he had stayed at before.
The defendant said that no one was at the front desk at Beachcombers when he checked out.
He said that when taken to Spring Gardens, he found the hotel to be to his suit, so he decided to stay there.
However, Medical Officer of Health, Dr. Roger Duncan countered much of what Burgin had told the court.
The doctor said that immediately on Burgin's arrival at Beachcombers, he received a call from the hotel saying that the defendant was "loud, aggressive and abusive".
The following day, the doctor said, he received another call saying that Burgin had left.
The doctor said that persons have to include on the form they fill out at the airport a functioning local telephone number.
Further, Burgin was given a card at the airport with a number that he could call in event of any development.
Duncan said that health officials have moved persons from one approved hotel to another before.
"It is nothing new but there is a process," he said, adding that people are paying for their hotel accommodation and can choose where they want to stay.
The doctor said that if Burgin had a problem with the meals served at the hotel, he could have said he had relatives or friends who could cook for him and that would have been allowed.
The doctor said Burgin should not have been at the hotel front desk after checking in, but the hotel complained that throughout the night he was leaving the room and trying to engage the staff.
Further, Burgin did not choose to go Spring Garden Estate but was taken there because there is police present there.
But Burgin also countered some of the doctor's claim, saying that after paying US$750 for his stay, he went to his room and never moved until the following morning.
"There was no internet service," the defendant said.
He said he could not recall seeing on the card he was given at the airport a number that he could call.
Burgin, however said, he had called a Mr. Butler at Calliaqua police station and informed them that he had moved.
The senior magistrate noted that Burgin had chosen to go to a hotel rather than his house.
However, Burgin said there is nothing at his house and he might have gone there were that not the case.
Meanwhile, the prosecutor said that an aggravating feature of the case was that Burgin took a van into Kingstown, putting persons' lives in danger.
She further noted that he had to walk from wherever he got off the van to the hotel.
Further, Burgin went to the other hotel where there are other persons unprepared to deal with him or ignorant of the fact that he was in quarantine.
The prosecutor further said that the defendant showed no remorse.
"Though he is sick and has things to deal with, but before he came to St. Vincent he knew there are protocols," the prosecutor said.
She said there are also are protocols that have to be followed in the United Sates, the prosecutor said, adding that Burgin was telling the court that if his housing situation were different he would have gone there.
And, Duncan told the court that he remembered Burgin from the airport, where he had said he was not paying for any hotel and did not want to go to any hotel.
The doctor said that there are nurses who work at the hotels and they were informed about Burgin and his condition.
Duncan said that even at the airport, they knew that Burgin would present some challenges for health care officials.
Meanwhile, the magistrate noted that Burgin did not tell Cobblestone that he was quarantined at Beachcombers.
"Mr. Burgin, there is a lot of recklessness in what was done by you," the magistrate said.
"I can't see that," Burgin said.
"You breached the order for a few hours but the risk you put the population through, that, to me is most aggravating," the magistrate said.
He granted Burgin the one-third discount on his fine for the early guilty plea.