A prison warder on suspension unrelated to the jailbreak this month has presented the nation's prisons as chronically-understaffed, filthy, dilapidated places from which prisoners could escape, anytime, if they intend to.
"I will always say we have some of the best prisoners in the world. Because Veron is not the only prisoner who could escape — [from] both [the] Kingstown and Belle Isle [prisons]," Kenson King said, on Dec. 20, on Facebook Live, in a video captioned "The Rant. Controlled Chaos — Prison Chronicles."
"Any prisoner who choose they want to escape can escape. You want to know why? We have a gross shortage of staff in prison for years," he said, adding that the Ministry of National Security is aware of the situation.
King said that since 2018, he, as then grievance officer of the Public Service Union, along with union leader Elroy Boucher, the then general secretary Bailey as well as then Superintendent of Prison, Brenton Charles met with then Permanent Secretary in the Ministry of National Security Godfred Pompey to discuss "issues that were and are still plaguing the jail".
In June 2017, Boucher told a press conference in Kingstown that warders at Her Majesty's Prison were experiencing burnout after working long hours to compensate for short staffing at the correctional facility.
And King said in his video that many of the issues raised over recent years are yet to be addressed, including installing perimeter lights at both prisons and repairing the roof of the Kingstown penitentiary.
"You see that same roof that Primus cut out and walk through? That roof along with Chapel roof, a matter of fact, the roofs in the jail need urgent attention …" King said, mentioning the name of a cell block.
He said that BRAGSA, the state agency that handles construction and maintenance of public infrastructure, has come to prison in Kingstown "many times, look at the work and go 'bout their business.
"Up to now, they nah do nothing. So tell me how is [the] superintendent's fault that a man could cut out the rotten galvanise [sheeting] and the rotten ply board [and escape]?"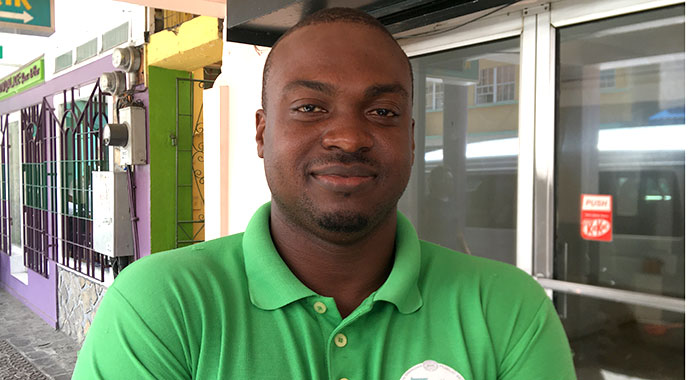 As far back as September 2018, King used Facebook posts to speak about staff shortage at the prison, saying that sometimes, there was a ratio of one prison officer to 65 inmates.
And while new officers were hired since then, King said they are merely enough to replace officers who have exited the system, rather than to meet the needs of the prisons.
King said that the government should hire about 40 additional prison officers for both penitentiaries.
"Presently, with all the people who need to be trained, if you send them off to be trained, you don't have a soul to work in the prison…
"So everybody just come, they drop into the prison system like if you just drop them in the deep end of the water to swim with sharks and they have to learn.
"So you are wondering and asking how come nobody coulda know that Veron was doing this and doing that? One, shortage of staff; two, you had a staff that was merely young new prison officers.
"As a matter of fact, the most senior constable on that day that Veron escaped, who had to check or count the cell, was an officer who was not even there for two years yet. He had not gone past his probation period yet, at the time. Untrained…
"The same cell that Primus escaped from … they built that cell like a house so when you stand up by the gate and you watch in, you have corners that you can't see [around]," King said, adding that nothing was done to address issues raised after Primus' first escape.
Roof — escape route, contraband entry point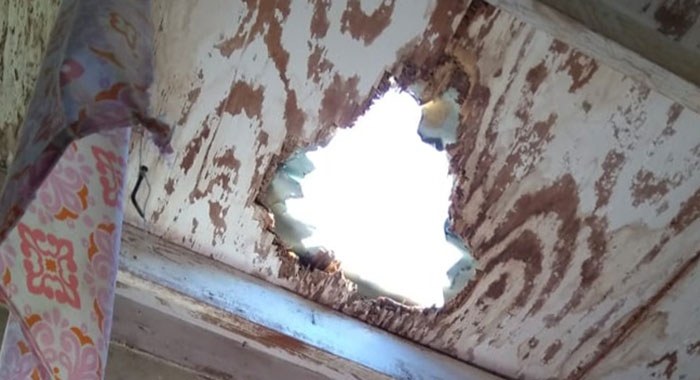 The spotlight is again focused on HMP after the escape, this month, of two accused murderers, including Veron Primus, who is awaiting trial for murder in SVG and has been indicted in the United States in connection with a 2006 killing there.
Primus' escape from the Kingstown prison was his second since September 2019.
This month, however, he escaped along with Ulrick "Chucky" Hanson and they were both recaptured about 9:30 a.m. on Dec. 10, about 30 hours after their escape became public.
A court hearing related to Primus' jailbreak heard that he and Hanson escaped custody after cutting a hole through 3/8"-thick plywood in a section of the roof that had been leaking.
King said that not only is the prison roof a potential escape route, it is an entry source for contrabands, and a source of danger to prison officers.
"… the same roof that Veron Primus ah dem climb down off'ah to escape, people climb up on that roof from McKies Hill side to come to hand contraband into the prison".
The prison officer said that he almost shot someone off the roof but did not do so for fear that pellets from the shotgun could have struck a security guard at a nearby company.
He said that police officers have called the prison reporting a ladder behind McKies Hill side of the prison, the same direction in which Primus and Hanson went after escaping.
"As a matter of fact, I was warned at one time to be careful when walking in the night because [an accused murderer's] brother does come pon the prison roof and he does be armed.
"…Prisoner's relatives will come on the roof — some of them who get paid, some other people, some of them boys in the street go tek pay, some of them ex-convicts go come and hand in stuff."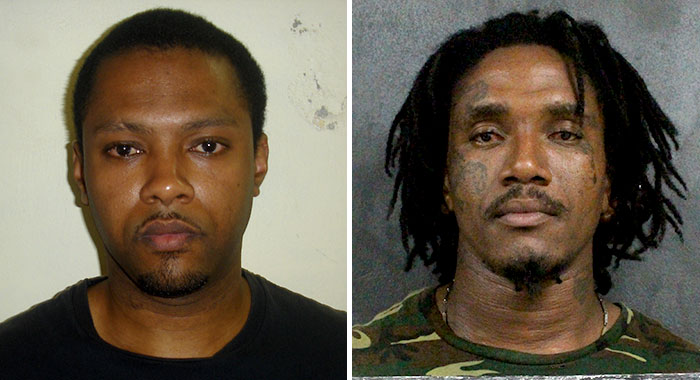 King said he was not saying that there are not "dirty" prison officers, adding, "but they are few".
"Most contraband come over the wall into the prison and a lot of it, as I said, people come on the roof in the night and they hand down stuff. You can't be in the yard 24 hours or for the full eight hours that you're working."
On the issue of the roof of the prison, King said it has been over four years that inmates cannot be housed in the cell called Chapel, the same cell from which Primus and Hanson escaped.
"… because the roof decay so bad that when rain come y'ah flood. They know this. In Chapel 3, when rain come, man haffu dey ah shift, man have to set all kinda blanket and shirt and all thing to catch rain to stop it from thing."
The prison has security camera, but the footage is mot monitored in real-time, King said.
"The way the security cameras are set up, it doesn't have a booth or an office where somebody is monitoring the security cameras. You might see the footage the next day. That is the kind of nonsense."
King in the news
King, a 33-year-old Park Hill resident, has made headlines a number of times this year.
In May, police took him into custody at his workplace and detained him for over 36 hours without charge over a post he allegedly made on Facebook.
Prime Minister Ralph Gonsalves also threatened King with a defamation lawsuit over the post, but King has said that neither the prime minister nor his lawyer has contacted him on the matter.
In July, King pleaded not guilty to a charge that he wounded a prisoner. He was granted bail and sent on leave, pending the outcome of the case.
A source familiar with the case told iWitness News that King has not denied striking the prisoner but said that he did so in self-defence after the prisoner slapped him.
Also, in July, as the election campaign began to heat up, King, speaking at the opposition New Democratic Party's "Youth Voices" campaign event, urged the youth of St. Vincent and the Grenadines to "rebel" against Gonsalves' Unity Labour Party administration.
The ULP was returned to office for an historic fifth consecutive term in the Nov. 5 general elections.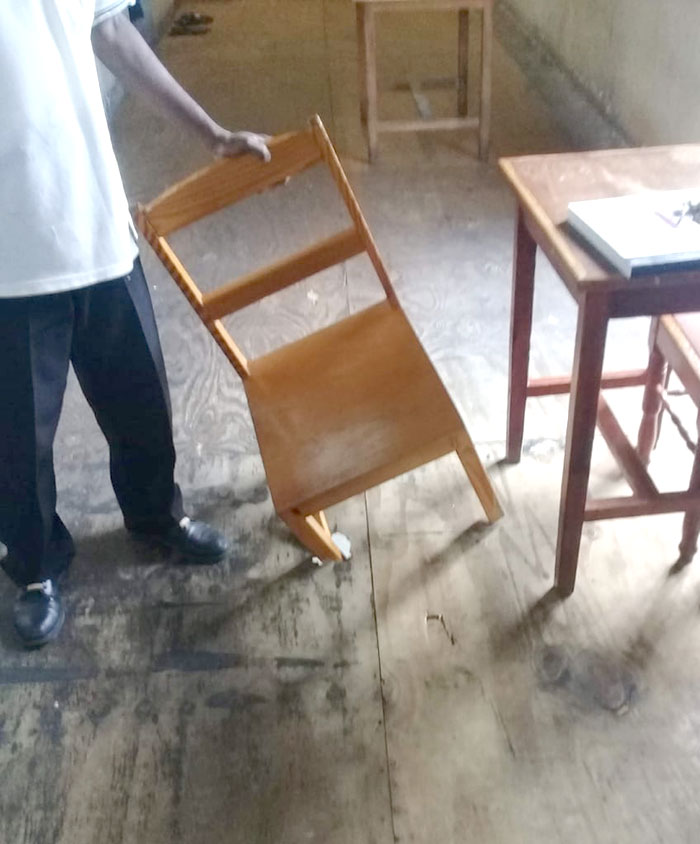 Prisons lack tools, short-staffed
In his "rant" on Sunday, King placed responsibility for the jailbreak this month squarely at the feet of Gonsalves, who has said that he will not accept blame for the escape.
"With the same logic, you cannot blame the superintendent either. Why? The superintendent was at home in his house sleeping. He wasn't on duty. So tell me how you going to blame he if alyo nah wah blame Ralph as the minister of security," King said.
He said that while people badmouthed prison officers after the escape, the nation owes warders a debt of gratitude.
"Two prisoners escaped and it have all ah you in a frenzy. Prison officers have to deal with over 400 of them every day… [and] don't even have the proper tools to get the job done.
"You don't even have the proper staffing to get the job done but everybody want to run and talk; you don't even get the proper support from the ministry of security and finance to run the prison properly," King said, adding that the prison budget is frequently slashed.
"… sometimes, the only thing you could feed the inmate ah dem a rice and chicken, nothing else. … Sometimes, bread and butter … because every minute you hearing prison budget cut," King said.
He said that while prison officers are "the last line of defence between the society and criminal elements", they are working under "some of the most deplorable, nasty, stinking conditions of any workers in St. Vincent".
King said there is a "trough — a toilet area where it is open where everybody can see" and an officer has to be there because it is one of the areas that is to the wall towards the courthouse that has to be secured.
"But guess what, when he is there, he has to watch a man take a dump… He's there, having to see all of that."
King said that the trough facility use to be self-flushing until it was destroyed by the prisoners during the riot in the late 1990s.
"Note, people have to take bucket and wash it down," he said, adding that the contents of the trough are sometimes from the previous evening.
"When that stench raise up, you go be all behind Paul's Lot and smell it. So imagine the prison officers in the yard having to take that."
He said that when Girlyn Miguel, a former deputy prime minister, was a minister of government, she used to visit the prison with a religious group.
Other officials have visited the prison "and when the stench raise up, they run", King said.
He said that during one of Miguel's visits, he purposely instructed that the trough be flushed.
"And Girlyn Miguel couldn't ketch ye breathe. If you see um."
King said that Vincentian prisoner officers have some of the strongest stomachs in the world.
"Ye nah ha' nutt'n me think could sick a Vincentian prison officer's stomach again from all that we done see and experience.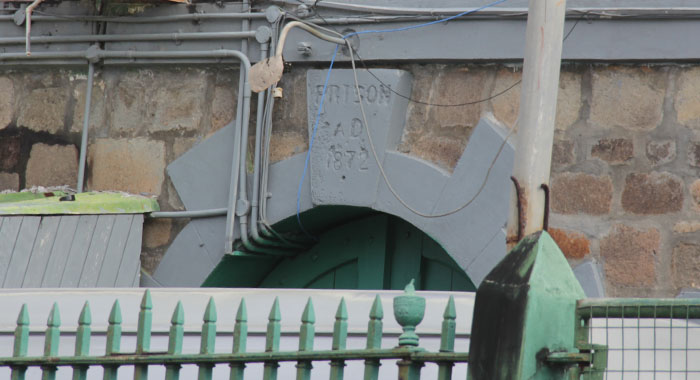 He said that mentally ill people are in prison, which should not be the case, and sometimes, they smear bars and locks with faeces.
"Same lock that yo have to go and open and you don't even have gloves given to officers to deal with all of this. People like me so does tell them me nah go open none because me nah go walk with not a germs from jail come meet my people them," he said.
He said that although prison officers are not doctors, they have to deal with outbreaks of chicken pox and scabies in the prison.
"A prison officer is a mother, a father, a doctor, a counsellor, a psychiatrist, a psychologist — everything a prison officer is," he said, adding that some prisoners would throw excrement and urine at officers.
"Those are some of the things we contend with every day," he told viewers of the two-hour video, which also addressed other issues.
The warder said the national security ministry has refused to issue warders with non-lethal weapons such as pepper spray.
King said the installation of perimeter lights, an issue raised in the 2018 meeting between the union, prison and government is yet to be addressed.
He quoted one former ministry official as saying prison officers were not ready for these implements and that perimeter lighting was unnecessary because of the streetlights near the Kingstown penitentiary.
And when the Belle Isle Correctional Facility was built in 2009, the HMP staff was split in two to man both penitentiaries, King said.
Each block at the Belle Isle prison should have a minimum of four officers to ensure proper relieving, he said, adding that sometimes, there is one officer to supervise the two floors in each block.
There is supposed to be a minimum of 16 officers on the blocks but sometimes there are only three or four "because the shift ah dem just nah ha' people to work.
"So, like I said, if people want to escape, they can escape."
200 prison warders needed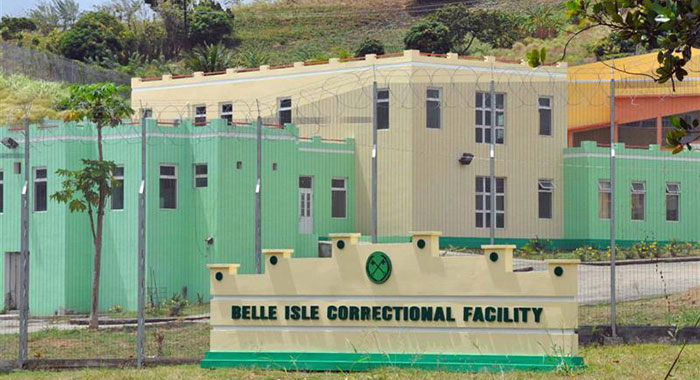 To illustrate "just how short-staffed" HMP is, King said that during the day the prison might have a staff complement of 18.
He, however, told iWitness News that he believes that the 64 officers are needed to man the blocks at Belle Isle.
"That 64 is16 for each of the four shifts — mandatory for the proper running of the blocks. So each team that works both day and night shift need no less than 20 officers. So in all, you need no less than 95 officers at Belle Isle."
In addition to the officers manning the prison blocks, King said, a minimum of two warders are needed at the outer gate, one at the main gate, three minimum to properly monitor visits, four for the farm, one at the kitchen, two medical officers, one officer at the commissary and two tailors.
For Kingstown prison, King told iWitness News he believes that 16 warders are needed for the day shift to properly man the main yard, one at the vestibule, one at the bakery, one at the kitchen, two at the main gate, two at the outer gate, one at the mechanic shop, one at the carpentry shop, one to conduct visits, two medical officers, three at the reception office, and one store room officer.
"So you need no less than 35 officers on a day shift and eight to get the night shift going well. You need no less than 100 officers for Kingstown if it is to be run properly. Two hundred officers will have both prisons running well," he said.
In his Facebook broadcast, the warder said adding that the prison rule prohibits a warder from leaving his post unless he is properly relieved.
Further, King said, no one officer is supposed to patrol any of the cells — of which there are 17 in Kingstown.
"You see why you can't have proper supervision as everybody want to run up and down and talk about. So during the day, inmates can be up to all manner of mischief," King said, adding that all these matters were communicated to the Ministry of National Security.
He noted that after Primus escaped last year, Gonsalves visited the prisons and warders had to direct the prime minister as to where to walk in order to avoid falling through the floor.
"I have one question for him. With all of these things that he was made privy to last year when he came there because of Veron escaping, ask him what has he provided to be put in place to better secure the prison, as minister of security.
Prison chief got scant regard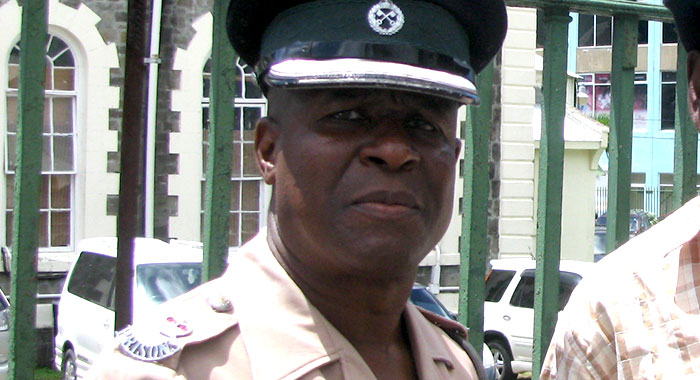 And after Primus escaped this month, Gonsalves announced that prison chief Charles had successfully applied for early retirement.
King, however, said that Charles was pressured to make the application.
He said the chief warder had to accept some "licks" for the development.
"But I tell you all, he is a blasted damn good man and a good prison officer. This is a man who gave 38 years of his life to the prison," King said, adding that Charles has earned his benefits, having worked more than 33.3 years.
He said that during his tenure as prisons chief, Charles had been treated with scant regard with Rapid Response Unit, a police tactical squad, sometimes sent to search the prison without Charles first being informed.
King said he also has a photo of an order that has been given for police to stop and search prison officers and the prisons vehicles in public.
"As if police so clean. Every minute you hear white cement gone missing out of evidence," he said, using a colloquial expression for cocaine.
"Something that supposed to be documented, locked up and secured, every minute they gone missing, but you want to come after prison officers, as if prison officers so bad.
"Every minute you hearing about sexual assault and some sexual something by police on people put into their care. But prison officers so bad."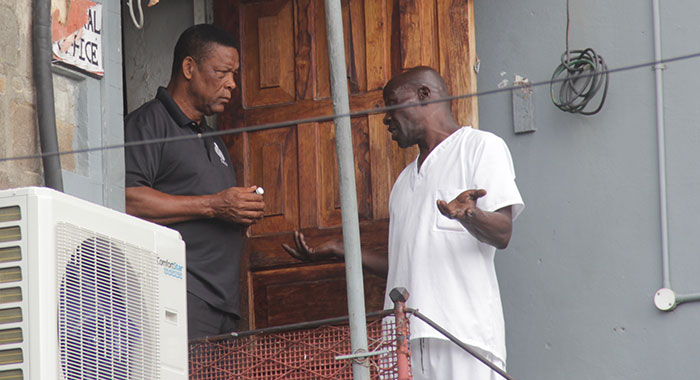 New prison leadership
Superintendent of Police, Timothy Hazelwood, who head the RRU, has been installed as prison chief and is being assisted by Inspector of Police Dwayne Bailey, another RRU officer.
King questioned the arrangement, saying that Police and Prisons have distinct administrative arrangements, although they both fall under the Ministry of National security.
Among the issues that King raised was the extent to which a warder on duty is bound to obey an order from a police officer, and labour rights issues, especially since warders can unionise and police officers are not permitted to.
Meanwhile, Gonsalves has said that an inquiry may be held into the escape and King dared him to broadcast it live.
"I dare you to try that, Ralph. I dare you to have the inquiry into the escape live. I dare you because I know that with that narrative that you try to spin, all will be exposed and that narrative will be shown to be BS," King said.