Prime Minister Ralph Gonsalves says he would be saddened and pained if Vincentians do not take the COVID-19 vaccine.
"… It would sadden me greatly; it would pain me enormously if our people don't take the vaccine because there is no scientific reason not to take the vaccine and the history and experience of vaccines contribute to our wellbeing," he said on WE FM on Sunday.
Gonsalves noted the impact of the measles, mumps, rubella, polio and yellow fever vaccines.
"It's one thing to raise questions, it's another to go down a road of scepticism and anti-vax," he said in his latest attempt to counter the impact of anti-vaxxers.
Gonsalves' comments came one day before St. Vincent and the Grenadines (SVG) received 40,000 doses of the COVID-19 vaccine Covishield (Indian) AstraZeneca from the Government of India.
In early February, after "prayerful consideration" the prime minister took his first dose of the Sputnik-V vaccine and is scheduled to take his second dose on Tuesday.
Gonsalves said that SVG would probably need another 50,000 vaccines in addition to some 85,600 that the country will receive, including those from COVAX.
The prime minister said that his government is looking to vaccinate between 65,000 and 75,000 persons 18 years and older.
"… we would want to make sure everyone over 18 would take the vaccine, save and except for a one or two here, which the doctors may tell them don't take it yet…"
He said these persons might include those undergoing chemotherapy and other medical treatment.
"The quicker we do our vaccination, the quicker we return to normalcy. That's why last week I tell you that my focus immediately is about jabs and jobs. We take the vaccine and we get back to normalcy…" the prime minister said.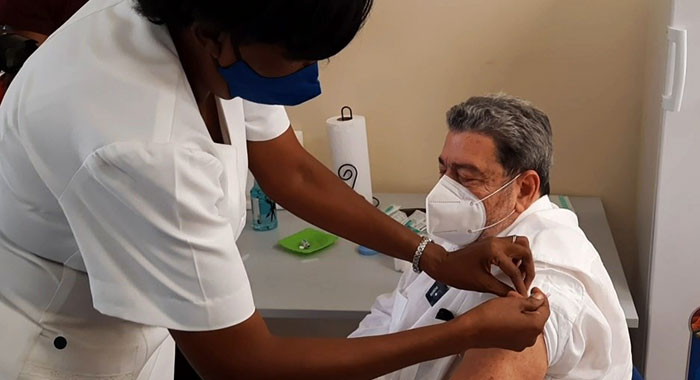 He said it was "quite an achievement" for a small country like SVG to be getting vaccines in these quantities that it is getting.
"… we had to do a lot of very nimble work and I am hoping that we don't have a situation where we have the vaccines and then people don't take the vaccines…" Gonsalves said.
The Health Services Sub-Committee of the National Emergency Management Organisation (NEMO) had a working session on Saturday and the vaccination programme is being rolled out in a big way.
There will be vaccines at all the clinics and persons are going to be able to walk in and get one, the prime minister said.
Vaccination will also be done at Victoria Park.
Further, health officials are going to target specific groups, including teachers and police officers.
"… they are going to do Ministry by Ministry for the public servants," Gonsalves said.
"It is going to be done in a thoroughly national manner. I don't think there is anybody in St. Vincent and the Grenadines, unless they are living under the metaphoric stone who hasn't heard that vaccines are coming and that the ministry of health is urging them to take the vaccine."
He noted that there are "always other messages by other persons", a reference to anti-vaxxers.
"It's amazing that some persons are going to take time out to listen to individuals who are not competent or trained in this particular area and give greater weight to what the sceptics would say or anti-vaxxers."
He said that there are countries that are talking about a COVID passport, meaning that persons would not be allowed entry unless they have had a COVID-19 vaccine.
He said the vaccine prevents people from requiring hospitalisation because of COVID-19 "and it cuts almost 100% the chance that you would die from it".
"Well, I would say that for those reasons alone, it's important that you take the vaccine. And then, of course, the evidence is emerging that it reduces the extent of the transmission that you could get," he said.
Gonsalves said he has not had any reaction to his first dose of the vaccine but noted that some persons can have a slight headache for up to 24 hours.
He said that considering all the sources from which the government is expecting to get a vaccine, "we will have more than enough for what you may call the immediate phase of the vaccination campaign".
Gonsalves said that within a year people will have to be vaccinated again, because the efficacy is for about a year.
"And this will become a normal part of life… So we have to also look to the future with the sources for more of the vaccines," he said.