A 38-year-old Colonarie woman has been remanded to prison until April 13, as Senior Magistrate Rickie Burnett decides her sentence for emptying her 78-year-old grandmother's bank accounts of EC$40,513.45 in cash.
Nolah Lawrence, a retired caterer, had placed her granddaughter, Nadia Lawrence's name to her accounts in the event that the older woman fell ill.
But, once Nadia, a security guard, got a taste of the money, she has been making withdrawals "like there is no tomorrow", according to a caution statement she gave to police.
And now, with a salary of about EC$600 a month and EC$200 in savings at a credit union, Nadia is facing a prospect of a prison sentence either immediately, or if she is unable to pay compensation.
But what Nadia's grandmother wants is her money back, and it seems that these are the things that will be operating on the senior magistrate's mind over the next two weeks as he determines his sentence.
"What caused you to do these things to your grandmother?" Burnett asked the defendant, noting that the woman is 40 years younger than her grandmother.
"To be honest with you, I don't know what went up in my head. I was wrong," Nadia responded.
Responding to comments and questions from the court, Nadia said that she was going to borrow a loan from her credit union to repay her grandmother.
The senior magistrate, however, noted that she only had $200 in her account, and asked her to explain how that was going to work.
Nadia told the court that from what the manager told her, she needed to have a certain amount of money in her account to qualify for a loan.
The court further learned that Nadia has no assets such as a vehicle, house or land, and has a 13-year-old daughter who is in secondary school.
"So you fail the means test,' the magistrate said, referring to Nadia's ability to pay a fine or compensation.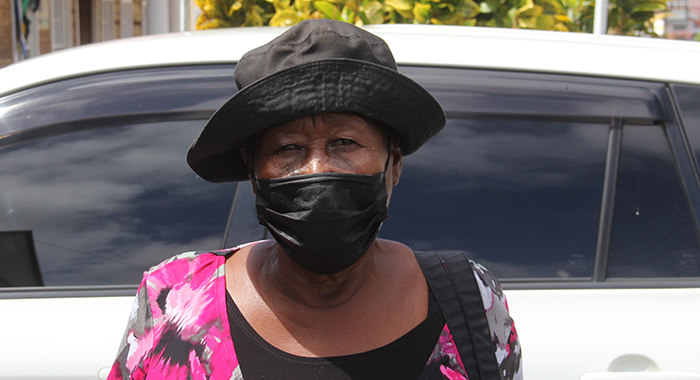 For her part, Nolah, who seemed to have trouble hearing the magistrate who was about eight feet away, when asked what she had to say about what her granddaughter did, said:
"I cannot say."
Burnett said:
"Why would a granddaughter want to do that to her grandmother? It baffles me. So the poor old lady thought she had money in her bank account, not knowing that the young granddaughter was taking all of it.
"Now, tell me, against that background, why this court should not send her to prison. Somebody convince me about that. No one can convince me about that."
The magistrate noted to Nolah that her granddaughter has no money to pay her back.
"Very sad," he said, adding that the court ought not to show emotions.
"I can't show emotions but this is really–" Burnett said but did not complete the thought, adding, rhetorically, "If the grandmother is sick, what is she to do when the granddaughter had taken all her money?"
He noted that the court has sentencing guidelines which he has to consider, and adjourned the sentencing to April 13.
"She is a 78-year-old woman. She is now $40,000 poorer, which she is not going to recover at all from this defendant."
At this point, Nadia asked if she could say something to her grandmother.
"What I did to you, I was wrong. I am very sorry and I want you to find it in your heart to forgive me."
But Nolah said that she had never told Nadia to withdraw the money.
"Even self I put she name there if I sick that she can go and 'draw something for me, she had to and take the money?" the grandmother said.
"This is a hard one," the magistrate commented.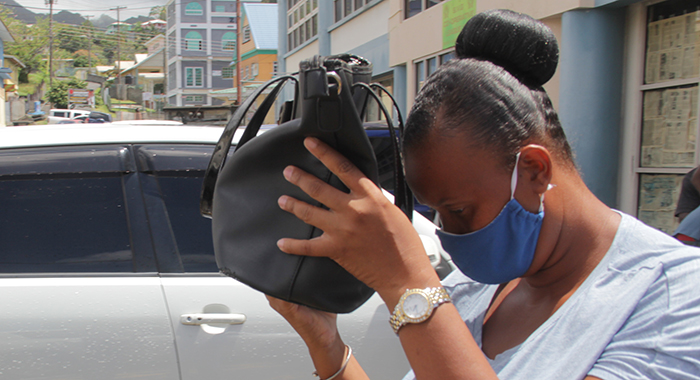 Nadia had initially pleaded not guilty, last June, to 57 counts of theft, when she was arraigned at the Colonarie Magistrate's Court.
Magistrate Bertie Pompey had granted her EC$45,000 bail with one surety and transferred the matters to the Kingstown Magistrate's Court, the magisterial district in which Nadia had committed her crimes.
On Tuesday, the court heard that Nolah had been sending Nadia to make deposits to the account.
On Oct. 6, 2016, a deposit of EC$982.69 was made to the RBTT account and on that same day, Nadia, withdrew 782.69 from the account.
Since then, 25 withdrawals were made from the RBTT account, amounting to EC$21,113.39.
On Oct. 10, 2016, Nadia made the first withdrawal — EC$200 — from her grandmother's FCIB account.
Since then, she made 33 withdrawals, amounting to EC$19,400. Again, all the withdrawal were done via the ATM.
In February 2020, Nolah became suspicious and spoke to her granddaughter about the bank accounts.
And on May 8, 2020, the grandmother went to Kingstown for a doctor's visit and checked on her accounts at FCIB and found that it was empty.
She questioned her granddaughter about it, but Nadia did not reply. She, therefore, reported the matter to the Colonarie Police Station and an investigation was conducted, leading to Nadia's arrest.
On June 3, 2020, Nadia went to the Colonarie Police Station at the request of the police.
In the caution statement, Nadia told police that after making the first withdrawal, "I have been taking out like there is no tomorrow.
"I am being honest because there is no need to tell no lie. I took out from CIBC first until it was finished, then I started from RBTT."
She said that all the withdrawals from CIBC were via the ATM, she having gotten the card from the bank by mail.
Nadia further told police that she got a copy of the RBTT book from the bank and later got an ATM card.
Nadia told police that she got the ATM card after a lady at the bank called her over the phone and told he to come in for a card.
"I am not sure if my grandmother knew that I had that card," Nadia further said in her caution statement.
"My grandmother never gave me permission to take out her money. I do not know how many times I went to the bank, neither do I know how much money I took from my grandmother. I just took the money and spend it. I do not know why I took the money."
She said that after her mother asked her about the money but she did not answer because she was "ashamed".