Government senator, lawyer Ashelle Morgan and Assistant Director of Public Prosecution Karim Nelson are "persons of interest" in an on-going investigation into the shooting of Diamond Estate resident Cornelius John, 60, at his home on April 13, Commissioner of Police Colin John told iWitness News on Wednesday.
The police chief, however, said he could not say how soon the investigation would be completed.
He confirmed that Nelson and Morgan — who is also Deputy Speaker of the House of Assembly — have filed reports against John.
The shooting victim told iWitness News on Wednesday that he reported the shooting to police the very night it occurred, and that it was the police who had taken him to the hospital.
The commissioner said that he was not aware that John's wife, Nicole John, also of Diamond Estate, had filed a report against her husband.
"I have not seen a report. I cannot say for sure that she hasn't, but I have not seen a report she has filed against him."
The commissioner was asked what he would say to persons who might express concern about whether the police would investigate the matter thoroughly in light of the fact that senior public officials are involved.
"Well, I can't account for what people say. I know what police do. We usually investigate matters fairly. So most of the persons who are expressing an opinion, from what I heard, they have political motives. So it is not that I expect anything different from them."
John told iWitness News that Morgan and another man were among a trio who entered his yard about sometime after 6 p.m. on April 13.
He said he had just exited his house when he saw the trio and called out to them, thinking that they had come to order his concrete products.
He said that the shorter of the two men went and stood behind him and the taller one greeted him saying, "Good evening, Mr. John."
He said that when he returned the greeting, the man said, "You want to kill the senator?"
"I said, 'What you're talking about?' I had no understanding of what he was talking about so I asked, 'What you're talking about?'
"So as I say, 'What you talking about?' I said, 'Leave my family alone. I'm an old man. I need my wife to assist me in my business and you are a single woman, stop carrying my wife up and down. Leave my family, why you want to mash up my family?" John told iWitness News.
He said he told Morgan this because for the days before the incident, "my wife was going around with her say she going visit shelters".
He said that when he said this, "the tall guy" ran up to him, kicked him off the blocks and started stomping on him on the ground.
John told iWitness News that the man then took a gun from his waist and shot him in his left leg, just below the knee, causing the bone to break.
John said that the woman is Morgan, whom he said he recognised by her physique and voice as she grew up in the community.
He, however, said that he did not know the man who shot him, but would be able to recognise him again if he sees him.
"I recognise his height and he had on a hat and glasses. And the one who was behind my shoulder, he had a curved back like. I will recognise them once I see them in the area," John said.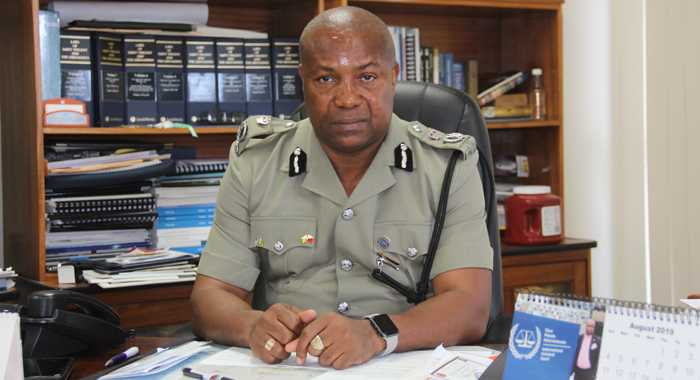 He said that on April 13, his wife was supposed to assist him on their farm.
"So from she not being there with me and she going around with this lady one day after the other, I say, 'I need you. You're supposed to come there.' And that is why I say I need my wife.'
He said that he and his wife are still together but she has been living at a nearby house since December because he and one of their children had a misunderstanding.
"And the police say to her, you need to cool your head. And I say to the police she has a house over there, they could go over there and stay over there because I would like to be by myself now."
John also alleged that Morgan also threatened to shoot him in the mouth if he calls her name again.
He said he feels "miserable" about the incident.
"This shouldn't have happened at all. This happened for no reason at all. I haven't done anyone anything cause for this — nothing wrong to anyone that they had to come in my place and shoot me in my foot."
John told iWitness News that he and Morgan have never had any disagreement or exchange of words before the incident.
He, however, said that in the days before the incident, his wife had been helping Morgan.
iWitness News was unsuccessful in its attempts to secure a contact number for Morgan.
However, Searchlight newspaper reported last week that she had said that she had given a report to the police and would be making no further comments.
Calls to a cellular phone number at which iWitness News had reached Nelson in the past went unanswered and there has been no response to voicemail messages requesting a return call.