While Prime Minister Ralph Gonsalves says people should "just keep their mouth shut a bit" about the shooting of a businessman allegedly in the presence of a senator and a prosecutor, the victim's lawyer says it is a case that all Vincentians should be talking about.
"Well, the Christian Council pick and choose what they should weigh in on. I find the Christian Council is quite inactive in St. Vincent and the Grenadines," Kay Bacchus-Baptiste, the lawyer for the shooting victim, Cornelius John, 60, of Diamond Estate, said on Hot 97 FM on Wednesday.
She said she agreed that the issue is one that the Human Rights Association should also comment on.
"… the Bar Association, should also say something. In fact, every living breathing Vincentian should have something to say on this, because it is an issue that impinges on the rule of law and the proper administration of justice," Bacchus-Baptiste said.
"If this were to go down like this, as it is going, you realise that any ULP (Unity Labour Party) person can do anything and get away with it and be justified.
"This is a serious, serious attack on justice and the fair administration of justice. Had the prime minister shut his bloody mouth and not say what he said yesterday, I wouldn't have been able to put that as clear as this.
"But when he opened his mouth and justified what happened without one word of sympathy or anything for the victim, I am amazed at where will this all end. There is no end to what can happen," the lawyer said.
John told iWitness News he was shot in the left leg in his patio on April 13, after an interaction with three persons he had called out to after seeing them on his property.
(See video below)
He said that before shooting him, one of the two men in the group had asked him, "You want to kill the senator?"
Commissioner of Police Colin John told iWitness News, on Wednesday, that Assistant Director of Public Prosecution, Karim Nelson and government senator and Deputy Speaker of the House of Assembly, Ashelle Morgan, a lawyer, are "persons of interest" in the investigation.
On Tuesday, Prime Minister Ralph Gonsalves, speaking on the state-owned NBC Radio, urged people not to run with one side of the story "as though it is the unvarnished truth and the unvarnished facts".
He said that the hope, "for their sake, they don't run into problems with the law of defamation".
The prime minister suggested that were it a support of the opposition New Democratic Party involved, the argument would have been that the shooter was acting in defence of women, amidst high incidences of violence against women in St. Vincent and the Grenadines.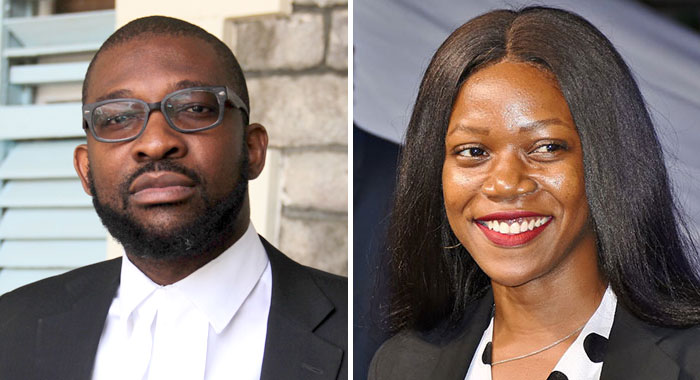 However, Bacchus-Baptiste called for charges to be brought in relation to the shooting, saying she had written to Gonsalves — who is minister of legal affairs and national security — as well as the police chief.
"I am writing, primarily, the Commissioner of Police, and I wait to see whether he will take steps very soon to bring these people to justice. If not, then I would have to go down the road of the private criminal action and let the DPP refuse the fiat," she said.
Some years ago, the Gonsalves government changed the law so that a person who wants to bring a private criminal complaint against another has to get the permission of the Director of Public Prosecution (DPP) to do so.
Bacchus-Baptiste described as a "farce", comments by the prime minister that the investigation is on-going.
"What about the witnesses who were present? I have asked the issue because there is a very reliable independent witness who the police is aware of and they have not taken a statement from this witness from since the 13th of [April]. How can you be investigating a matter actively? They are not…
"You can always say it, but, actively, why haven't they taken a statement from the witness who was there, a neighbour, up to now? Why? How can you just tell me that the investigation is on-going?"
The lawyer suggested that Morgan and Nelson should stand down from their positions until the matter is disposed of.
"I think all persons, even if it was just moral law, must stand down, under certain circumstances, including prime ministers who are accused of rape and these things, you should stand down, but it doesn't happen in St. Vincent. St. Vincent is a special place. Senator Morgan should be relieved of her post until the matter is completed," Bacchus-Baptiste said.