Former Prime Minister Sir James Mitchell is urging Vincentians to get vaccinated against COVID-19 saying that some of the fears he has heard of are unfounded.
The retired politician, however, said that one of the issues is a lack of trust.
"They don't trust it and some of the lack of trust is political," Sir James said on Boom FM recently.
He said he was shopping in Kingstown recently and asked a vendor if she had been vaccinated, telling him that he had taken the jab.
"He said, 'Me!? Me ain't tekking nothing from Ralph (Prime Minister Ralph Gonsalves).'
"I said, 'Man, it ain't Ralph you know. It's India that gave us the vaccine. Ralph is protected; I want you to be protected too. Ralph ain't so stupid not to take the vaccine. And his whole family take the vaccine. My whole family take the vaccine. For heaven's sake, don't bring politics into vaccination. I beg you, I plead with you.'"
Sir James, an hotelier, said that vaccination is vital for the recovery of the Vincentian economy amidst the devastation caused by the coronavirus pandemic and the explosive eruption of La Soufriere volcano.
He said that people are giving various excuses why they don't want to take the vaccine, including that they could get blood clots.
"How many blood clots have been reported in the 1.1 billion people who have been vaccinated? Are people looking at those figures?"
He said that if people are concerned about blood clots, everyone knows that the way to deal with them is a simple aspirin.
"Perhaps, the government should be giving out free baby Aspirin," Sir James said.
The eruption of La Soufriere on April 9 has caused over 22,000 persons to be displaced and over 4,000 of them have sought refuge in government-operated emergency shelters.
To date, 45 COVID-19 cases have been detected in emergency shelters.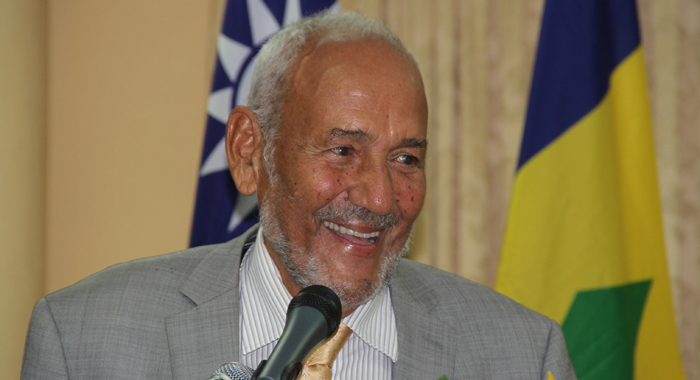 Sir James said:
"They should go in the shelters and ask the people to get vaccinated. Look at the increased problems now going into the shelters… While other countries are going down to zero, we are going up because of no vaccination in the shelters."
He said that SVG has to bear in mind "this fact that has been established:
"People who recover from COVID have problems for the rest of their lives that they didn't have before they went into hospitals. And more and more research will be done to show this."
The former prime minister further said that some people do not want to take the vaccine, saying, " they put something in that vaccine".
Sir James said:
"Who're the 'they'? Who're the 'they'? Those people who are saying that they put something in the vaccine, do they ask what is in all the medicines they take? What is in your blood pressure medicine?"
He said that he knows what is in his medications because he reads the fine print.
"A lot of people don't read the fine print in those publications inside the package of medicine you know, yet you're saying you don't know what they put in it. Of course, you don't know what they put in it. But you're taking it all the time.
"So why you taking any kind of medicine but you don't want to take a vaccine with over one billion people taking it and over 1 million taking it every day."
He said that some women say they worry that they wouldn't be able to get pregnant if they take the vaccine.
"Where is the evidence? 'Oh, it wouldn't happen to me. Let everybody get vaccinated, it wouldn't happen to me. So if everybody is vaccinated, I don't have to worry and I going deal with it tomorrow.' And all this business of side effects, where are the side effects?"
Sir James said he has been vaccinated and asked whether anyone knows anyone who has had a side effect as a result of the vaccine.
"You might have had to go and lie down in your bed for the day after. But I have had my two [doses] and I feel very safe. I mean I had too many calls before I reached this age.
"St. Peter excused me several times and I ain't giving him no opportunity and we therefore have to address the problems of why people are not taking the vaccine," said Sir James, who turns 90 on Saturday.
He said that while there have been 3.2 million COVID-19 deaths globally, there has not been "a single death related to the vaccine".
Sir James noted that India had recorded 20 million cases of COVID-19 and all cricket has come to an end.
"When are we going to get to the position where we can resume games, cricket, football, basketball? We can't do it with COVID numbers increasing in our country," Sir James said of the situation in SVG.
"And the important thing is to keep understanding that the vaccine is not going away. What you are doing with the vaccine is building up your resistance. When you are going into the ring, when you are going into athletic competitions, you build up your strength so you could fight and you could win.
"The vaccine is giving you an opportunity to give you an armour. What it says in the Bible? Put on the whole armour of God. They say they don't understand nature, God and the vaccine…
"And the vaccine is to give you immunity, to give you the capacity to fight. So to your question, if it going to go away, understand this, the general statement being made: we are not safe anywhere until we are safe everywhere," Sir James said.
He said that the world cannot continue to social distance and that vaccination is important for business.
Sir James said that when people express interest in booking a stay at his family's hotels, they ask if the staff is vaccinated and whether SVG is safe.
"They ain't asking you whether you believe in God. They're asking you, 'Are you vaccinated?'"
He said that the young people who don't want to get vaccinated, thinking that they are safe must remember that they, too, will get old or that they could take the virus home to their loved ones.
"And it has been shown that old people are more vulnerable than the young and if you have a problem you are going to get it."