A former Member of Parliament for North Leeward is urging constituents to return and clean their home, even if they are not ready to return full time following the eruption of La Soufriere.
"I know some families, for example, are very much concerned about bringing youngsters home or the elderly. But what they need to do is that those adults in households who can come home and clean their houses, and clean their yards, I think they should do that now," Roland "Patel" Matthews told iWitness News in Petit Bordel, his home community, on Monday.
Matthews, who was voted out of office in November after two five-year terms, evacuated from Petit Bordel, when La Soufriere erupted on April 9.
He was among the first to return to the community, and, along with a group of villagers, has helped with cleaning homes and public roads.
He told iWitness News that if residents do not return soon to clean their homes, when they do, the dust this generates will affect the entire community.
"I am here to assist; I have a team of guys who are willing to assist as well. We have hoses, we have shovels, we have wheelbarrows and we are willing to assist anyone from the community who is in need," Matthews told iWitness News.
He said that in that regard, he is encouraging villagers "to come home, clean up.
"If you are not ready, if you do not feel comfortable to live here at the moment, you could come [and clean], but today, based on what I saw yesterday and the day before yesterday, the Petit Bordel community is far better off than it was last week."
Matthews urged residents to return and clean, even as he said the question of whether the community is ready for residents to return is "very tricky".
"There are some aspects of the community that are clean, for example the main road and some of the village road," Matthews told iWitness News, adding that some residents have cleaned their yards also.
"So, if I am to look at it broadly, I can say yes people can gradually start to return to Petit Bordel. But there are some of the roads within the community itself, the village roads … are not yet clean. And whenever the wind blows, that is a problem."
He said that the playing field, secondary school and tech-voc centres had not been cleaned.
"Whenever the wind blows, the ash from the secondary school is affecting the whole community and that is problematic…
"So those houses that are located in close proximity to those buildings, persons coming back to those houses will have a problem. So in that regard, I don't think that the entire village is ready yet for people to come back home. Some parts of it, yes, but not the entire village."
On Tuesday, a tractor was at the playing field grading the ash off the surface.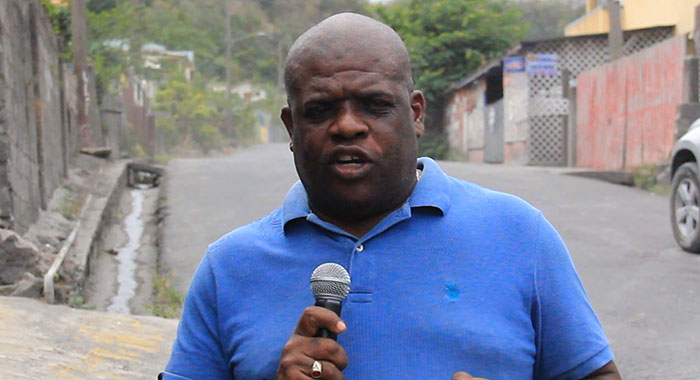 Matthews said that most of the roads in Petit Bordel have been cleaned of volcanic ash.
"You can feel the air, there is not much dust blowing in certain parts, except for the area of the secondary school and the playing field, but apart from that, I think that people can gradually start to come back to Petit Bordel and let us get this community going again. We are going to help each other in order for us to get back to some semblance of what we were before the volcano erupted. "
Matthews said that he evacuated from Petit Bordel on the morning of the eruption and began returning two days later, on April 11.
But he is back in the community full time as soon as officials said that that resident could do so, mainly to help with the clean up as the community was not ready for reoccupation even as officials were telling residents they could return to their home.
"There was too [much] ash … on the ground and that was a problem with people with health problems, especially those with breathing problems, asthma, bronchitis and so on."
Matthews told iWitness News that he got some villagers together and they used brooms, hoses and shovels to clean some of the roadways in the community.
"And then afterward, BRAGSA came in and they basically finished that off. But, the village is not quite complete as yet," he said, adding that about 85% of the roads have been cleaned and washed.
He, however, said he foresees another problem when the rest of the community returns, as most people have no choice but to dump the ash at the roadside near their homes.
The former MP said that is why he took it upon himself to clean the yard and gateway of about four of his neighbours.
"Because I know that even if I clean my yard and those gateways are not cleaned of my neighbours, that is going to be problematic for me as well."
Matthews said that he believes that the community has to work together if it wants to get things done properly.
"If I am back home and do something, I should also do for my neighbour, even though my neighbour is not around. Because if I am clean but they are not clean, it is going to affect us in the long run."