A Chateaubelair farmer, who planted vegetables and root crops and raised goats and rabbits on the slopes of La Soufriere, is contemplating an immediate future without access to farm lands on the volcano.
"Kalanji", who said that his real name is George, spoke to iWitness News in the North Leeward town on May 24, where he and "Ninks" a retired driver, was helping a homeowner to remove volcanic ash from a home.
He said he had not been back to the farm since the eruption, but is convinced that his goats and rabbits have died.
Kalanji said that when he turned the animals loose as the volcano erupted, they sought shelter under his farm house.
The farm house has since collapsed, and Kalanji told iWitness News that he is convinced that the animals died.
The slopes of the volcano are carpeted under a thick layer of ash, and even when the all-clear is given, it is unlikely that farmers would be able to do any cultivation there anytime soon after.
Kalanji told iWitness News that he has no other land to cultivate.
"The only place I think I will have to go back is by the volcano. Anytime I get a chance to go up there I will have to go up there to do my farming. I have no other place to go and farm," he said.
Regarding the ash removal task he and Ninks were performing at the time of the interview, Kalanji told iWitness News:
"The woman who controls the place will give us a little thing but not a great amount because all ah we is poor people."
He said that moving the ash is "a difficult task, especially with your lungs them.
"When the wind blow, the ash get into your nose, into your eyes, burn you. But now the rain come, it clean it up a little."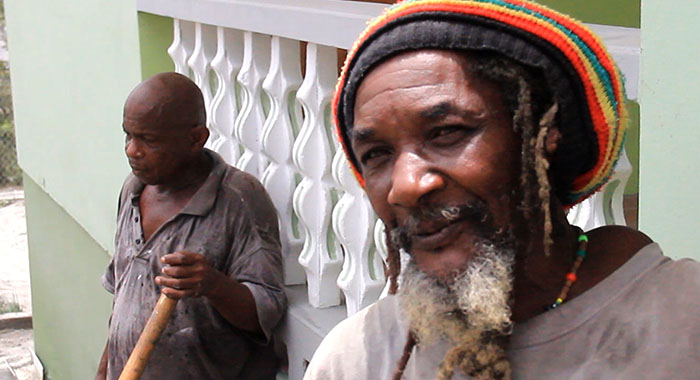 Kalanji, however, said that while the rain helps to reduce the dust from the volcanic ash, it also significantly increases its weight.
Officials have said that the weight of volcanic ash doubles when it is wet.
"Right now, it is heavy, heavy, heavy, but when it is dry, it is lighter, but dangerous," he told iWitness News.
He estimated that he and Ninks had already removed about two and a half truckloads of ash from the property and pointed to another heap of ash to the back of the house that they were yet to touch.
"And still it isn't finish as yet," Kalanji said.
The government is yet to permit residents of Chateaubelair and Fitz Hughes to permanently re-occupy their homes, even as the all-clear has been given to residents to return to other Orange Zone communities in North Leeward.
Kalanji had initially defied the order to evacuate, which came about 15 hours before the 8:41 a.m. explosive eruption on April 9.
He, however, left the North Leeward town after one of the scientists personally encouraged him to do so about three days into the eruption.
La Soufriere last exploded on April 22 and since then, some persons have been moving back into Chateaubelair and Fitz Hughes to clean their properties.
Kalanji is among those who have moved back fulltime.
He noted that the town has not gone back to normal.
"But we, the people, inside here making it comfortable for we. We feel comfortable. Not because we ain't getting the supply from the government, little food and so on, we feel comfortable. Because we dey by we home, we could do as we want. We go and cook when we want to cook; we ain't waiting on people to say, Here, look this; look that," he told iWitness News.