Former prime minister Sir James Mitchell says that were he still in office, he would have fired Senator Ashelle Morgan, who is a person of interest in the shooting of a 60-year-old man at his home on April 13.
"And you, as a senator appointed by government, hold your position strictly on the authority of the prime minister, who informs the governor general that you should be made a senator. So she is being kept there, then the judgement is not of the speaker, only. That is past tense. It is now the judgment of the prime minister," Sir James said on Boom FM on Tuesday.
"Is he (PM) satisfied that he has to wait on justice, so-called justice, and the investigation? How much longer will the prime minister wait? Is he going to wait another two months or is he going to wait out the rest of the four years or is there a feeling that this might be a storm in a teacup?"
Commissioner of Police Colin John has confirmed that Morgan, a lawyer who is also deputy speaker of the House of Assembly and Assistant Director of Public Prosecution, Karim Nelson are persons of interest in the shooting.
Cornelius John, of Diamond Estate, has told iWitness News that Morgan and two men came to his house uninvited on April 13, and one of the men shot him in the leg and the trio left him there, bleeding.
Nelson has proceeded, voluntarily on leave, pending the outcome of the investigation, but Morgan has defied public calls and those by the opposition,
in Parliament, for her to do likewise.
Sir James, who was prime minister from 1984 to October 2000, was asked to comment on the development in Parliament, last month, when Opposition Leader Godwin Friday was suspended for one sitting.
House Speaker Rochelle Forde ordered Friday out of the chamber as he defied her ruling in his efforts to get the speaker to force Morgan out of the national assembly until the shooting matter is disposed of.
"It is the speaker who gave the ruling," Sir James noted, adding that he wondering "if this new speaker is not trying to prove her power, literally telling the parliamentarians, 'You all better be careful with me, I am the speaker, you can't move me. So I am going to assert my authority.'"
Forde became speaker after the general elections last November.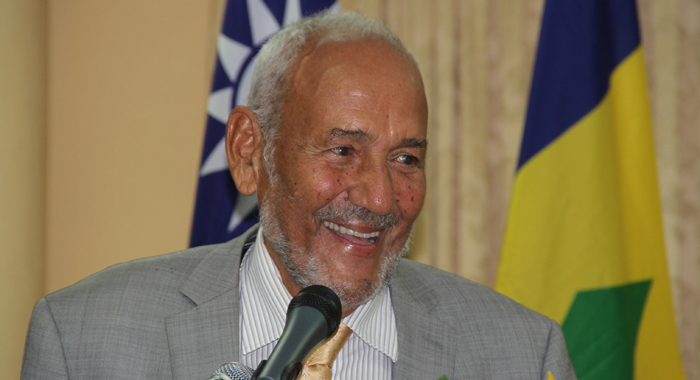 The former prime minister noted that some people were calling for Morgan to "step aside" until the investigation is completed and any matter arising from it disposed of.
"… there is no place in the parliament for stepping aside. You are either a member of parliament or you are not," Sir James said.
He added:
"But, again, it will be up to the individuals who have the capacity to speak. And, I will say, who have the wisdom to speak, that they should do so. In my view, there is no such thing as stepping aside."
Sir James noted that Morgan is the senator because the prime minister wants her to be there.
He said that in light of the development, it is "a matter for his (the prime minister's) unique judgment and it is for the public, in turn, to judge the judgment of the prime minister.
"Then there is the alternative that the person should resign. In my view, action should be taken. I personally would have fired her. I have got rid of people on lesser grounds.
"I don't want to go over all of it but a lot of people who have been involved with me at various levels of government, I had to take decisions against my friends and I did. And, strange enough, those friends came back to me when others had abandoned them [and said] that I was their best friend."
He noted some of the cases that the public and those involved have said that injustices were carried out.
Among these, he mentioned Yugge Farrell, the former model who was charged that she called Finance Minister Camillo Gonsalves' wife, Karen Duncan-Gonsalves a "dirty b**ch".
Farrell was sent to a psychiatric hospital and the case generated local and regional outcry.
The charges against her were later dropped.
"Has that issue blown away like a Ms Janie fire?" Sir James said.
"I would like to think that St. Vincent is waking up but it goes right back to the fundamental thing. There is a lot of talk about the benefits of the education revolution. But, in my view — it might sound arrogant and I am old enough to be arrogant; I have put up with a lot — the education revolution has not produced intelligence," the 90-year-old politician said.
Sir James also mentioned the case of Marcus De Freitas, Leon "Bigger Bigs" Samuel, the three teachers who were not rehired after contesting general elections on behalf of the New Democratic Party (NDP), despite their union's agreement with the Gonsalves government.
"Well, it's a string of events with very many like characteristics," Sir James said.
"You see, the point is, these events have one pattern and it is to try, or to succeed in stifling opposition, stifling truth and not letting truth come forward. We have a pattern of people being denied justice and the question before Vincentians is, is this affair with Cornelius John the last in the series of miscarriages of justice and the slowing down of the judicial process in this country? And the old platitude remains, 'justice delayed is justice denied'. And the question always is who benefits from the injustice? Who sets about to destroy others and who benefits from the injustice?" Sir James said.