The woman whose boyfriend beat her with a cutlass and a broomstick for hours in Lower Questelles, on Friday, is one month pregnant and vomited blood as a result of the blows.
Clothilda Durrant, 30, of Redemption Sharpes, further told the Kingstown Magistrate's Court, on Tuesday, that her boyfriend, Winfield Sam, took away her clothes as he tried to prevent her from seeking medical attention.
Senior Magistrate Rickie Burnett had, on Monday, summoned Durrant to appear before him before sentencing Sam.
Also on Monday, the investigating officer had told the court that she was of the opinion that Durrant was afraid of her boyfriend, and that is why she had not attended the arraignment.
Sam, aka "Winterfresh" had pleaded guilty to a charge that on June 4, at Lower Questelles, he unlawfully and maliciously wound Durrant.
But the magistrate said he wanted to hear from Durrant before sentencing Sam.
On Tuesday, Durrant told the court that she "couldn't function properly" because Sam slapped her several times in the head with his hands.
She said he had also beaten her with a cutlass, a broomstick, and a part of a stove.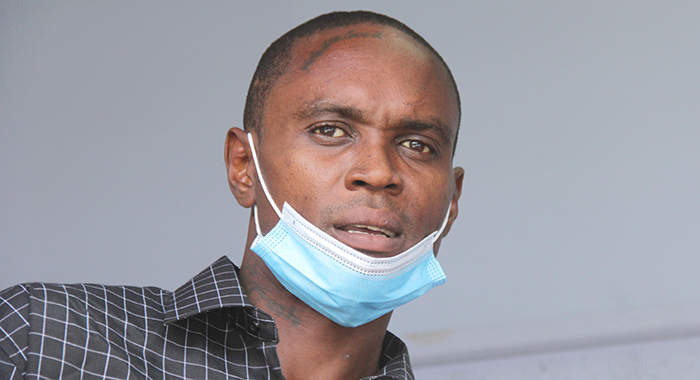 The complainant said that the attack began around 11 a.m. and continued, intermittently, until sometime before 8 p.m.
According to the facts presented by prosecutor Police Sergeant Cornelius Tittle, Sam began beating Durrant after she refused to have sex with him as she was feeling unwell.
The woman, who is pregnant with her third child, told the court that Sam stomped her in the face.
She said that he also accused her of having sex with her stepfather.
Durrant said while it was not the first time that Sam had struck her, on Friday, he locked her in the house and "everlasting beating me".
On Monday, Sam, who has convictions for several offences, told the court that he was trying to change his life.
He said that he and Durrant go to church and were considering getting married.
"But the devil is on me. He after me because he saw like I trying to behave myself — people like me who used to be in trouble and thing, I stop."
But on Tuesday, Durrant told the court that she had no intention of marrying Sam "because he mistreating me".
She said that she and Sam had gone to church only once.
On hearing this, Burnett commented that Sam wanted to give the court the impression that he was ready to enter the Kingdom.
Durrant told the court said that when Sam beat her on Friday, he knew that she was pregnant.
She said that Sam threatened to kill her, telling her that he had already made up his mind to go to prison.
In addition to the marks on her arm from the beating, her entire left side, from bottom to leg was black as a result of the blows, Durrant said.
She told the court that she was only allowed to go to the hospital after she began vomiting blood.
When she attempted to leave to go seek medical attention, Sam took her clothes and told her to come back inside the house.
Sam repeatedly pressured her to tell the hospital staff that she fell.
Durrant, however, told the court that she refused, telling Sam that she was no longer going to take his abuse.
She said that Sam then threatened to throw something at her and go to prison.
The complainant said that she refused his offer to accompany her to the hospital, but he still went with her.
And even at the hospital, Sam was still trying to convince her to lie to the medical staff about her injuries.
The woman, however, disclosed to hospital personnel the true source of her injuries and the police were called in, resulting in Sam being arrested and charged.
After hearing Durrant, the senior magistrate said:
"Having heard from her, it's a sad story."
Burnett said he was happy that he had given Durrant the opportunity to address the court before the sentencing, adding that the facts that the prosecution presents cannot capture everything.
"Mr. Sam, I am afraid that based on what I have heard, your behavior was–"
"Supernatural," Sam interjected.
"But in the name of our Lord Jesus Christ, I want you to have mercy on me," Sam said.
Burnett told Sam that since he had entered a guilty plea he would get a discount on his sentence.
"But the aggravating features far, far outweigh any mitigating features there might be in this case," the magistrate said.
In handing down the four-year prison sentence, Burnett informed Sam of his right to appeal.
"But I am still wondering if a human being can do this to a pregnant woman."