The Serious Offences Court, on Thursday, ordered the deportation of a British lawyer, author and anti-human trafficking activist who defied an immigration order to leave St. Vincent and the Grenadines by May 25.
Chief Magistrate Rechanne Browne, granted the application for the removal order, applied for by Senior Immigration Officer, Veronica Harry.
Juanita Headley, a U.S. registered lawyer, had been in SVG since August 2020, when she was initially granted a six month stay.
She was later granted three one-month extensions and had planned to apply for residency.
However, on May 17, immigration officials denied her a fourth extension, and ordered her to leave the jurisdiction by May 25.
During her stay in St. Vincent and the Grenadines, Headley gave speeches on human trafficking issues and was featured by a number of media outlets.
Police and immigration officials escorted to court, mid-morning Thursday, Headley, who looked dishevelled, and appeared to still be in her sleepwear.
Crown Counsel Kezron Walters of the Attorney General's Chambers appeared on behalf of Harry, who applied for the removal order, in keeping with the Immigration Restriction Act.
Walters said that Harry had presented a sworn affidavit indicating that Headley is a prohibited immigrant under the law.
In her submission to the court, Headley asked if she did not have a right to a lawyer, saying that immigration officials had just picked her up at her house.
"And I have a lawyer representing me," she said, adding that she was represented by Jomo Thomas and Maia Eustace.
Eustace confirmed to iWitness News, on Friday, that she has written to the chief immigration office on Hadley's behalf and attempted without success to speak to the chief immigration officer on Headley's behalf.
She said:
"I am deeply concerned that anyone who is brought before the court in those circumstances and indicates to the court that they have legal representation and the matter proceeds without that person being afforded an opportunity to contact their counsel."
Thomas said, separately, on Friday, that Headley had consulted with him but he was never formally retained as her lawyer and did not agree to act as her lawyer. He said he offered some direction as to how she should proceed.
Headley told the court that she was not allowed to take a shower or go to the toilet and that she was "treated like a criminal without giving me the right to a fair trial".
Chief Magistrate Rechanne Browne, who adjudicated, told Headley that officials had acted on a warrant for her arrest, she having been denied permission to remain in the state.
Headley said that she had been denied permission to remain in the country amidst a false claim that she was involved in human trafficking.
The chief magistrate said she did not know the basis on which Headley was denied permission to remain in the country, but based on that denial, she had no basis on which to remain in the jurisdiction.
Headley said she had applied for residency.
"It was not granted," the chief magistrate said.
She said that what was before the court was the relevant documentation denying her permission, from the Office of the Prime Minister, to remain in the country in any way at all.
As Headley continued with her protestation, Browne told her that the documentation before the court indicated that she had already interfaced with the various state agencies and had been denied permission to remain in SVG and the information had been handed to her earlier.
"I was told nine months is too long for a holiday, it doesn't sound like a legal reason for me not to be given an extension," Headley said, adding that she had been doing human trafficking prevention work in the country.
"I've contributed positively. I am not a criminal. Surely, I should have my lawyer here to represent me," Headley told the court.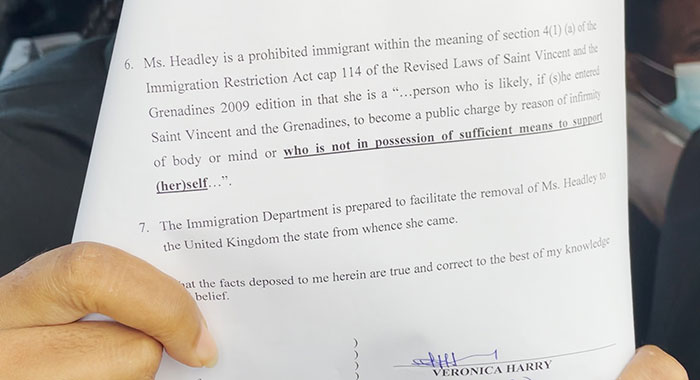 The magistrate reiterated that Headley had been deemed a prohibited immigrant and the court would grant the removal order.
As Headley exited the dock, she said, "Lord, have mercy. This is unreasonable. I'm gonna fight this in England. I am a British citizen. I have rights."
As she took her seat, Headley continued to protest, saying that she had a lawyer and asked why her lawyer was not there.
"This is not over. I am gonna go to every media house in the world. I tell you, this is not over. I am a British citizen with legal right…. This is not over," she said.
A police officer called for order in the court and asked that Headley be removed from the courtroom.
"I don't care. I have legal rights! My lawyer is not here. I'm an attorney. I know my rights. Simple," Headley said as a female constable escorted her outside.
As Headley exited the courtroom, Harry held on to her.
"Do not touch me!" Headley said. "That's assault and battery! Do not touch me! There are witnesses!"