Opposition senator, Shevern John says that residents of North Windward are "crying out for help" after the devastating impact of the explosive eruption of La Soufriere in April and Hurricane Elsa on July 1.
John told a virtual public meeting held by the New Democratic Party on Tuesday that the natural disasters have pushed many constituents further into poverty.
"They are facing economic hardship. Our people have already been on the margin where we had 45% of persons living at the vulnerability level. We had 11% of our people in poverty," John said.
"When you are at the vulnerability level and you drop, you're gone into indigent poverty. So imagine the state of where we are as a people that have been devastated by these events."
She said that constituents need help in rebuilding and repairing homes, including some in which the damage is not obvious.
The government is yet to give the all-clear for persons to re-occupy the Red Zone, which includes North Windward on eastern St. Vincent. The red zone on the west coast is largely uninhabited.
John noted that damaged homes will not be reconnected to the electricity grid, as some need to be rewired, another expense that constituents did not budget for.
The roofs of many homes collapsed under the weight of the volcanic ash, while others were blown off during the storm.
She said that in other cases, burglars stole electronics and clothing from homes as the government failed to live up to its promise to provide security after constituents were ordered to evacuate ahead of the explosive eruption of the volcano.
"Before the eruption, we were assured by NEMO that our homes will be secured, our animals will be secured, but up to this present time, it is not so," John said.
"Persons' homes are being broken into: their TV gone; their clothes gone. We have numerous people having that problem. I think that our government has enough resources to send police officers and to station them there, whether it be mobile stations or whether it be through patrols, which would help to deter the thieves in the communities and it will give us who are not within the communities a peace of mind knowing that we are not there but our homes are secured," she said.
"Government, you need to perform your function and that is making sure that people's homes are secured. Help us. We are crying out for help. It is already hard on us, especially for those who are in private homes to be paying for rent and not seeing any reimbursement.
"It is hard and it is mentally draining because you are not sure what you are going back to mean because proper security, which was promised, is not in place, up to this day. You have failed miserably."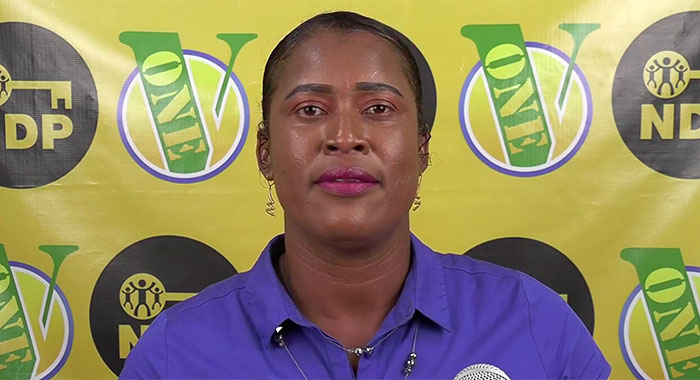 Residents of North Windward and North Central Windward — the constituency represented by Prime Minister Ralph Gonsalves — were severely affected by the eruption and Hurricane Elsa.
John said that the loss and damage sustained have grave consequences for "our survival, our dignity and our livelihood.
"This is hardship on us we are experiencing, my dear people, and tremendous hardship. Staying in places we are not familiar with, having incurred and still incurring additional expenses that we never budgeted for. Like the authorities, we thought that after the eruption it would have been a short time for us. But it is not so and we are still here struggling with our losses and hoping to go back home soon but it just does not seem as if this is the case. We have a long road to recovery."
John said that as a North Windward constituent where most of the people are self-employed, she knows that most of them have been affected.
"Not only farmers, but vendors, the carpenters, the masons, the shopkeepers, the seamstresses, the mechanics. These are some of the persons who're classified in the Poverty Assessment Report of 2008-2018 as the working poor. These are the persons who are affected. So all involved have been touched in some way or the other by this economic hardship."
John said that the residents of the areas are descendants of national hero Joseph Chayoter and are characterised by their resilience and fortitude.
"However, we continue to struggle for representation – proper representation."
She said that over the years, political division has killed camaraderie in the communities and is still plaguing the people throughout these trying times.
"Immaturity and the lack of insight are killing the so-called Iron Man. We have had that experience in shelters where persons are reporting that the representative visits but he only visits those who are for him.
"How can that be? If you are representing, you are representing the entire nation of St. Vincent, be you red, yellow, black or white. You are supposed to represent everyone. That is proper representation. What we need in St. Vincent and what the New Democratic Party has offered is better representation for our people and moreso, all transformational leaders," John said.
She said she believes that someone who is in government for 20 years should have more respect for the people.