Lawmakers in St. Vincent and the Grenadines were, today, Thursday, presented with a third revision of proposed changes to the Public Health Act, which Parliament is expected to debate later this evening.
The revision came in the face of the largest crowd that has turned out to protests in Kingstown during meetings of Parliament over the last few weeks.
The government is proposing to remove the word "voluntary" from a section of the law that speaks to vaccination against an illness that has triggered the declaration of a public health emergency — as is the case with COVID-19.
An earlier version of the proposed amendments also said that people could be exempted from such vaccination on medical or religious grounds.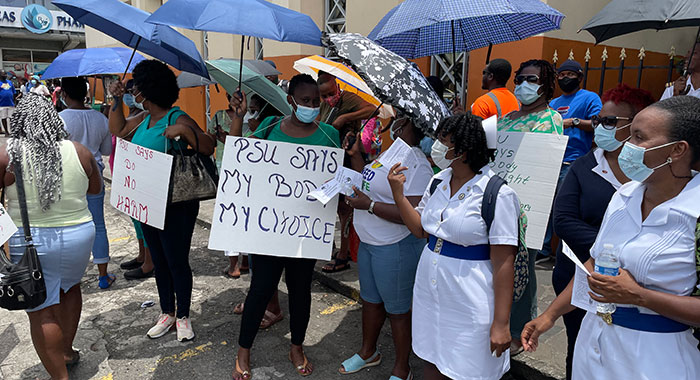 However, those religious beliefs must be "deeply held", according to Prime Minister Ralph Gonsalves, and the medical assessment of a person's physician must be approved by the chief medical officer (CMO).
"There was a new development this morning. We have had now had three versions of this amendment," Opposition Leader Godwin Friday told protesters, some of whom stood in the street forcing the diversion of traffic near to the Parliament building.
He noted that under the old law, exemptions were provided for reasons of conscience — which is usually interpreted to mean religion — and on medical grounds.
The opposition leader said that the government is now proposing to omit the section of the law that speaks to omission by reason of conscience, thereby making medical grounds the only basis on which a person can object to vaccination.
"But remember, the way it was written, it was suggesting that somehow if you get a certificate from your doctor saying you are not supposed to take that treatment, that the chief medical officer can come between them and decide that you have to take the treatment," Friday explained, citing and earlier version of the proposed changes.
He said that in the latest version, the government is proposing to change the law in a way that makes its intentions clear.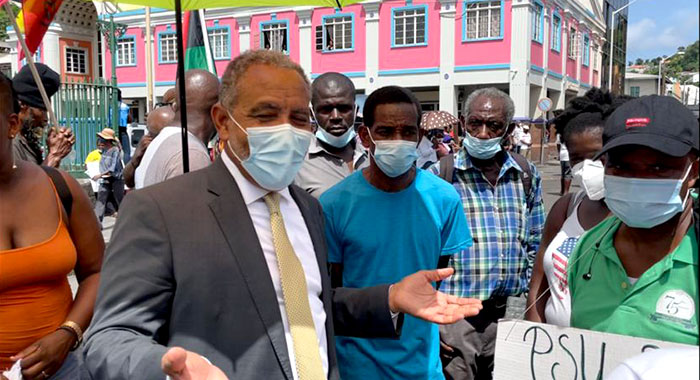 "They have divided it into two sections and this is the procedure: if you want to get an exemption from an order for treatment, under the Medical Health Act, the first stage is that you have to get a certificate … from a doctor that is acceptable to the chief medical officer," Friday said, adding that there are similar provision in the old law.
"… in the second part of it, even if you get a certificate from a doctor that is acceptable to the chief medical officer, the chief medical officer may still require you to undergo an examination by one or more practitioners that she says you have to go to," Friday said.
The opposition leader said that is the first hurdle, adding that a second hurdle is that the CMO, having rejected a person's physician's findings, can order that a doctor of the CMO's choice examine the person.
"And only the doctor that … the chief medical officer specifies, that is the only doctor you can go to. So the government now is going to choose your doctor for you.  I swear to God, this is what is before the Parliament now," Friday said.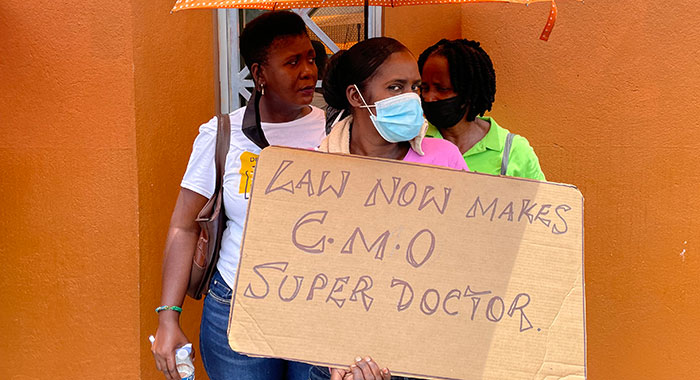 The opposition leader said that the problem is that, first of all, there are two areas of trust or mistrust.
"If you go to your doctor and that doctor isn't acceptable, for whatever reason, to the CMO, it don't matter how many certificates you get, you can't get further than that.
"So first of all, here you have somebody who practising medicine in this country that maybe you've been going to for years and they (the government) say you have to take this treatment. Let's say it is vaccination. And then you go to your doctor, the doctor says, 'You know what, I don't think this is recommendable for you.' … But the chief medical officer can look at it and say, 'Well, that doctor is not approved, is not acceptable to me.' So then you don't go any further.
"… But this is what is incredible… If she (the CMO) says, 'Yes, this doctor is acceptable to me but I am not accepting this certificate until you go and you get an examination by one or more other doctors that I tell you [that]  you have to go to.' That is what is there now. So, this is something that goes against the spirit of what we understand to be a free and democratic society."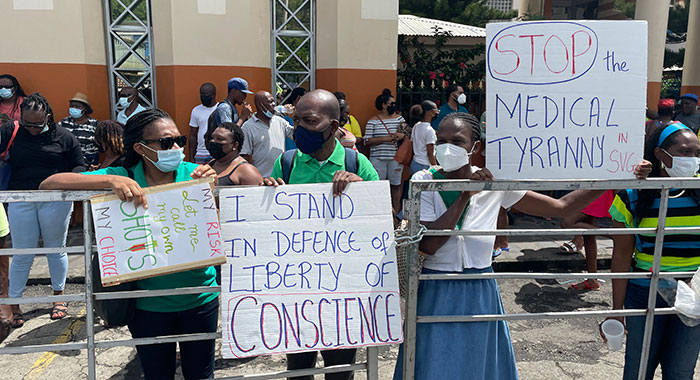 Friday said that the number of protesters should double "because there is no way that the CMO should come between you and your medical practitioner when they give you an opinion.
"Who you going to trust? You're going to trust your doctor or somebody who the chief medical officer tells you to go to?"
The opposition leader said that he does not intend to support the changes to the law.
He further suggested that the proposed changes might be further amended before it goes to a debate.
"We never know, when we go back into Parliament this evening we may get the fourth version," Friday said.
"But those people who are responsible for the legislation and the passing of it must be held accountable by the people of this country," he said, noting the opposition's parliamentary minority.
"We got the most votes in the election so out here is where our voice is the loudest and this is why, I know, you are on the streets of Kingstown today. Because democracy, quite frankly, individual rights, choice about fundamental things that we have taken for granted in this country are being eroded because all of a sudden the government is concerned about the COVID crisis – which is a real crisis."
Friday said that the opposition has always maintained that the COVID-19 crisis is a real crisis even as the government was downplaying it.
He noted that he was mocked last year for suggesting, in Parliament, that face masks be made mandatory in public.
The government later passed a law to this effect.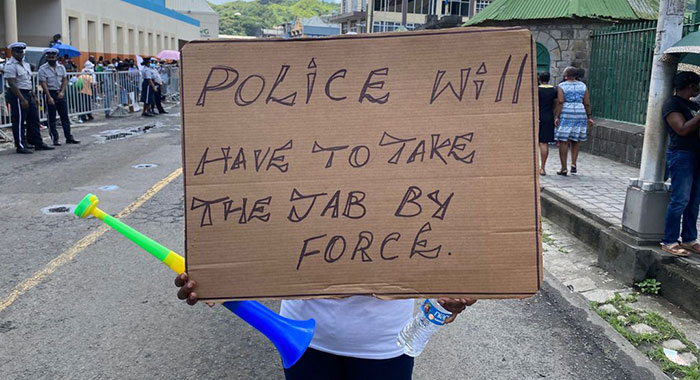 Friday said that what the government is attempting to do with the change of the law "is what happens in dictatorships.
"That is what happens in communist regimes. That is not the sort of thing we are used to in a free and democratic society and we will hear more about that because the bill hasn't come up for debate as yet. It is there in the draft and we will look at it and we will study it and we will come back to you again."
The opposition leader said that his New Democratic Party supports vaccination against COVID-19 but is opposed to mandatory vaccines.
"This is what we have said from the beginning," he said, adding that the government is still pushing an out-dated PSA by soca artiste Luta, which speaks to physical distancing and mask wearing but does not mention vaccination.
"How is that going to encourage anybody to do anything?" he said.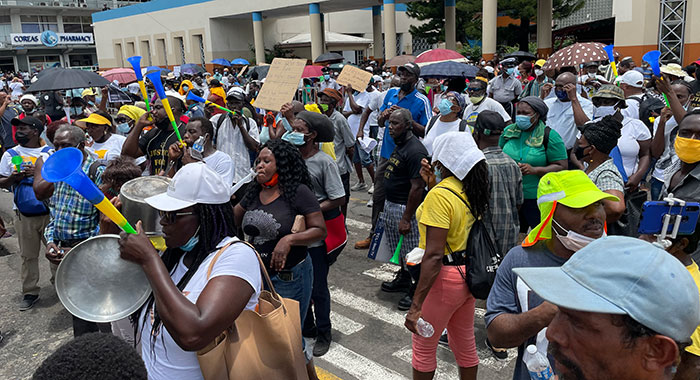 Friday said that as regards the change to the law, there has been "no information, no consultation, all they come and is just basically, 'We have the power and so you will damn well do what we please'," Friday said.
"That is the fundamental difference," he said, highlighting the difference between the NDP's policy and the government's approach.
"The second is, of course, if I have a doctor, then my doctor's opinion is what I will rely on. You can't put somebody between me and my doctor… If you have a problem with the doctor, deal with the doctor. Don't deal with me as the patient. If you don't trust the medical profession in this country, that is an indictment by itself there.
"And then you're saying that you don't trust the medical profession because that is the only way that you will have the CMO having the final say. And at the same time if you don't trust them, how do you allow them to continue to practice in this country? So the medical profession should be out here on the streets of Kingstown, too, and asking these searching questions," Friday told protesters.
Unlike in recent weeks, when largely partisan protesters highlighted the alleged involvement of government senator Ashelle Morgan in the shooting of businessman Cornelius John at his home in April, and other national issues, today's crowd included public sector workers in their uniforms.
Among the public sector workers who attended the protest in uniform were nurses, customs officers, and government printers. 
SVG has recorded 2,298 cases of COVID-19 since March 2020. Of those, 2,233 have recovered 53 remain active and 12 people have died. The country has administered 25,766 vaccines, representing 15,768 first doses and 9,998 second doses.