Prime Minister Ralph Gonsalves' deputy says that he prevented him and his security detail from going back outside Parliament after he was struck with an object in his head while walking through protesters in Kingstown on Thursday.
"When I came back this evening at around quarter to five, I stayed downstairs. Just like something asked me to stay downstairs and I stayed and looked at the entrance that the prime minister came through to see that he was all in blood," Montgomery Daniel told Parliament as Gonsalves was receiving medical attention for a head injury.
"But the security men around him managed to bring him upstairs. Just about as I was about to come upstairs, I saw him coming downstairs. And the way I saw things, I inquired. He said he wanted to go back outside," said Daniel, who is also MP for North Windward.
"And I went and I placed myself before the security men and the prime minister who was insisting that he would go outside. And I told him no.
"And I insisted and I stood firm against the policemen to ensure that the prime minister do not go back outside because at that time I recognised that the prime minister was not in the best condition to walk outside.
"And I did it not only for the safety of him, but I did it for the country of St. Vincent and the Grenadines because I could not have stood there to see the prime minister going back outside and realise what can happen and I got him back into his vehicle," Daniel said.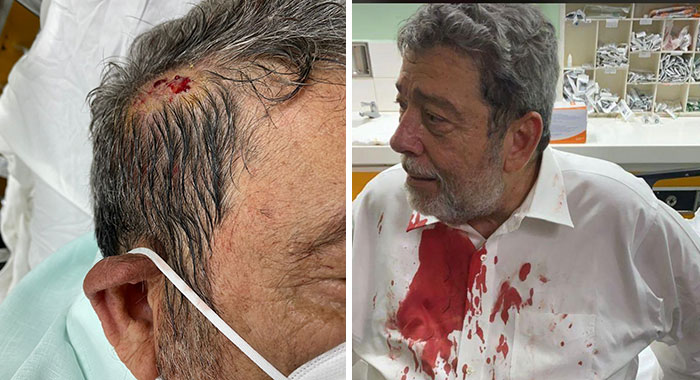 Gonsalves was flown to Barbados on Thursday night for medical attention for his injury.
Central Kingstown MP. St. Clair Leacock, an opposition lawmaker who has a military background, said that Commissioner of Police Colin John was "irresponsible" when he allowed the prime minister to walk among the protesters.
The office of the Prime Minister said Thursday night that the prime minister alighted his vehicle after it was blocked by protesters.
The protesters were demonstrating about a law, which would be passed Thursday night, making COVID-19 vaccines mandatory for some categories of workers.
Annamay Lewis, a 56-year-old vendor, of Layou, has been charged with wounding in connection with the injury to Gonsalves' head.
Lewis will be arraigned on today (Monday).