A motorcade was held, on Monday, from Argyle International Airport to the official residence of the Prime Minister, in Old Montrose, to welcome Prime Minister Ralph Gonsalves back to St. Vincent, after receiving treatment in Barbados for the injury he sustained in a protest in Kingstown on Thursday.
Gonsalves was flown to Barbados Thursday night after being struck in the head by an object, allegedly thrown by a demonstrator, as he walked through a protest outside Parliament around 5:15 p.m.
He returned home hours after Annamay Lewis, 56, of Layou, pleaded not guilty to a charge that she wounded Gonsalves, and was granted EC$3,000 bail.
Among the persons who met the prime minister at the airport on his arrival were the Cabinet Secretary, Kattian Barnwell-Scott, and other members of the Cabinet, including Deputy Prime Minister Montgomery Daniel.
Supporters of Gonsalves' Unity Labour Party also welcomed him at the airport, and persons waved at him from the sides of the road during the 12-mile drive from the airport to his official residence, located just outside the city.
On Sunday, on Gonsalves' 75th birthday, he telephoned WE FM's Issue at Hand from Barbados, saying that he had had a follow up visit at Queen Elizabeth Hospital with a neurologist, Dr. Gill.
The prime minister said that further tests had been conducted and there was another scan of his brain, after he experienced blurred vision while reading Saturday morning.
"… I begin to read and the pages were blurred. I was reading but with great difficulty seeing the words with clarity on the page and I called him and he outlined to me that there is something in the medical literature which is called post-concussion syndrome which has different manifestations, one of which is blurry vision, unsteady walk, not as strong concentration as before and even occasional loss for words, of particular words."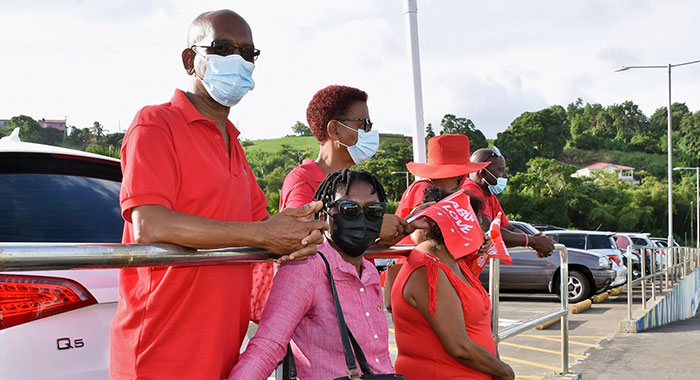 The prime minister said that the neurologist had advised that these effects are "transient, temporary and over a four-week period they work themselves out.
"It depends all on the nature of the concussion, the condition of the individual persons. In other words, some particular risk factors.
"And I just did the other scan and there is nothing that looks specifically as if there is any problem with the optic nerves — those, which we use for the purposes of sight — and they're all intact, thankfully, so it's a part of this post-concussion syndrome."
The prime minister, however, said that he has "to watch these things closely" adding that the neurologist had given him "certain advice as to how I should pace myself over the next two, three weeks or so and I will follow his advice".
The prime minister noted that because of his injury he was unable to debate the five bills that were passed in Parliament Thursday night
"Thankfully, the other members on my side of the house, they represented my views well and those of my constituents but I should have been there to do it," said Gonsalves, who has been Parliamentary Representatives for North Central Windward since 1994.
"Indeed, I had intended to go up there (Parliament) at about nine o'clock after I rested a little while in the recovery room. But the chief medical officer called and subsequently came to see me and said that I must obey the doctors and that the injury which I received requires a special treatment and that I needed to be observed." He said subsequently, in conversation with his wife, Eloise, who also accompanied him to Barbados, the decision was taken, with advice of the doctors to seek further assessment by Dr. Gill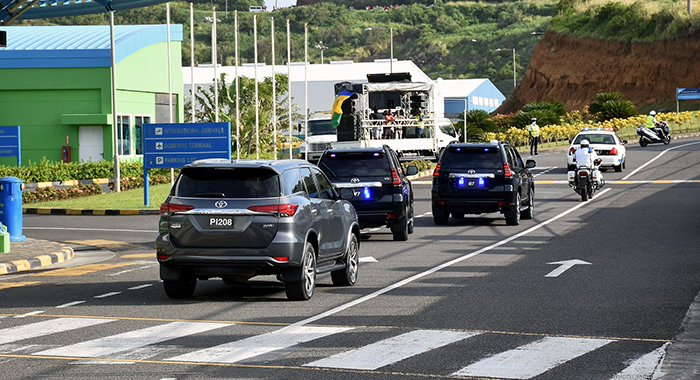 Gonsalves said that he knows Gill very well and that the neurologist "had done splendid work on my mother-in-law in relation to an injury which she had to her brain.
"So I am grateful to the chief medical officer because I was so determined to go there because I said that no mob is going to stop me.
"And will make public, when I return tomorrow afternoon at 4:30 as to the individual whom I consider to be personally responsible for the criminal against me. I am not talking about the person who actually threw the projectile, the object and caused the injury and the concussion," Gonsalves said.
The prime minister did not make any public address on his return to St. Vincent.
On Sunday, he further said:
"Now, when you throw a missile, a projectile of whatever type at someone, and at their head, you intend to cause that person serious bodily harm, grievous bodily harm or to kill them. You either do it for serious or grievous bodily harm, or to maim, disfigure or disable the individual or to kill the person.
"The head is a delicate thing and clearly by this act of violence, there is one situation prior, one condition prior to the shedding of the blood of the prime minister and a condition, a political condition and a security condition after the shedding of the blood.
"That is self-evident. And no kind of sophistry by persons in the opposition, including the leader of the opposition can alter that fundamental fact. That's where we are, in a summary," Gonsalves said.