The New Democratic Party (NDP) says it will consult with its social partners on preventing the implementation of the changes to the Public Health Act, approved by Parliament without opposition support on Friday.
"We will continue to oppose the implementation of this legislation. It is not even practical," Opposition Leader and NDP President, Godwin Friday, told the media on Saturday about the way forward, now that the bill has become law.
Around 3 a.m. Friday, after an all-day and almost all-night parliamentary session, the government approved the law, without opposition support, which will make vaccination mandatory for "frontline" workers.
Further, the new law eliminates objection to prescribed tests or treatment for communicable diseases for reason of conscience, often interpreted to mean religion.
Additionally, any person objecting on medical grounds must have a medical certificate of their physician approved by the medical officer of health.
And even if the medical officer of health accepts the certificate, the chief medical officer may order that the persons be examined by doctors of the CMO's choosing.
"We have a serious problem in this country; it is a serious problem in the region that the people are simply not buying the arguments and subscribing to them to become vaccinated," Friday said.
The government has so far failed in its attempts to reach its target of injecting 50,000 doses of COVID-19 vaccines into the arms of Vincentians.
As of Sunday, 25,782 doses had been administered, translating to 10,008 people who have had two doses and 15,774, a single dose.
"I think it's about 9% of the people of St. Vincent who are vaccinated. That means we have a problem. Are you going to force 91% of them to do so by legislating?" Friday asked.
"It's not practical so we have to find solutions, we need solutions; we understand that. But what they are proposing is not a solution. It is a heavy-handed approach, which they are used to, to try to get their own way, even though the people are saying, 'We sent you there, we say no. Come back again, let's find other ways, or a better way to deal with the real problems that we know we have with this matter.'"
The bill was passed Friday morning, hours after Prime Minister Ralph Gonsalves was struck in the head as he walked to Parliament among angry protesters around 5:15 p.m. Thursday.
On Saturday, police raided the homes of over 10 people, most of them opposition or other social activists, searching for unlicensed firearms and ammunition, and confiscating their mobile devices and other electronic items.
"… yes, we will continue to oppose the bill," Friday told the press conference, which was called to highlight the issue of the police raids.
"The specific things that we will do, we will have further consultation with the social partnership… the broad coalition that came together on the streets of Kingstown on Thursday."
Among the groups that took part in the protest on Thursday are the Teachers' Union, the Public Service Union, and RISE HAIROUNA – a group which says it is "committed to ensuring social reform in SVG".
"It will be appropriate and proper for me to consult and try and find a common way forward as we deal with this matter. That is the way I operate now as the leader of the opposition and that is the way I will continue to operate in the future.
"We must engage in that consultation and we will decide specifically what is done in the future. But you can be guaranteed of this, that the continued opposition will be there, but will be vigorous, it will be continuous, and it will be in our best democratic traditions. That is to say, non-violent and in a way that elevates our public discourse," Friday said.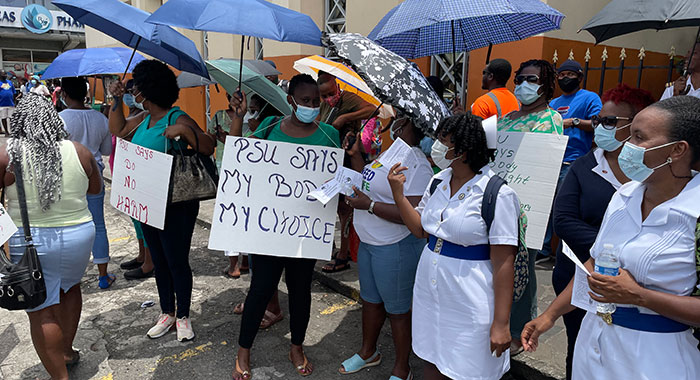 The primary objective of the demonstration on Thursday was to "stop the government, to take a pause, stop with the bill because there are these very serious concerns with it that the people of this country are not satisfied, they are fearful of its overreach and that it would affect their lives in ways that they do not intend to permit it to happen," Friday said.
He, however, said that a third version of the amendment, which was passed into law, resulted precisely in the intervention of the state between the individual and his or her doctor.
The new law decides who an individual must go to in order to get a medical exemption if they did not want to subscribe to an immunisation or other order.
"And that also to make it clear that mandatory vaccination is possible here in St. Vincent and the Grenadines."
He said that the opposition stayed in Parliament until 3 a.m., adding that it had been his intention, when Parliament convened Thursday morning, to plead with the government to postpone the debate of the bill.
The opposition leader said that this was his position especially as that very morning, lawmakers were delivered with a third version of the amendment to the Public Health Act.
"… one of the members on the other side made it very clear before I could rise to my feet, in fact before the bill itself came up, that it was going to be debated and it was going to be passed that evening.
"I stayed and debated the bill between 1 and 2 o'clock in the morning and I raised dutifully, on behalf of the people of St. Vincent and the Grenadines, their concerns in the Parliament because I felt very deeply that I had to represent their views.
"Many of them were not on the streets anymore. Many of them had probably fallen asleep because they felt after a long, tiring day on the streets of Kingstown standing up for their rights that at 2 in the morning, it was not going to be dealt with. "
Friday, however, said that the law was passed despite the effort of the opposition in Parliament and protesters on the streets.
"I have been organising demonstrations in Kingstown for years and it is the largest one we have seen for some time in the middle of the day, because Vincentians know how this regime responds when they stand up against it."
He said that people who stand up against the government are "victimised, they lose their jobs, their scholarships, their contracts, they get phone calls from people who upbraid them on the telephone.
"And we see today you have Black Squad officers, heavily armed, raiding homes, looking for guns and ammunition, for persons who the only common denominator between them are that they are perceived as leading figures in the demonstrations that took place in Kingstown, where people were exercising their democratic right to do so. That is the response of this government when people exercise their democratic right.
"You know, everybody can claim to be a democrat, you know. It's easy to be a democrat when you are popular, but you are really tested, your commitment to the principles of democracy are only tested when there is opposition, real opposition to you and when that popularity no longer seems guaranteed or presumed, when that popularity is slipping away or has slipped away. That is when your true democratic principles are tested."
Friday said that as the leader of the NDP, which, he noted, obtained the most votes in the last election, he has a duty to represent the wishes, the fears, the concerns of the people of this country and will do it dutifully as he did on Thursday and will continue to do so.
"The bill has been passed but once the people of this country say it will not affect their fundamental rights, to say you will not put something in my body unless I consent to it, in this manner, with the COVID vaccine that we are speaking about here, then it will not be enforced.
"We will stand up and continue to press in every avenue we can, continuing with protest action as well and in every other way that we can legally, non-violently, in the best traditions of our democratic country and our democracy," he said.